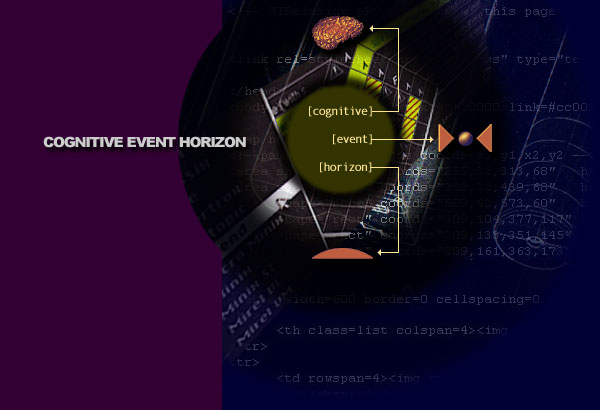 What is a 'Cognitive Event Horizon'?

It's a coined term to express a user interface concept; it represents user paradigms, the everyday map of the world that people use to get through the day. Things that are outside a user's cognitive event horizon are not important to them, even if these things can hurt them. So a cognitive event horizon is what humans really use to navigate their lives, and that concept is a tool to make decisions about what is needed in a product, what is not, and how to talk to them about the benefits of change.
Welcome to my little corner of the web since 1997
I'm a bit of a unicorn - a user-centered designer who can write, who loves numbers, and who survived a lot of startups. I've been fortunate to participate in four technology revolutions; the GUI, online banking, cloud computing, and online B2B marketing.
Now I help teams understand and communicate with their customers...
Working with businesses and developers to refine customer needs through interviews, research, personas, and feedback.
Using customer insights to create engaging content by turning features and technology into benefits with resonance; then writing and speaking clearly.
Finding ways to bring teams together, functioning better with design thinking.
I'm a reliable agent of change. I ask questions and listen carefully to people, I read research, I test ideas, and I think all the time about making people's lives better by filling needs. I help companies see and act on those opportunities with deep experience in product development, enterprise application planning, user testing, customer experience, design and storytelling.
Skills
Discovery. Critical Thinking. Communications. Product Requirements. User Research and Analysis. Internationalization. Design and Software Methodology. Enterprise ERP, CRM. Financial Transactions. Business Process Management. Project Management. Product Evaluations and Competitive Research. Web Metrics setup and analysis. Product Management. Deep experience with business and banking financial systems, eCommerce, customer support and CX (customer experience). I hold CMMI, RUP, and ScrumMaster certifications.
I continue to nurse my DIY audio jones and am interested in collaborations on projects, great music, good beer, discussions, and traveling audio shenanigans.
Thanks /pRC