Design Portfolio: Phillip Randolph Carter
Being a generalist in the information age means you can never stop learning... And a life working with many great people on satisfying projects produces a lot of things worth sharing!

(click on any thumbnail to open a full-size slide viewer)


Gladly: 2021 to 2022
All-too-short time at customer experience startup,
Gladly.com

h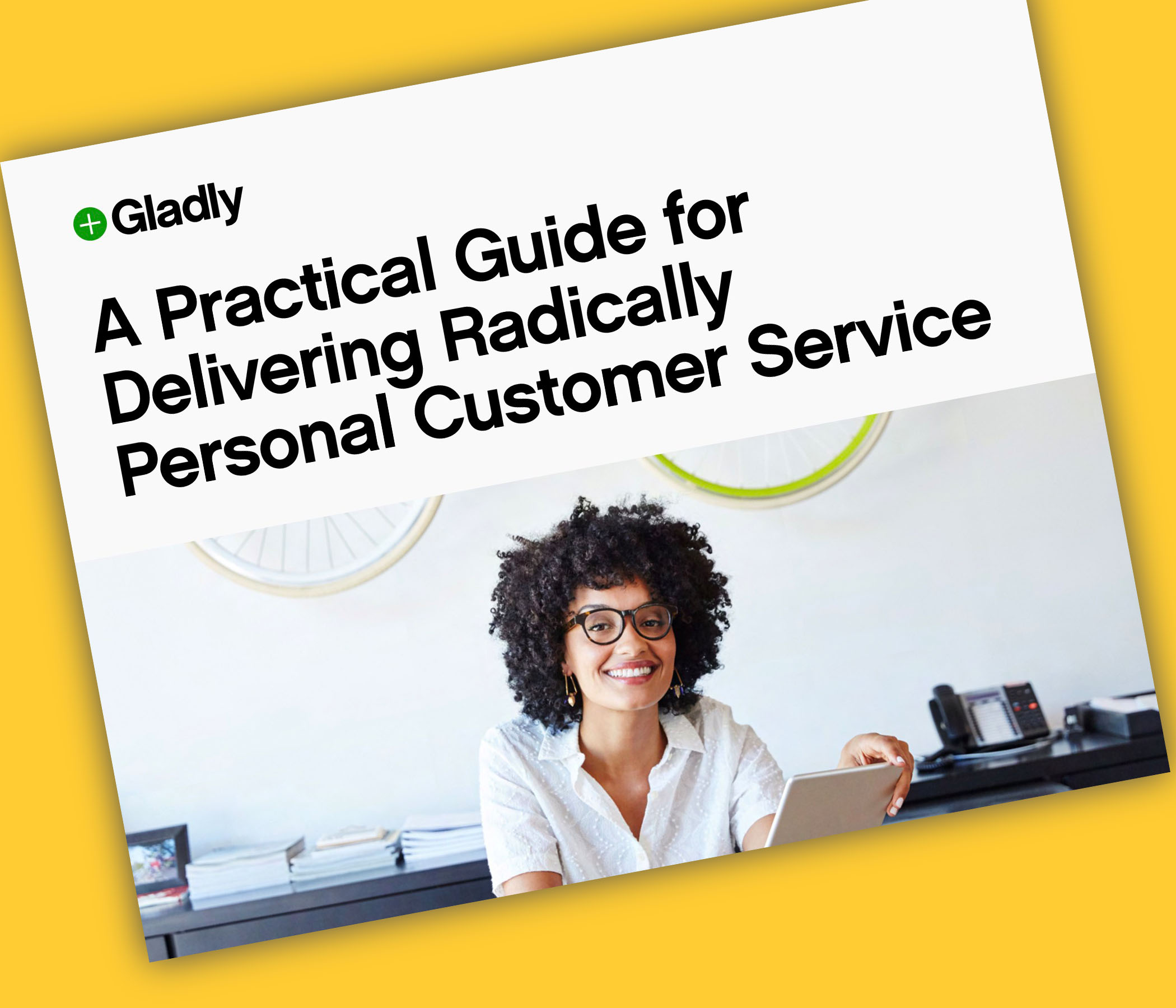 A Practical Guide for
Delivering Radically Personal Customer Service
2022 eBook
This content started with a conversation with customer support managers on things they wished people knew about Gladly, and grew into a team collaboration.
Strategic Focus:
Coordination and planning with Product Management, developers, and UX design teams
Writing and editing content on new feature releases
Sales Enablement decks for roadmaps and integrations
Website analytics and planning for reorganization into related clusters of pages
Interactive Intelligence and Genesys: 2014 to 2021
In 2013
Interactive Intelligence started to build their next-generation cloud CX on the OrgSpan platform.
2015 PureCloud became their lead offer and rapidly started to grow market share - moving from UX into Product Marketing I found a new career.
Late 2016 Interactive Intelligence was bought by Genesys, a CX software competitor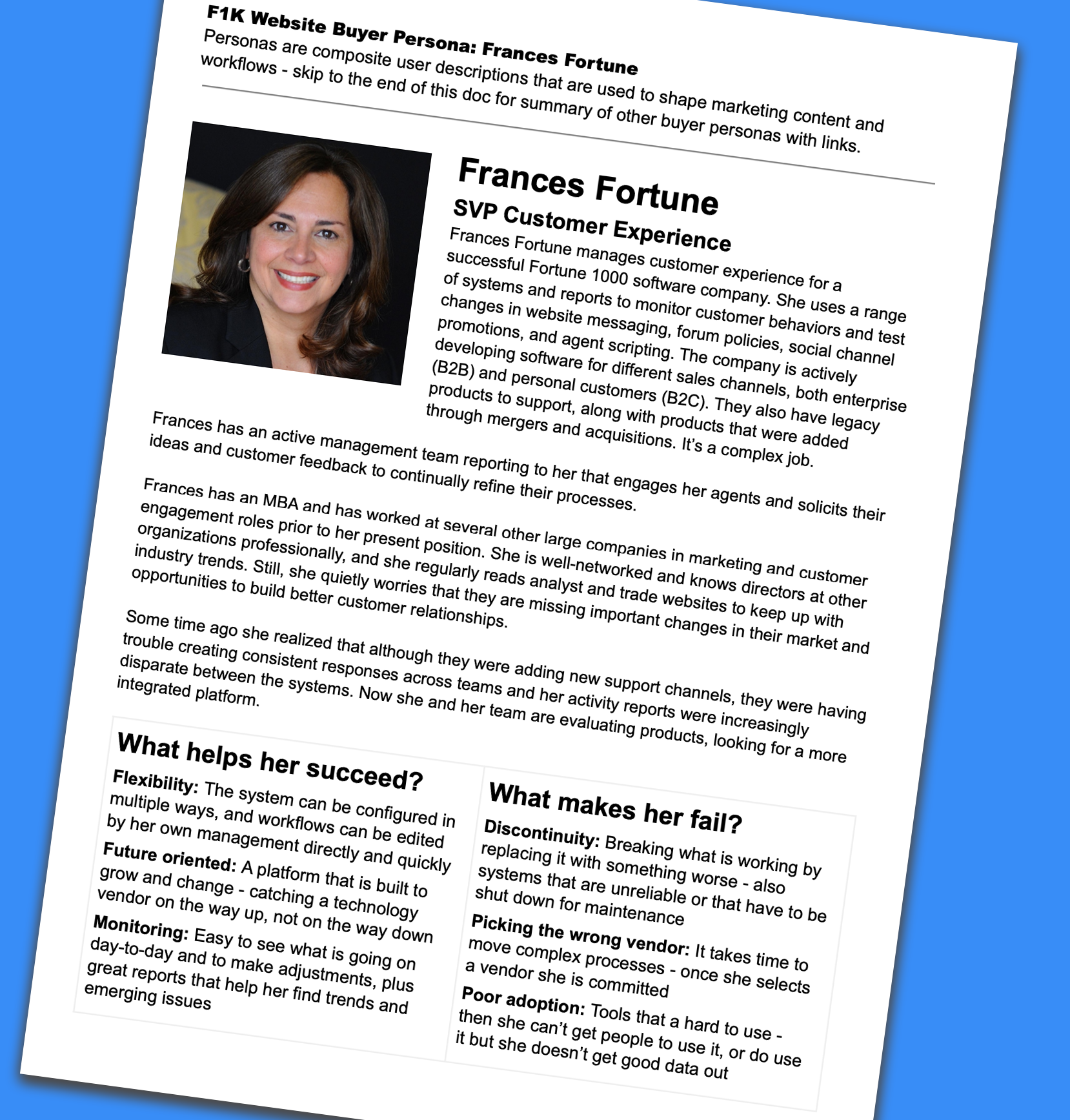 Interactive Intelligence 2015
PDF of one of 6 website buyer personas derived from PureCloud UX work.
Personas are extremely useful for making design decisions and helping team members understand customers and users. They are a composite users that represent important needs, with perspectives and history to make them feel like real people.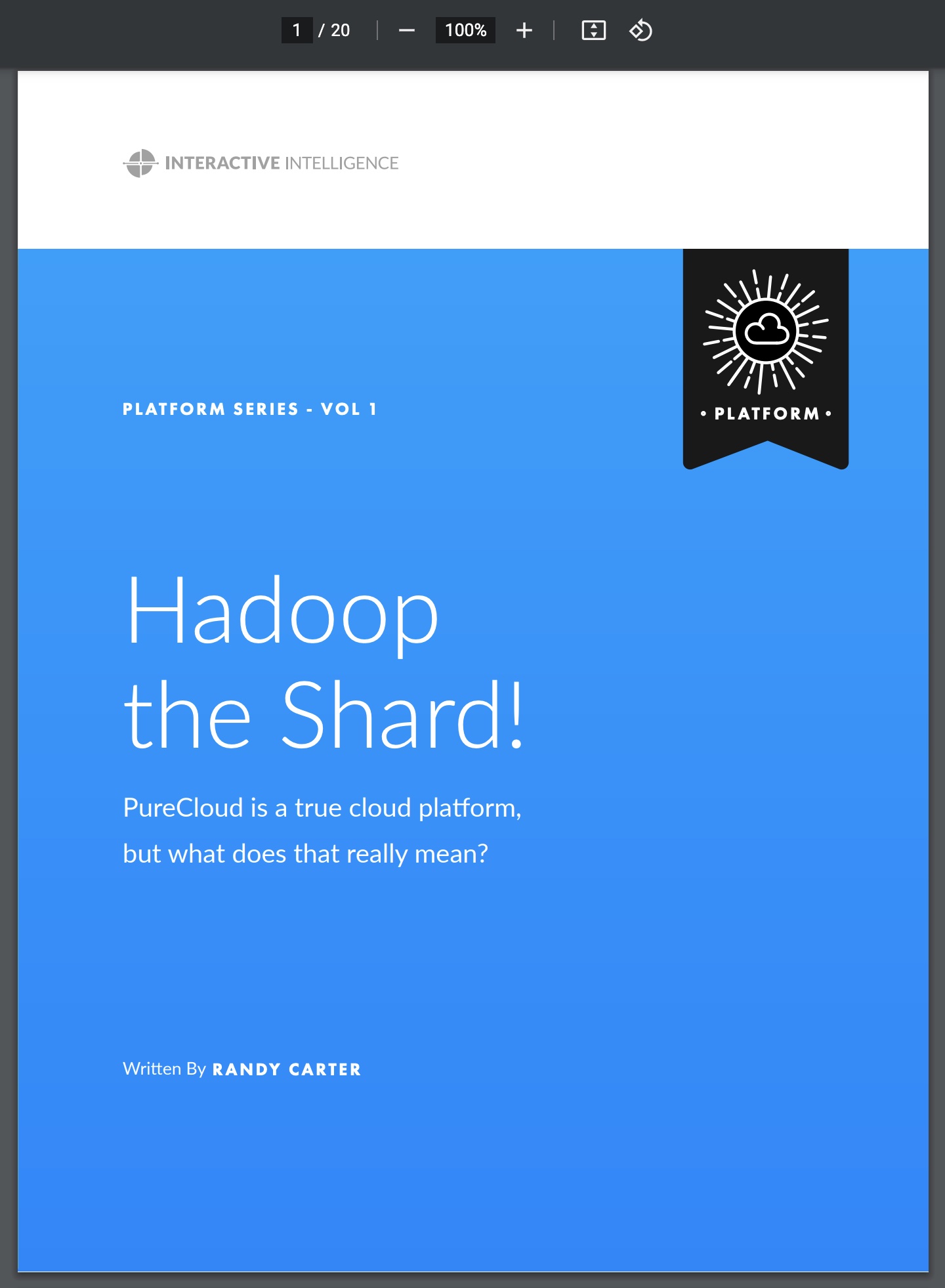 Interactive Intelligence 2016
eBook "Hadoop the Shard!" was written to explain cloud concepts to contacte center business users, while also opening a conversation on our cloud architecture for technical readers.
(PDF eBook for marketing lead generation)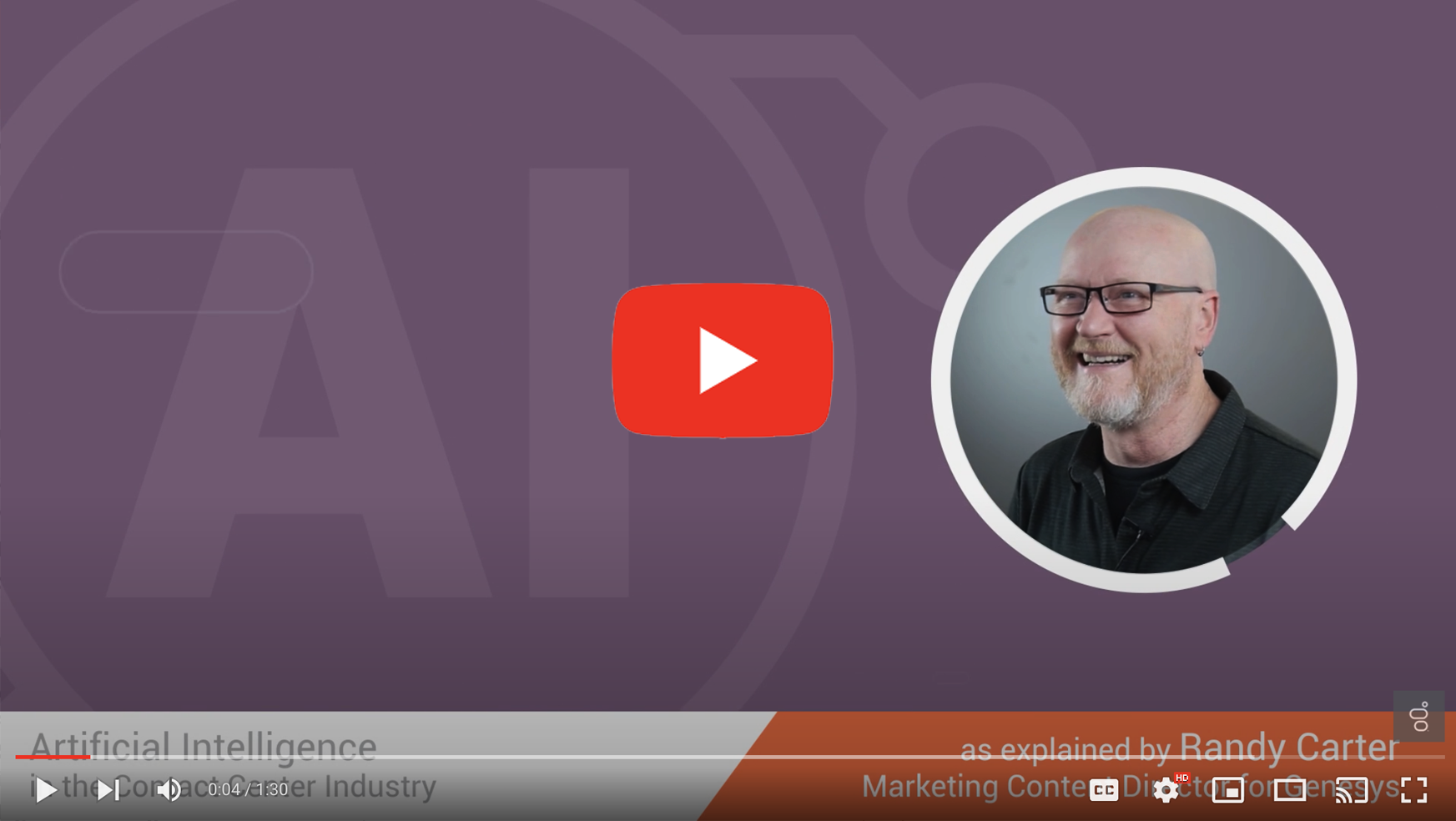 Genesys 2018
90-second animation on AI adoption in contact centers, based on an interview converted to narration and external content.
(Animated video hosted on YouTube)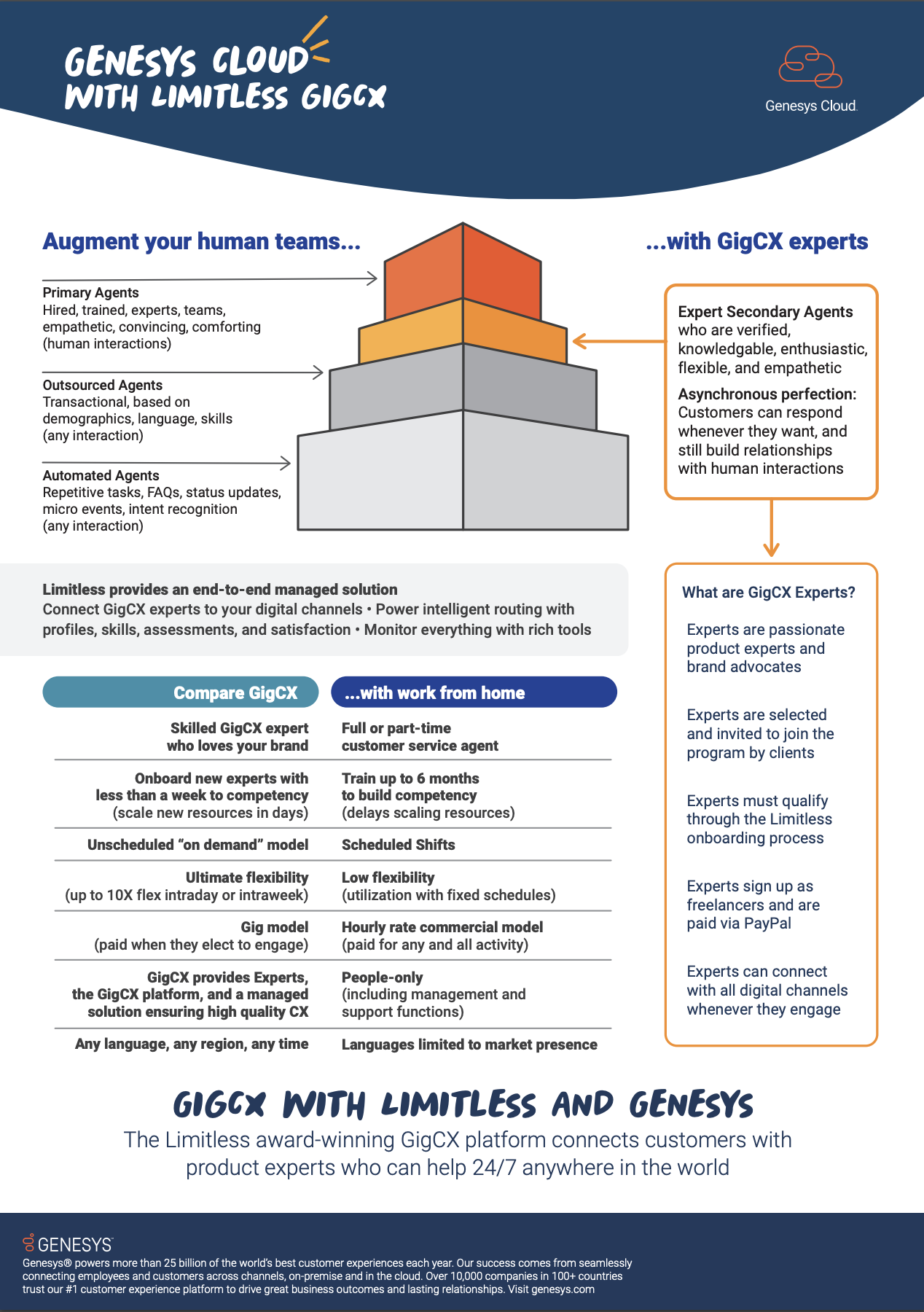 Genesys 2021
PDF Datasheet: Limitless GigCX, companion to conference event announcing a new partnership.
Strategic Focus:
Portfolio differentiation strategy and content, cloud education, contrainer messaging, and developer outreach
Go-to-market (GTM) for Genesys products,
plus Google, AWS, Zoom, and other partners
Marketing and customer personas, with UX coordination
NPS (Net Promoter Score) biannual analysis and recommendations for CEO
Planning, content and speaking at conferences, partner events, sales training with enablement materials
OrgSpan: 2012 to 2014
Orgspan (originally OrgBook) was a 2012 startup where I was one of seven founders.
Orgspan was founded to build cloud tools for organizations that would connect to other work management apps - and roll up work into corporate goal feedback from those systems. Along the way we built a scalable cloud enterprise communications platform with rich hierarchy and groups you could build manually, or with rules. This quickly led to a buyout from Interactive Intelligence.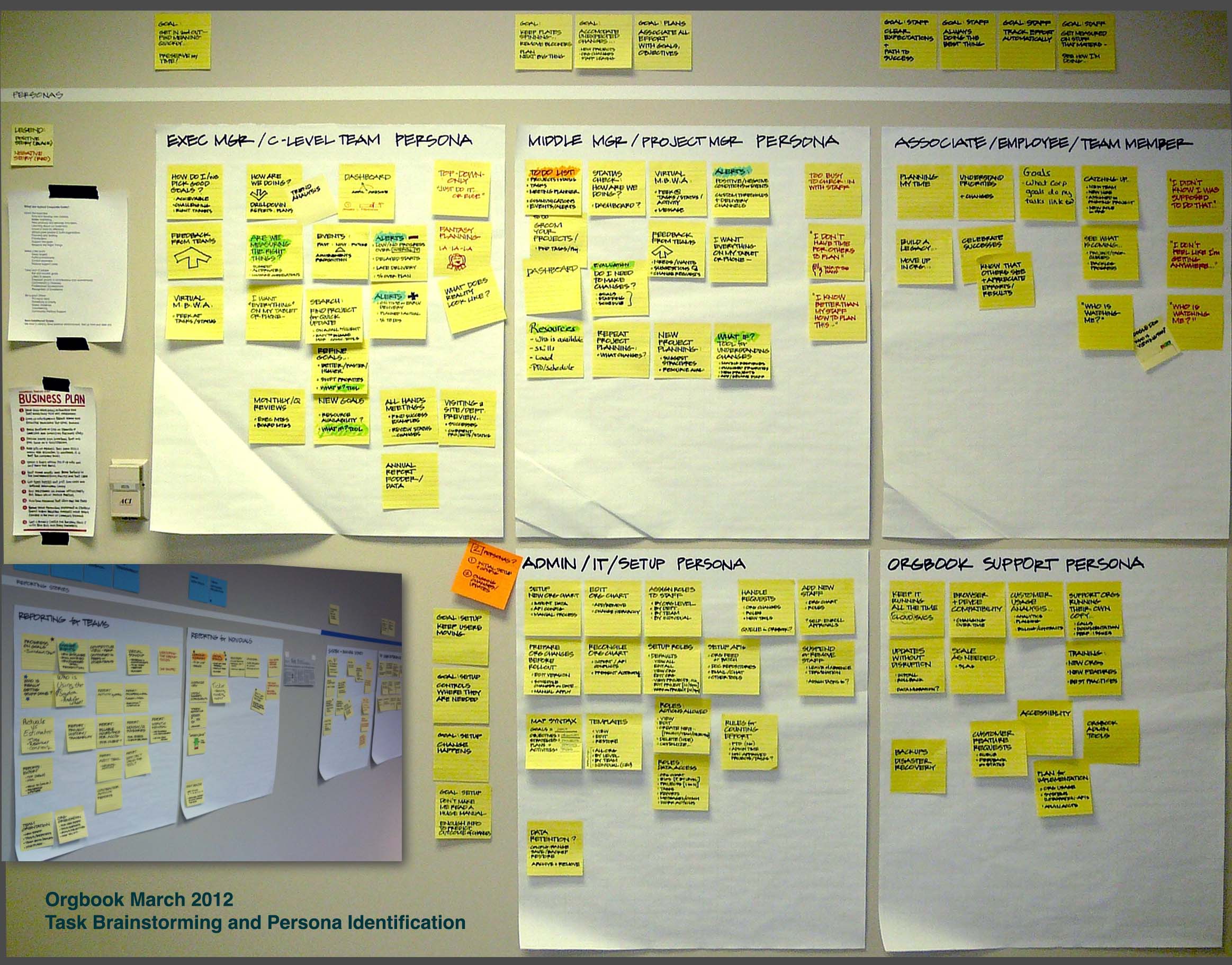 OrgBook Persona Mapping March 2012
Taking advantage of growth space in our office, we did structured brainstorming on tasks and personas as a team
(Sticky notes, tape, markers, with stickers for voting)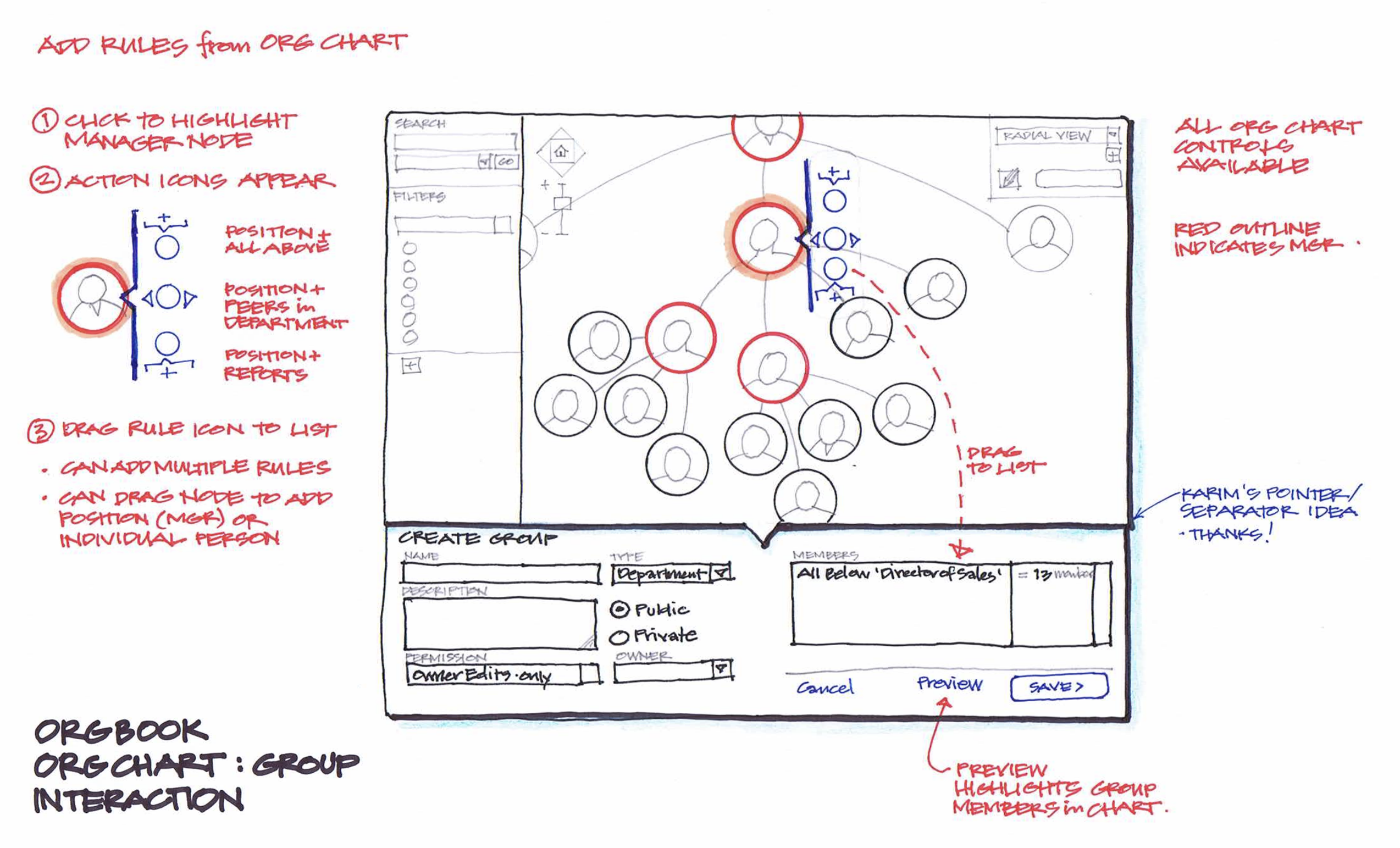 OrgBook May 2012 concepts
Hierarchy views and rules for creating dynamic groups.
We could derive the hierarchy of a company from Active Directory permissions exports, but work assignments often don't fit organizations cleanly - projects need additional resources and skills from other teams. 'Groups' was our solution to apply projects to teams, and we patented a new method for defining groups with rules around people.
(Ink and colored pencil sketches)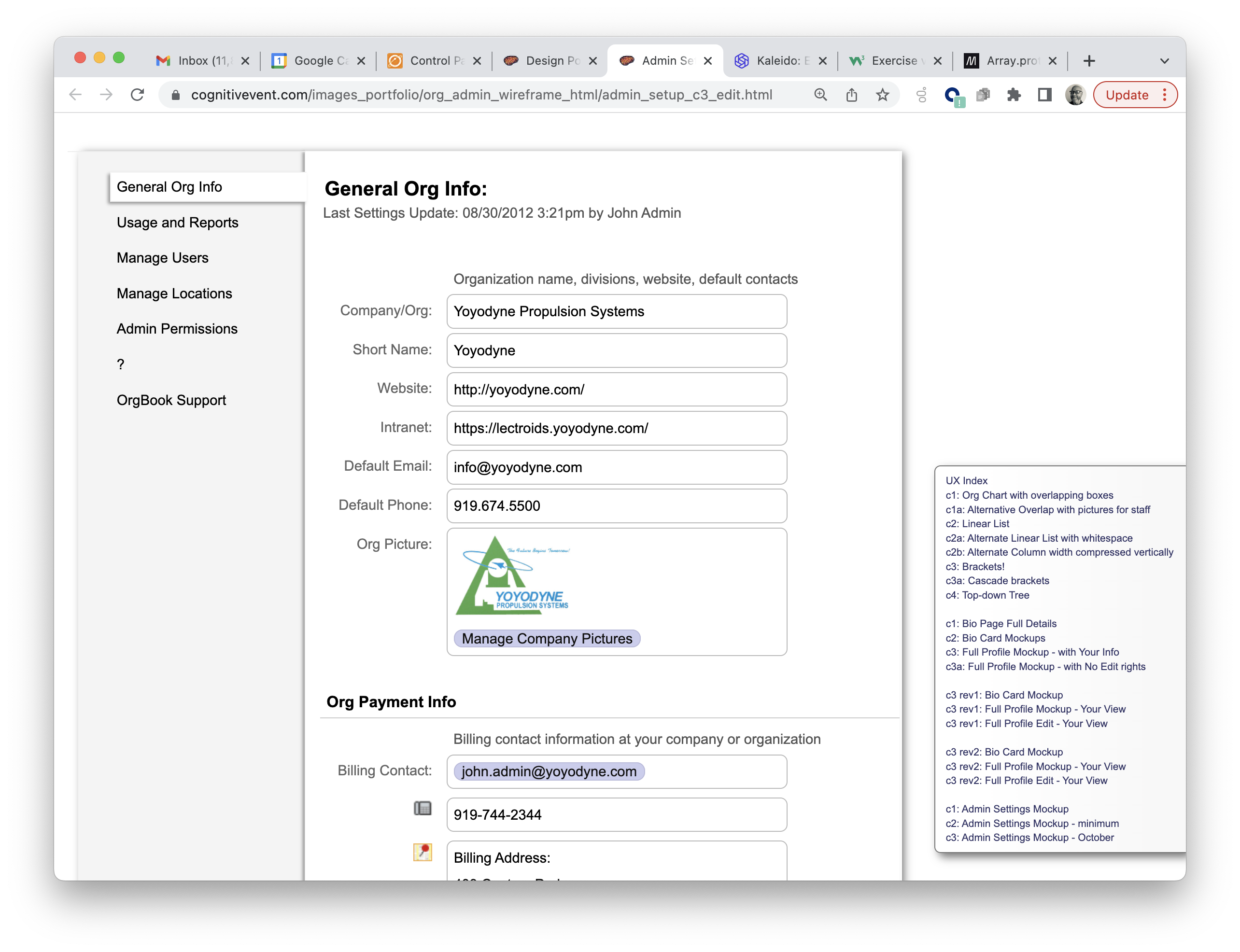 OrgBook October 2012 wireframe
Interactive HTML for usability testing admin functions and navigation
(HTML mockup - one of many versions)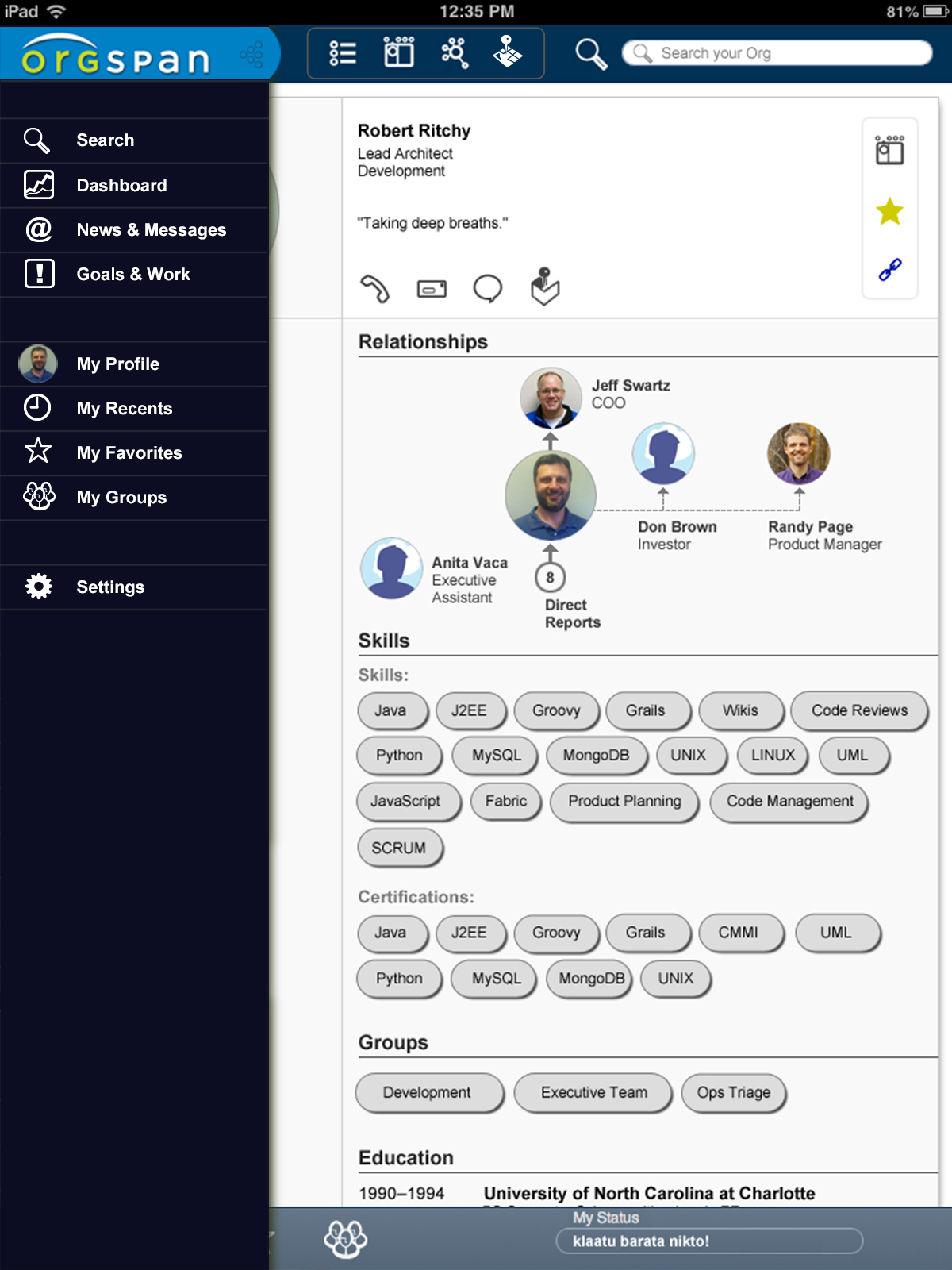 Orgspan Tablet Design April 2013
Simultaneous development of browser, Android, and iOS mobile applications - a refined mockup for our iOS programmer
(Photoshop mockup for requirements)
Strategic Focus:
Personas, task analysis and mapping, agile planning with team
UX Design: Web, iOS, and Android designs; hierarchy selection rules and designs; admin, permissions, and integrations; XMPP-compliant web chat designs
Usability testing and analysis
WebAssign: 2010 to 2012
WebAssign was an eleven year old online homework system spun out of the physics department at NCSU, now owned by Cengage.
Brainstorming wall at WebAssign
Part of design thinking stakeholder facilitation workshops on new content development.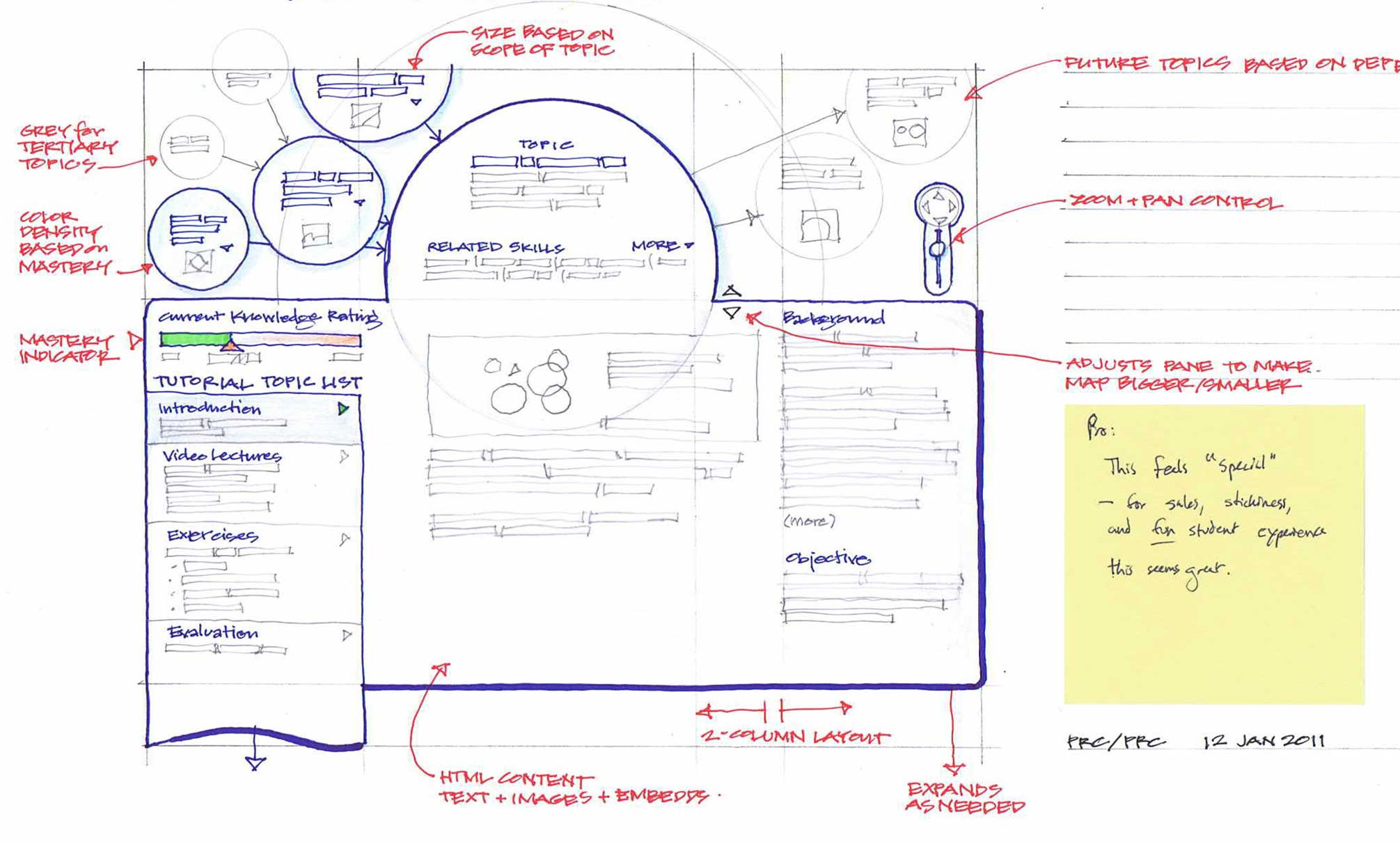 Concept for new tutorial system
One of the favored designs from the workshop was this 'knowledge tree' idea that mapped dependencies for concepts in bubble nodes for navigation.
(Ink and colored pencils)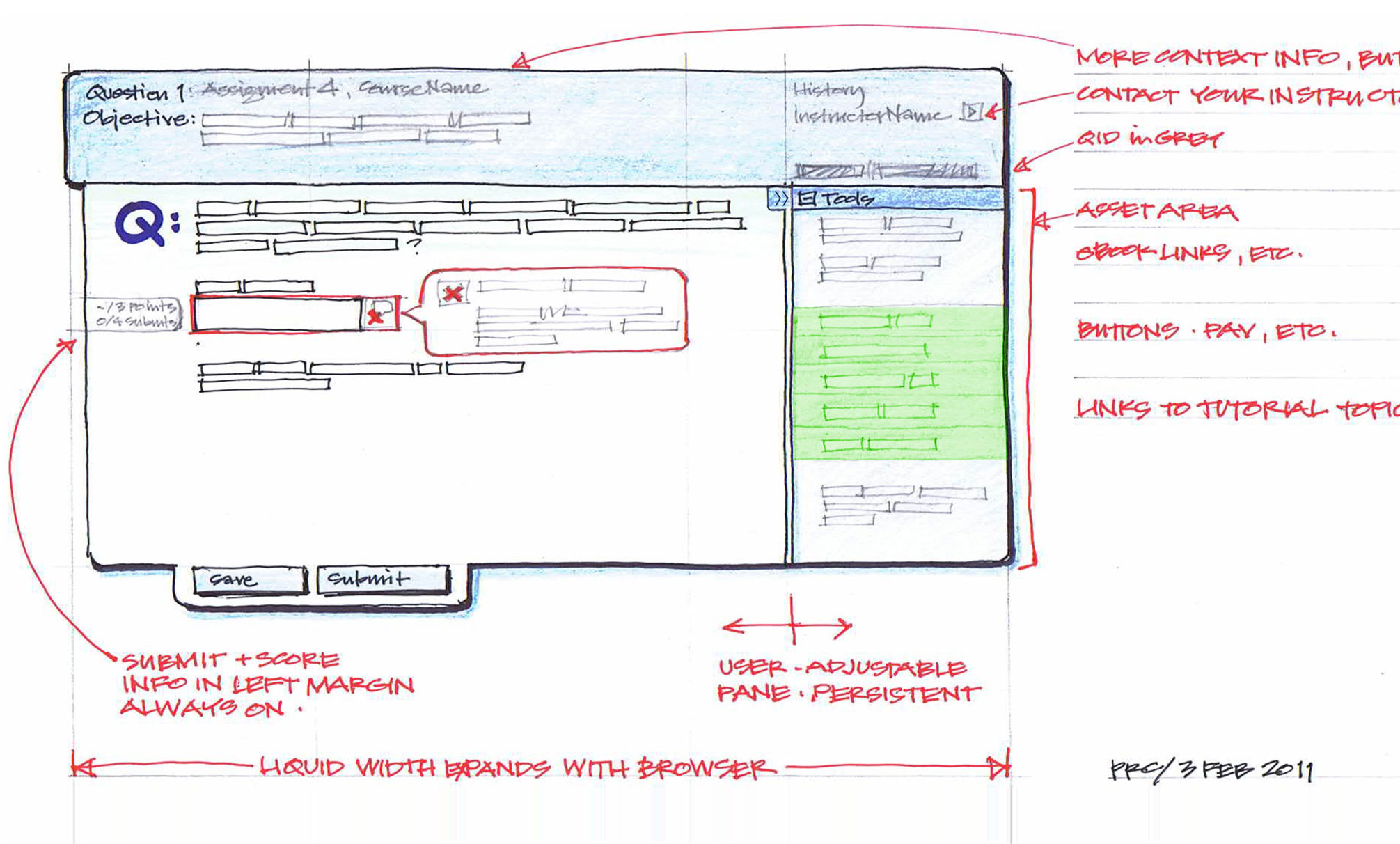 Next-generation question wrapper
Part of a series of sketches for future directions at WebAssign. Next slide shows development of online version...
(Ink and colored pencils)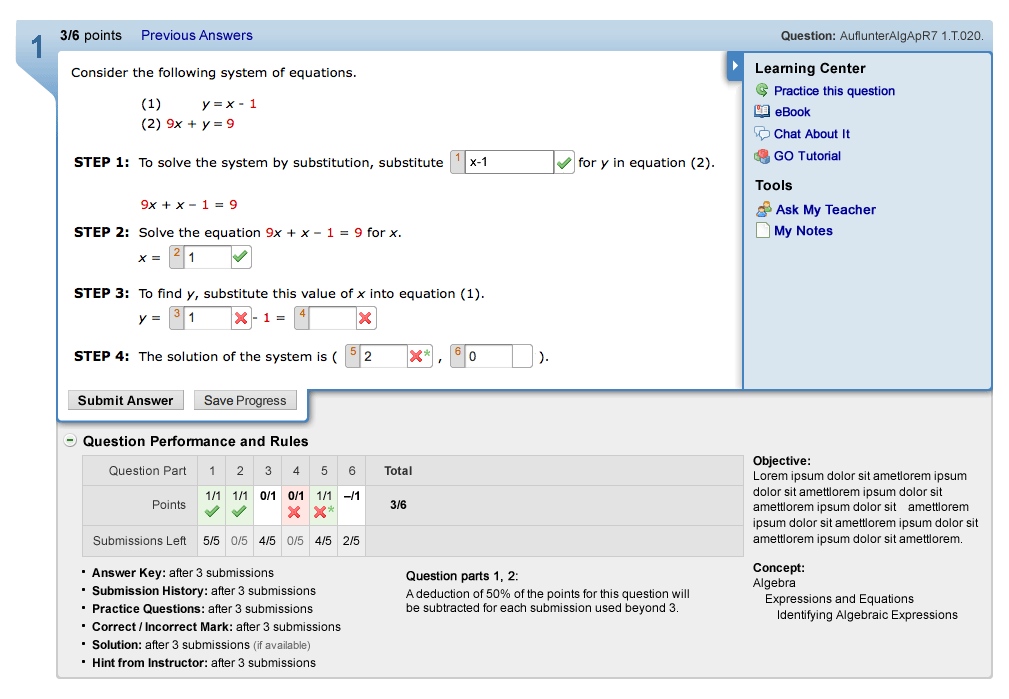 Next-generation question wireframe
Further development of question wrapper in a wireframe by UX designer under direction. Previous slide shows initial concept sketch.
(Fireworks on Mac)

'Show Your Work' math equation editor tool - Math symbols
Built in HTML5 by an outside contractor by extending the DIJIT text editor; the equation mode shown was one of several tool extensions planned for different academic disciplines. Common tools are loaded on the top row.
(Photoshop on Mac)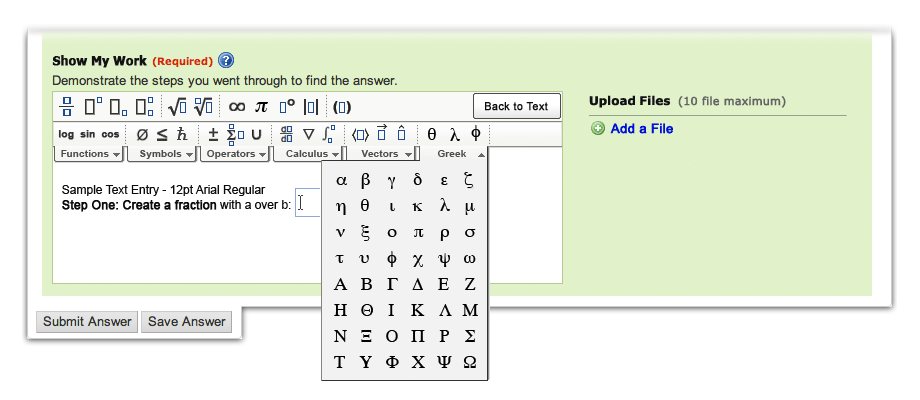 'Show Your Work' math equation editor tool - Greek symbols
Specialized symbols are on rollover tabs that extend down, with popular functions from those tabs available in the second row - these symbols are working (and repeated) buttons for quick access that also provide users with scent to the contents of the hidden functions.
(Photoshop on Mac)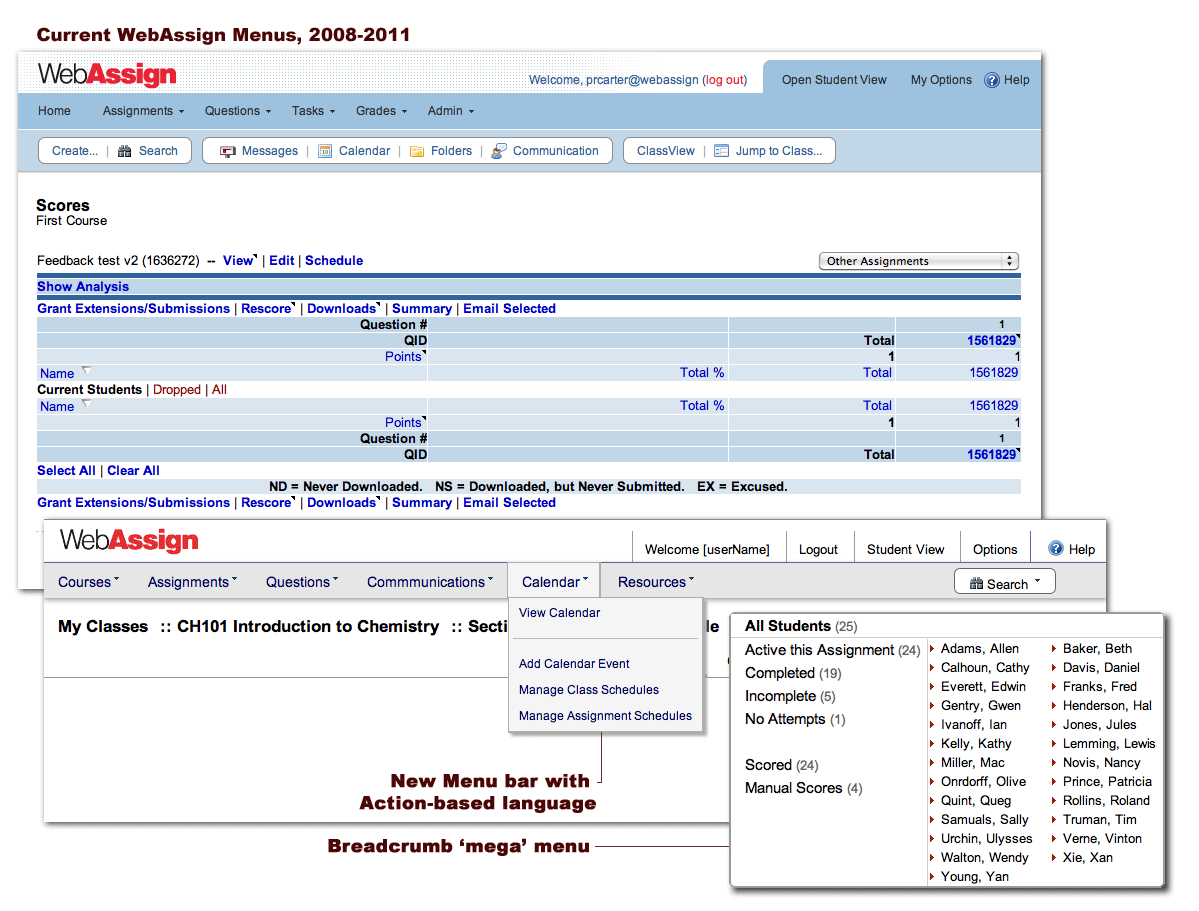 Instructor navigation concept
Hierarchical breadcrumb headline - One of several quick variations exploring simplifying nav menus and reducing the number of different legacy views in the product.
(HTML/JS/CSS mockup)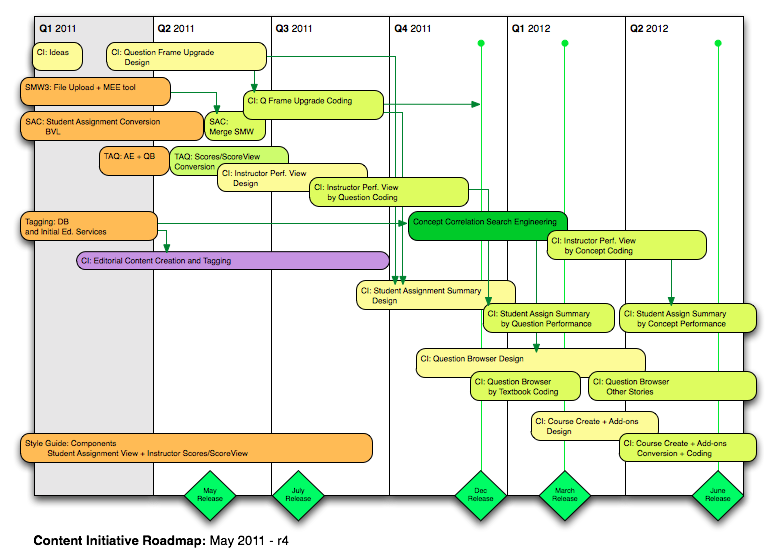 Presentation Gantt chart for project
Roadmap and release dates with color coding - yellow for UX design, green for development coding, dark green for development architecture.
(Omnigraffle on Mac)
BlueStripe: 2008 to 2010
BlueStripe Software was a startup building a brilliant system for mapping multi-tier processes gnostically in real-time.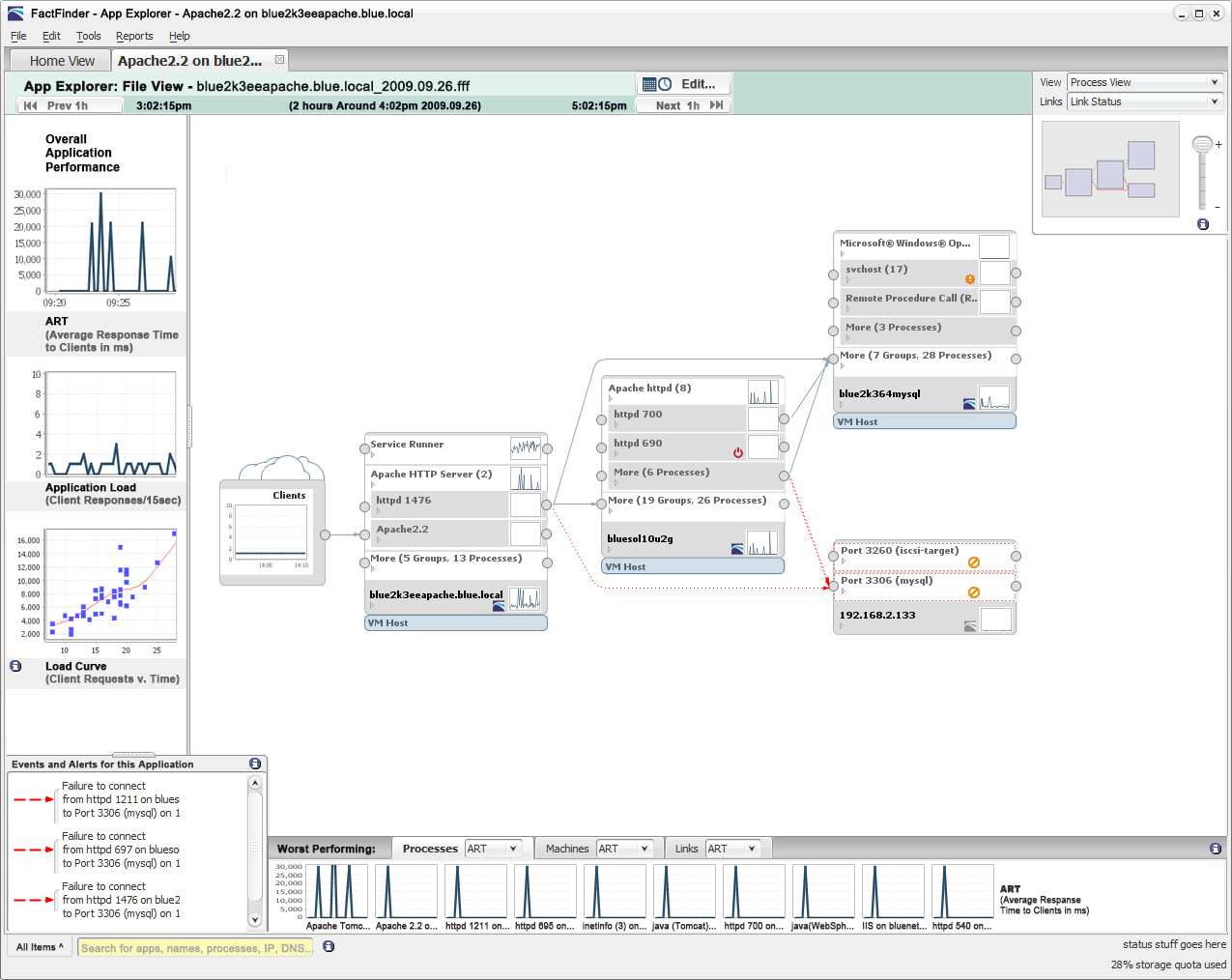 Application Explorer View
Shows related processes linked across multiple machines or virtual machines, useful for triage of a multi-tier distributed app
Sparkline graphs show response time performance with drilldown for more detail
(Photoshop mockup for requirements)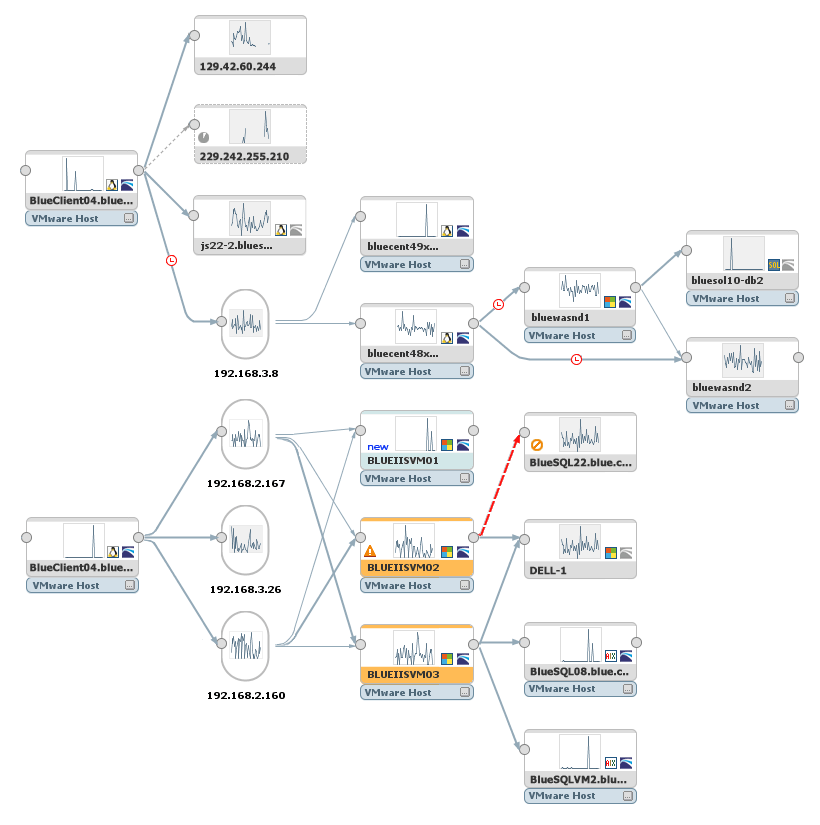 Explorer Map: highlighting concept
In a triage process when a user zooms out they need to quickly find areas for attention - we evaluated many different indicators to build a consistent design language
Small icons on the machines indicate OS and whether there is a BlueStripe 'collector' installed
(Photoshop mockup for user tests)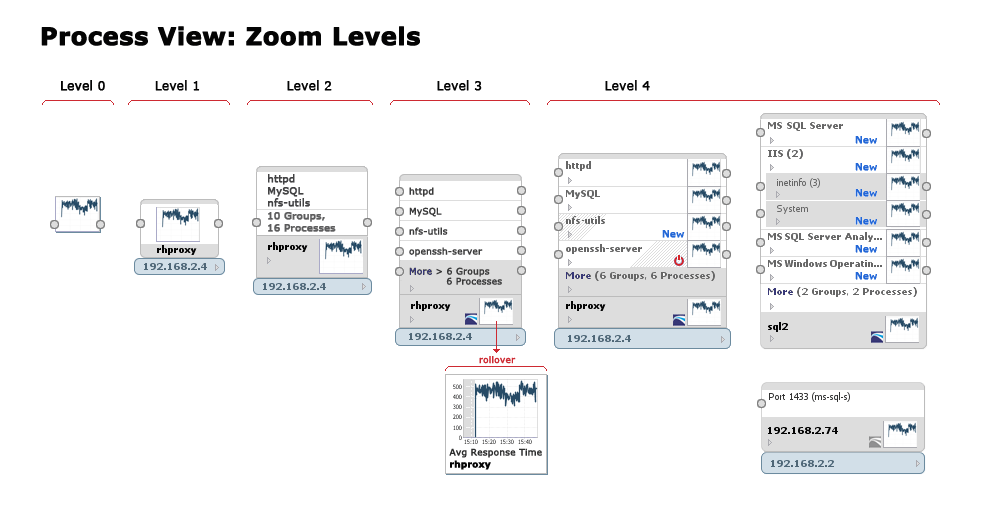 Designs for Zoom levels
Applications and networks are wildly variable and views could needed as much useful information as possible - this mockups was used to build the dynamic changes for different levels
Part of a series of refined variations to define a simpler visual vocabulary for zoom
Sparkline graphs show response time performance with drilldown for more detail
(Photoshop mockup for requirements)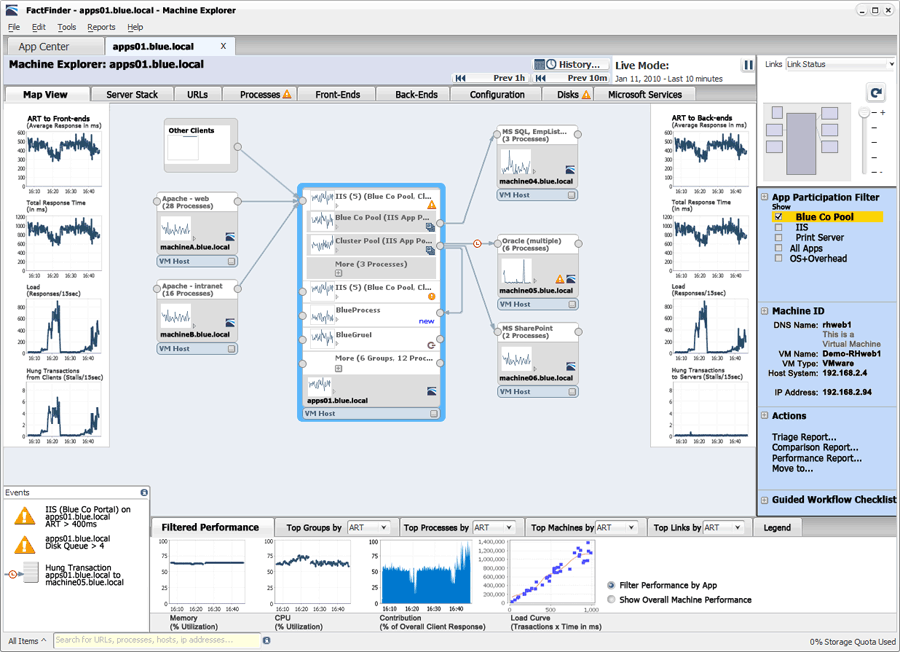 Machine Explorer View
Shows participation in all applications by a single machine (the inverse of Application Explorer) helps users diagnose health issues with a troublesome box
Large graphs on left and right show performance in and out of the processes, and tabs along the top show additional details
(Photoshop mockup for requirements)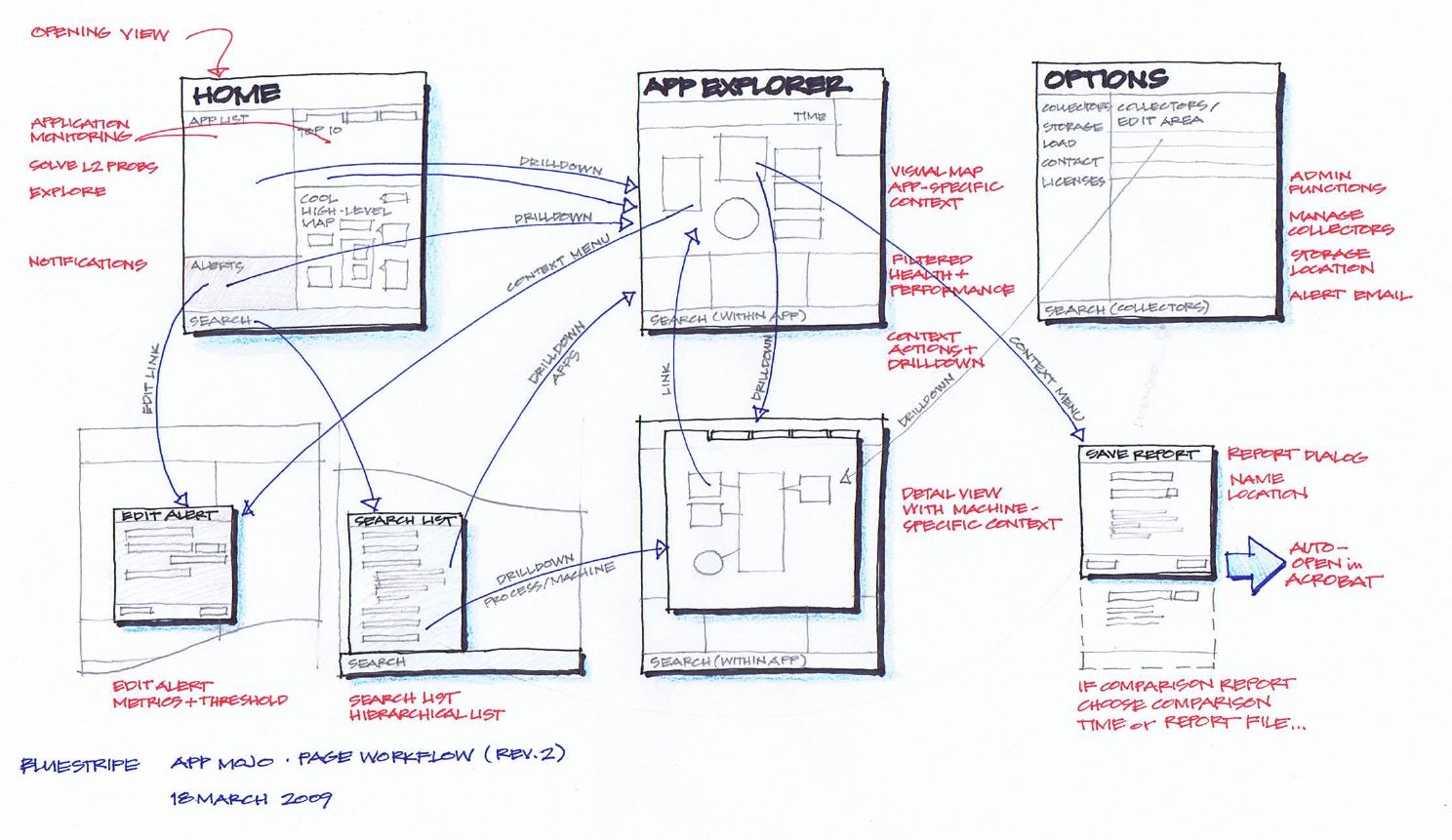 Workflow concept sketch
Shows user journeys for common scenarios
This view was popular with developers and product management for feature discussions and persona analysis
(Ink and colored pencils)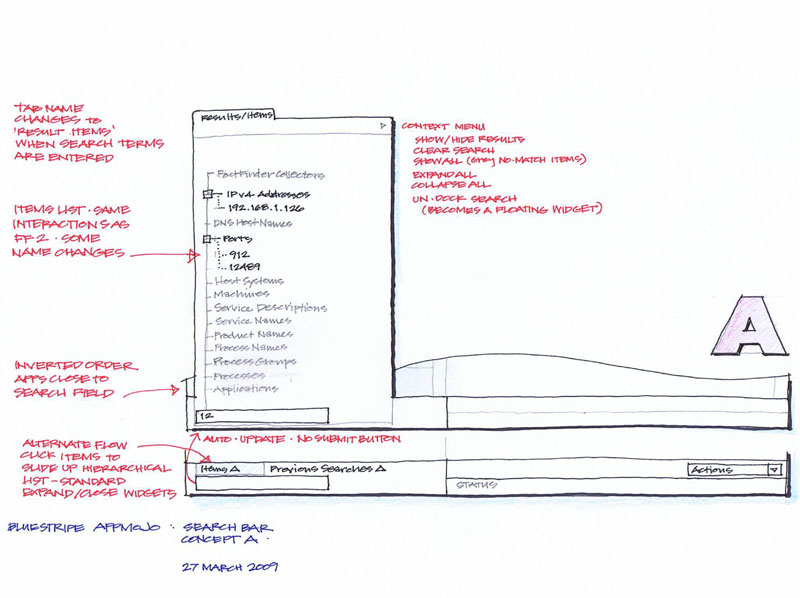 Three alternatives for advanced search across mapped systems monitored by BlueStripe
Concept A: filtered tree view
Similar to existing BlueStripe search at the time, with improved visibility and labels
(Ink and colored pencils)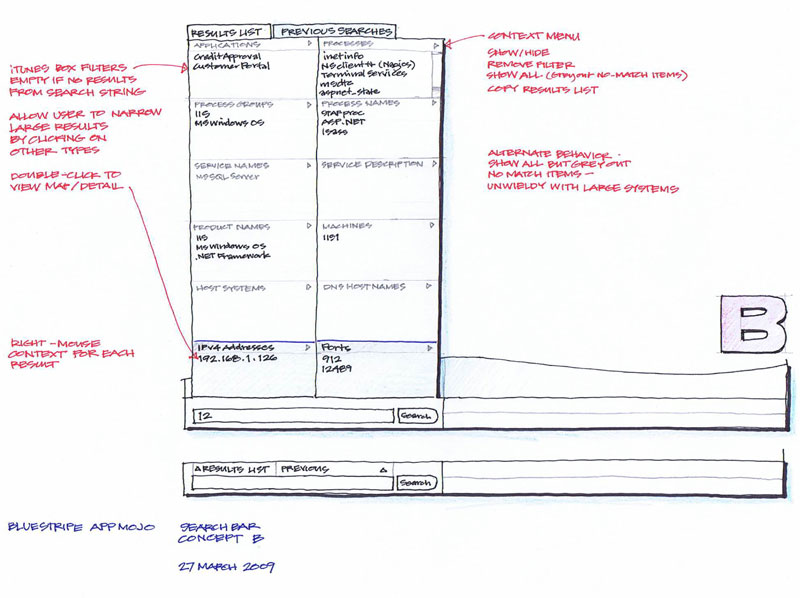 Concept B: grid with categories
Clicking lines in the cells applies additional filters to narrow results.
(Ink and colored pencils)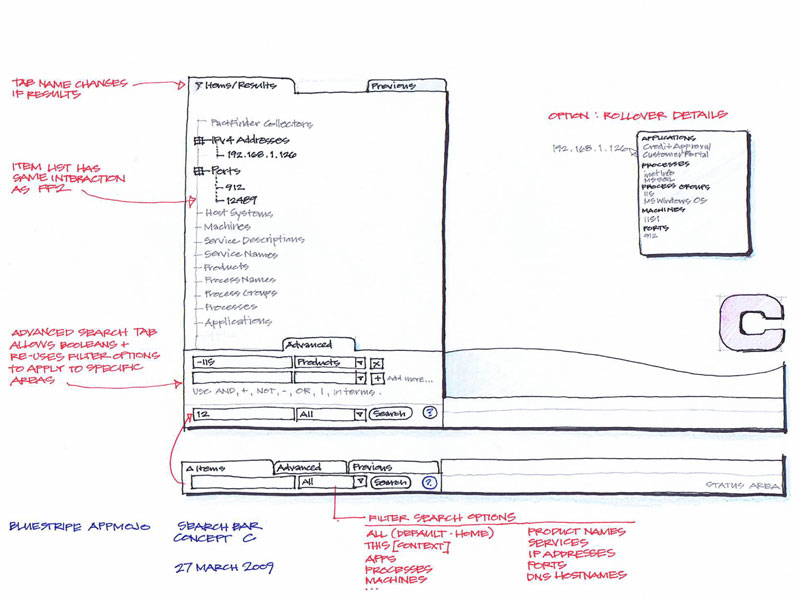 Concept C: hybrid tree view
Builds on tree view from concept A, but allows the user to add explicit rules with dynamic form fields.
(Ink and colored pencils)
Lulu Press: 2007 to 2008
Lulu is a just-in-time book publisher for authors to upload PDF or DOC files, or create photo books with a flash web editor. An eCommerce engine supports sales, and purchased projects are routed to print companies around the world.
As director of a team of UX talent, my focus was on strategy, stakeholder collaboration, agile planning, and frequent user testing.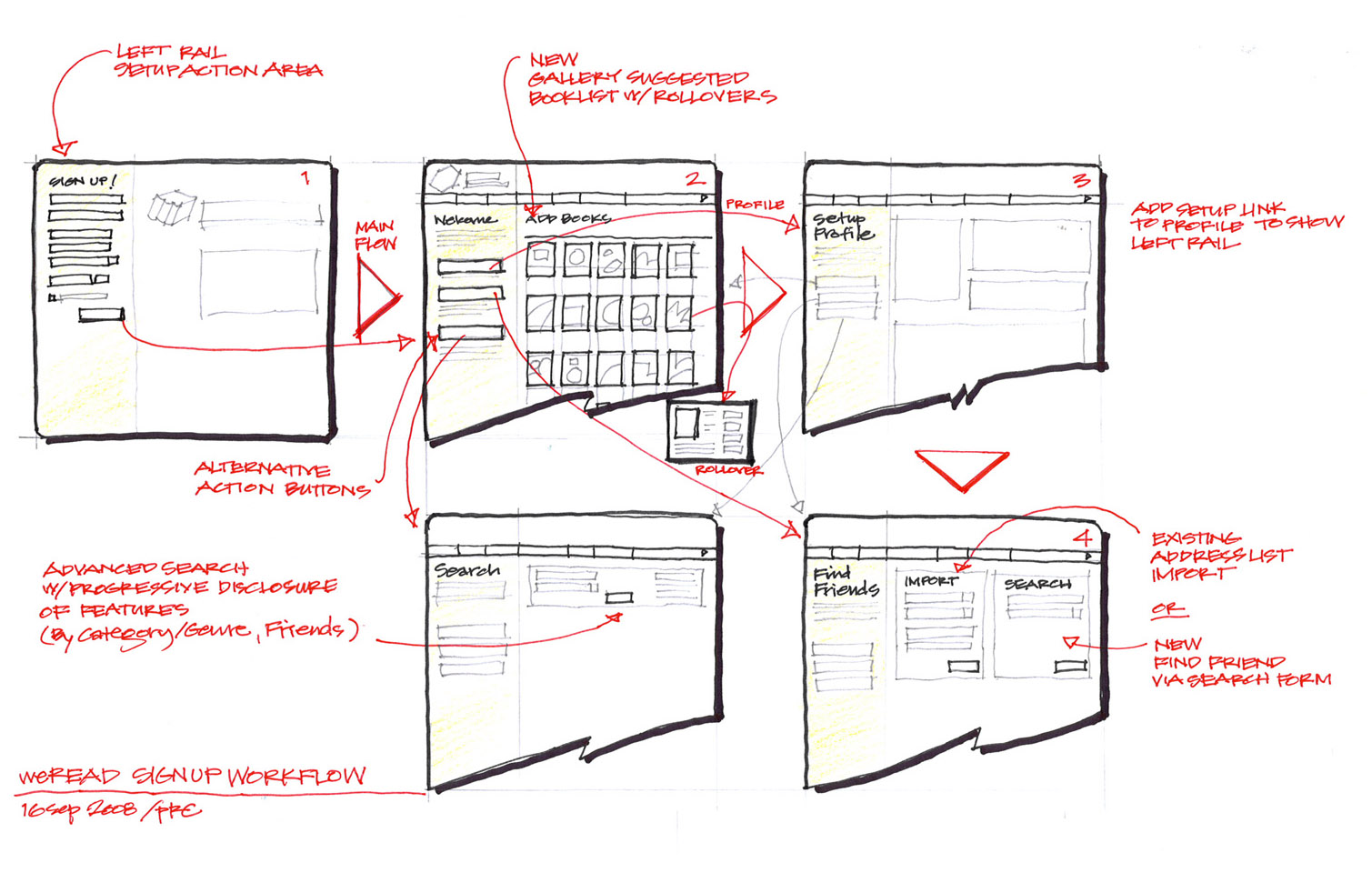 weRead signup workflow diagram
From collaborative session with weRead CEO, showing paths through the alternative feature appeals
weRead was a Facebook app company purchased by Lulu in 2007
(Ink and colored pencil)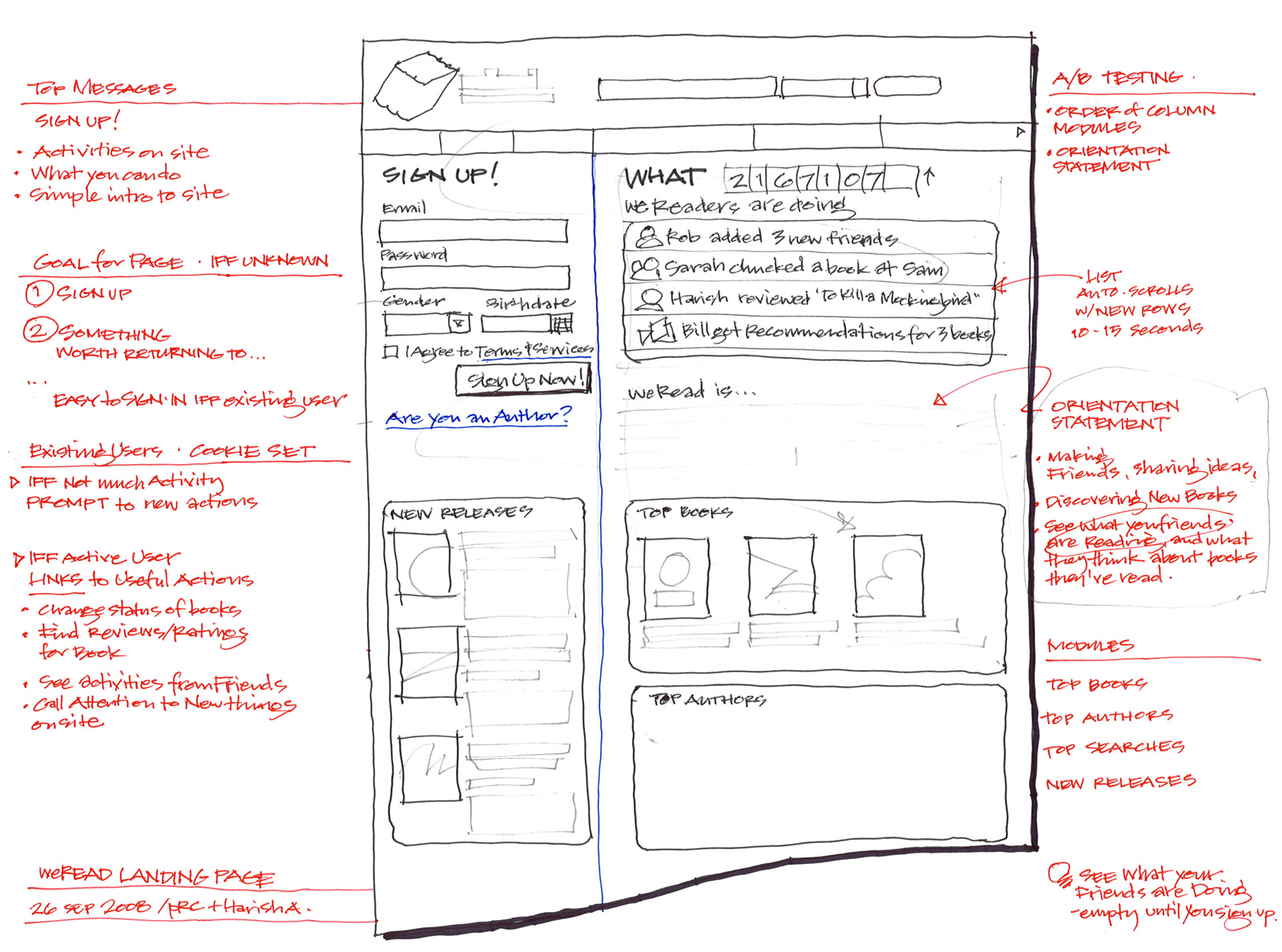 weRead Landing Page
Part of series of collaborative sketches produced with their CEO in a 2-day meeting to explore alternate workflows and page designs for signup and library functions
These concepts led to marketing mockups for the landing pages and specs for interaction improvements
(Ink and colored pencil)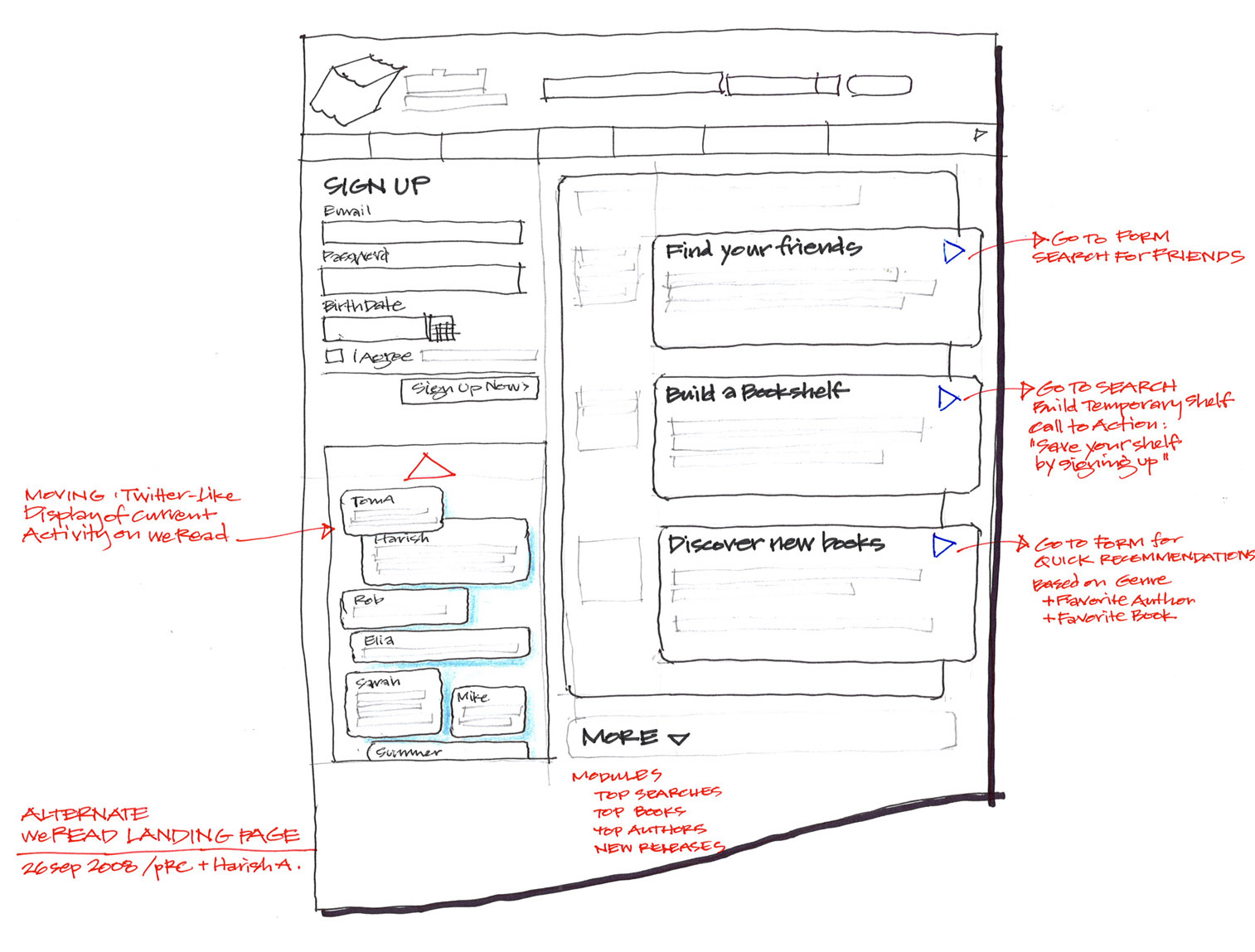 weRead Landing Page: Alternative Two
Moving timeline of bubbles showing live activity on left
(Ink and colored pencil)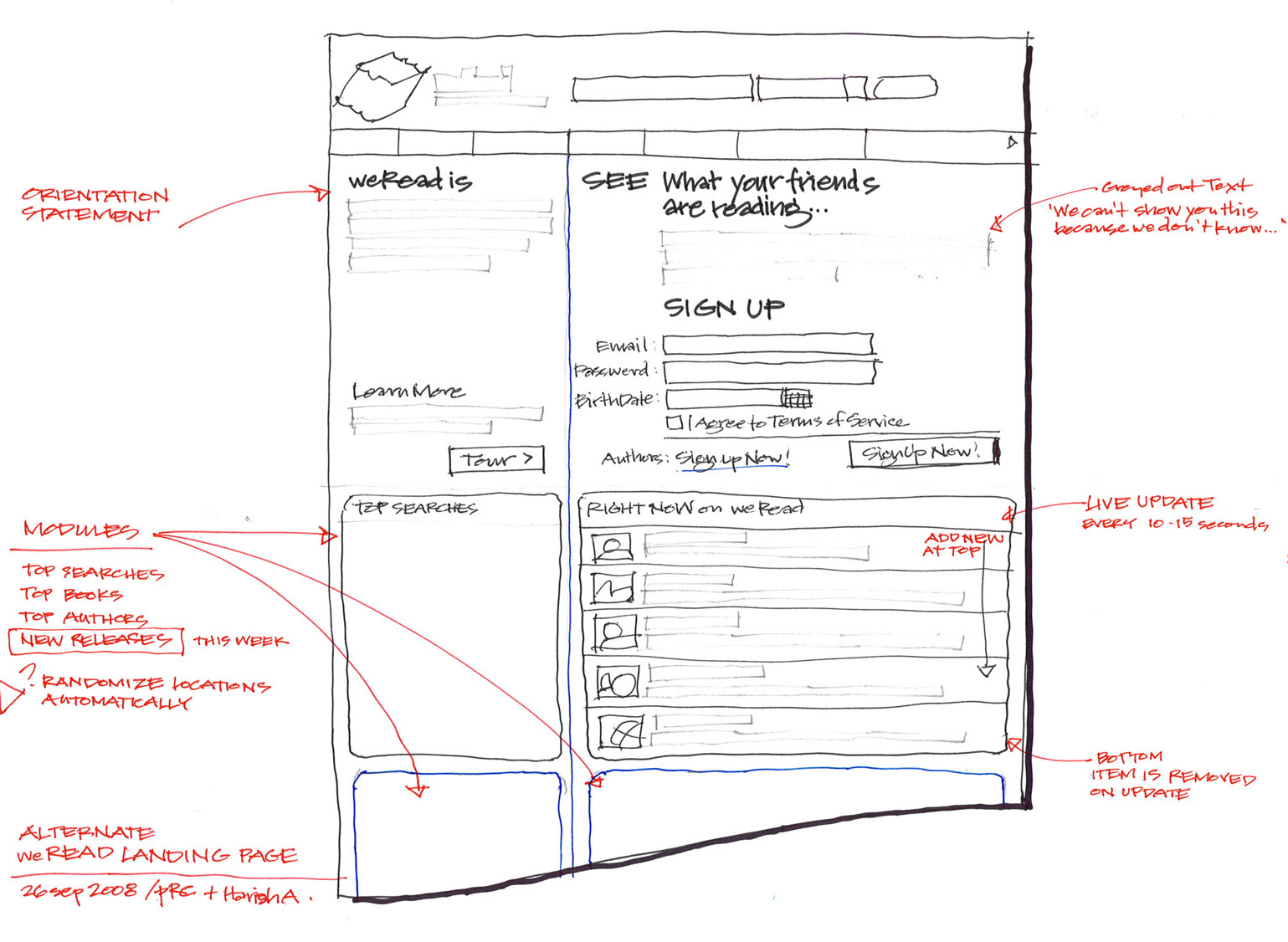 weRead Landing Page: Alternative Three
Fear of missing out - What are your friends reading?
(Ink and colored pencil)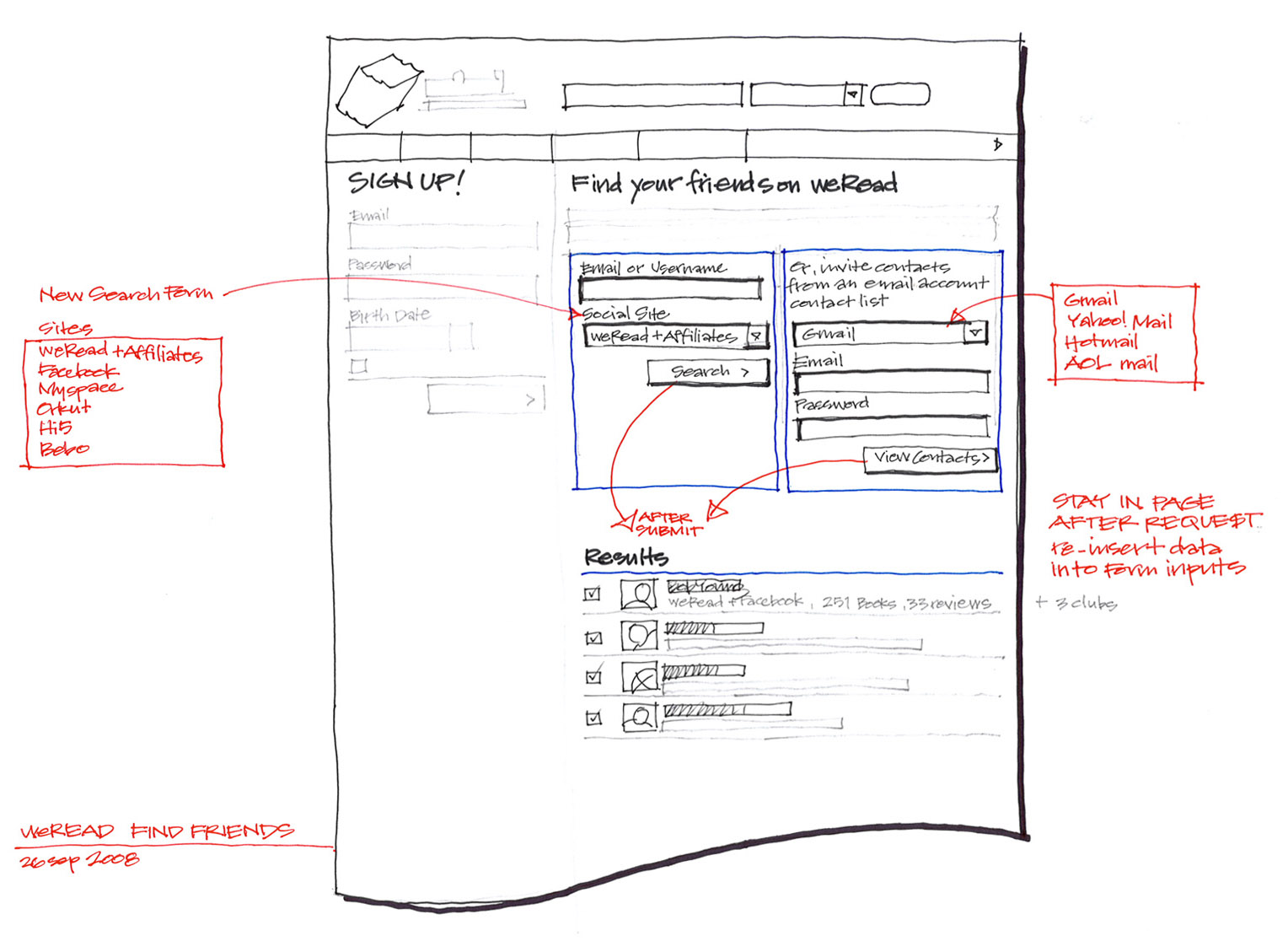 weRead Feature Pitch: Friends
Alternative - Find your friends on weRead
(Ink and colored pencil)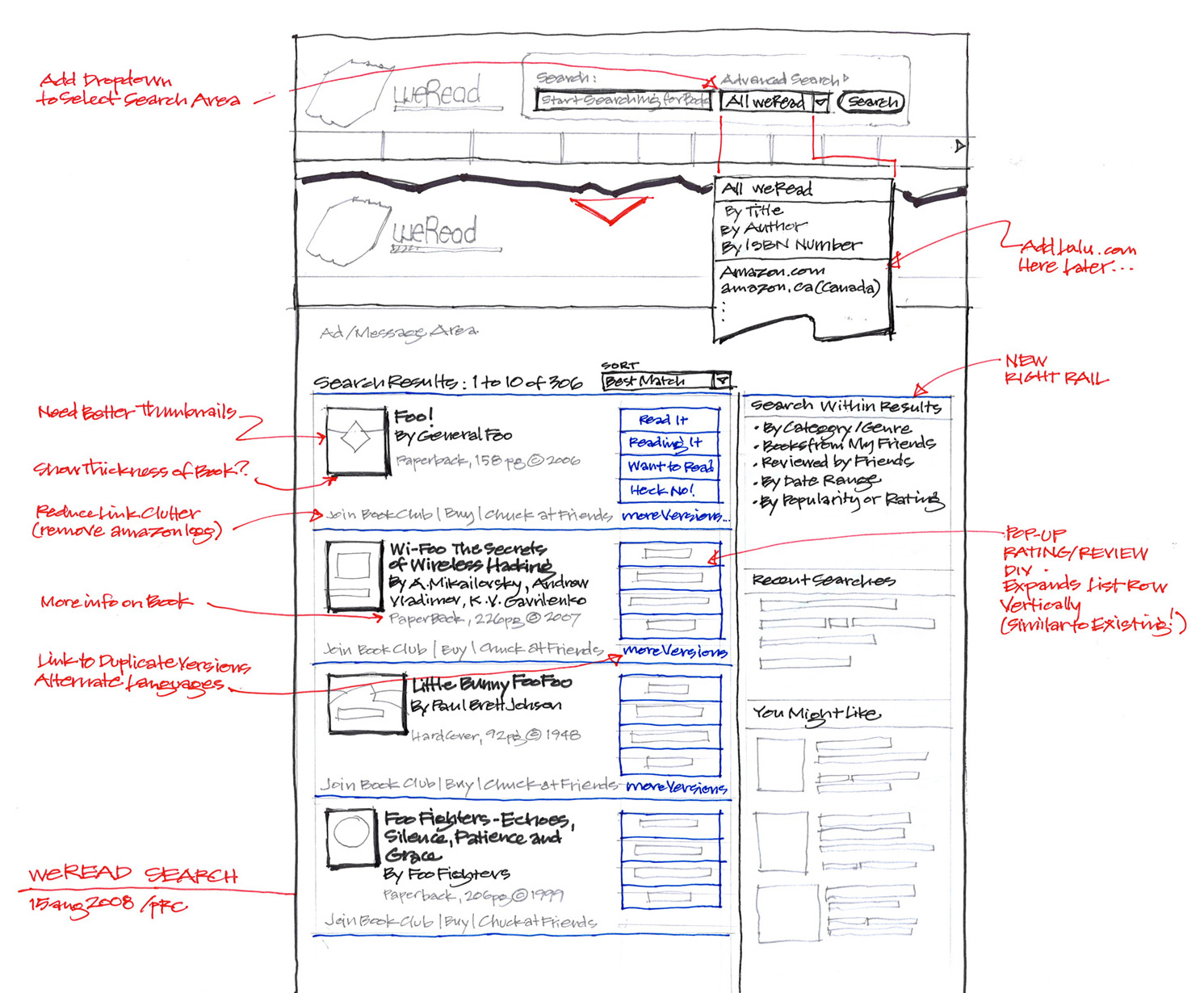 weRead Feature Pitch: Search + Results
Improved search and results
(Ink and colored pencil)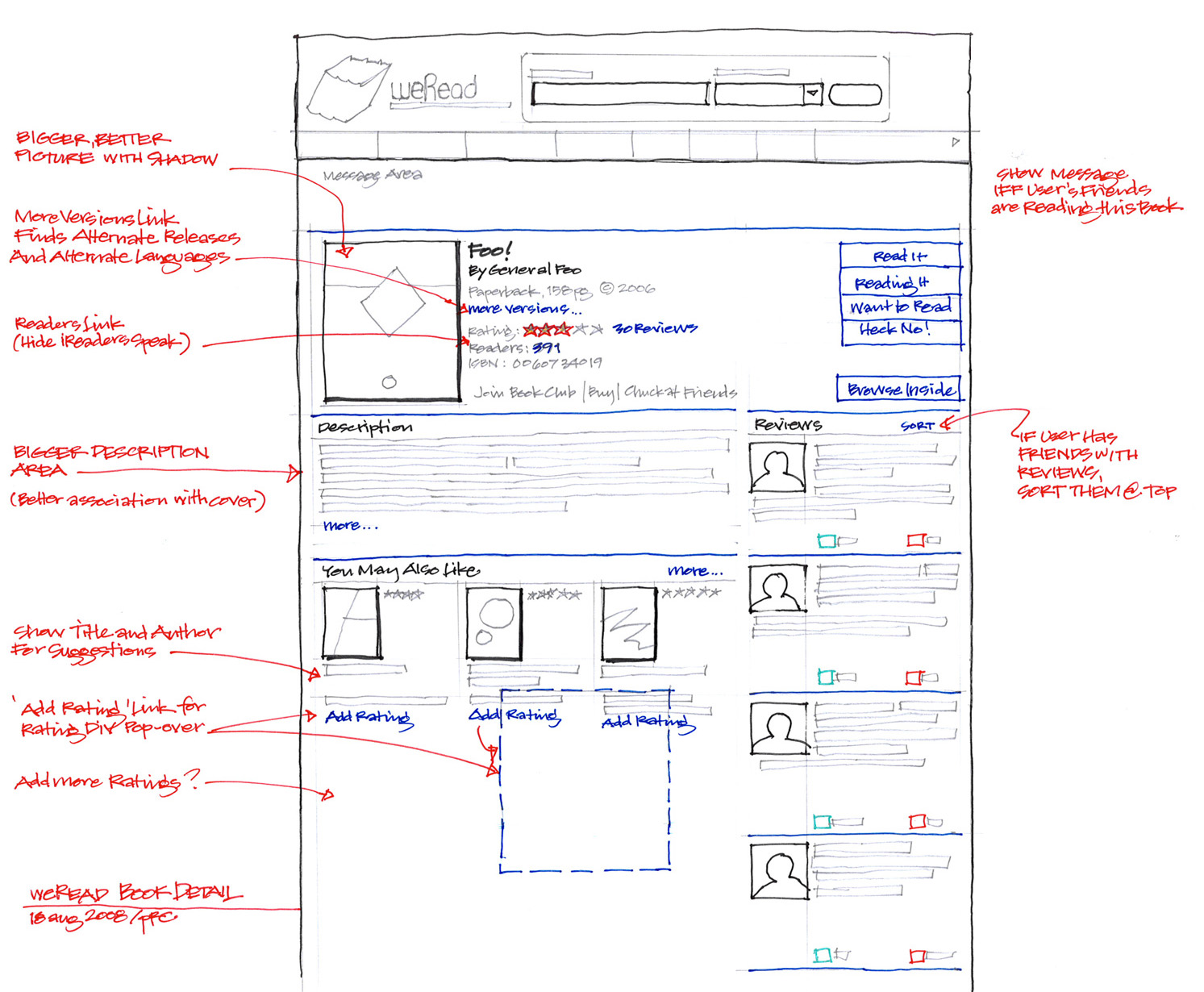 weRead Feature Pitch: Book Details
Detail view for a book from search
(Ink and colored pencil)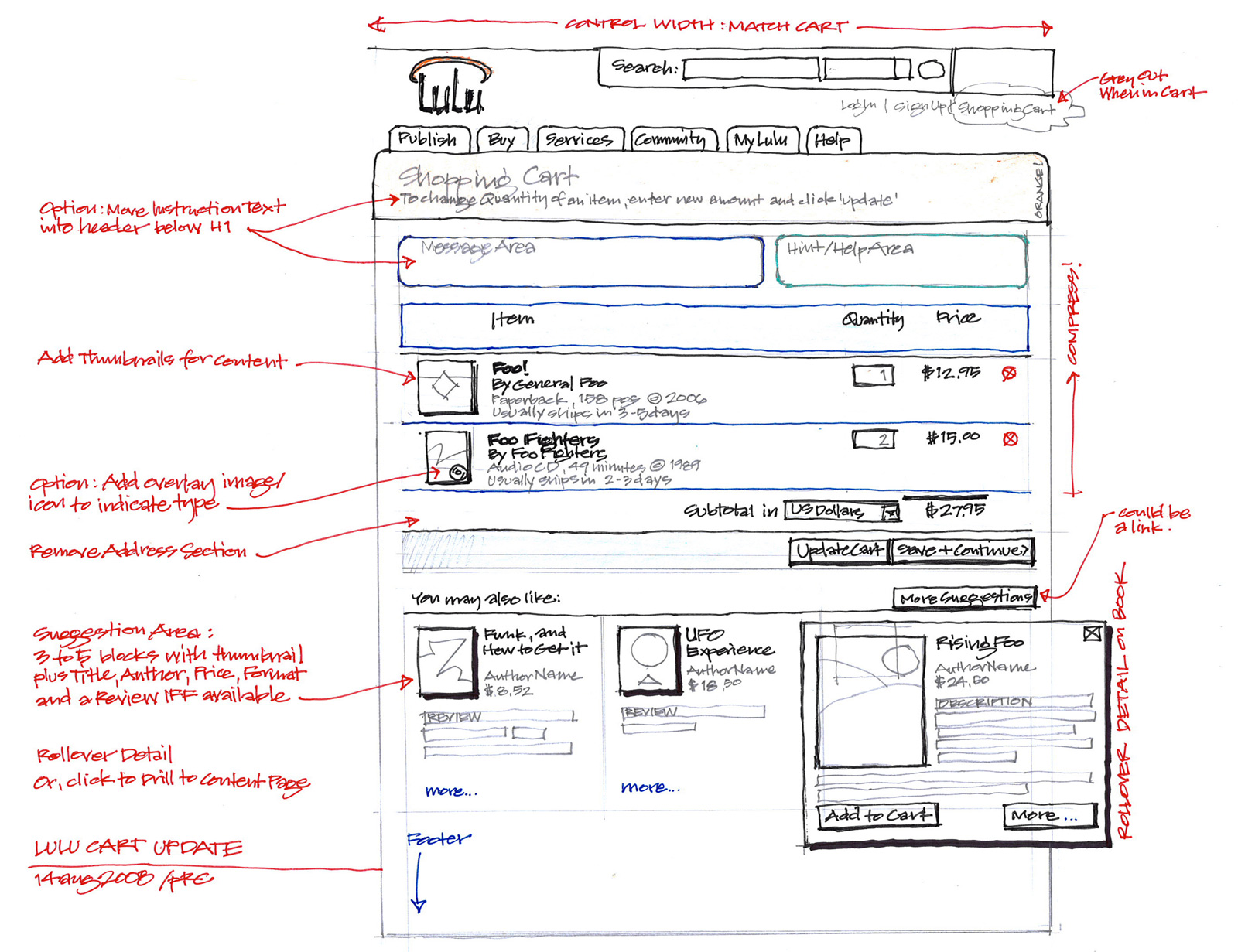 Lulu shopping cart
Ever-popular, ongoing cart re-designs!
Concept adds feed of related books as suggestions along the bottom, with rollover details
(Ink and colored pencil)
Wachovia: 2003 to 2007
Collaborations and consulting with business and IT teams in Finance and eCommerce.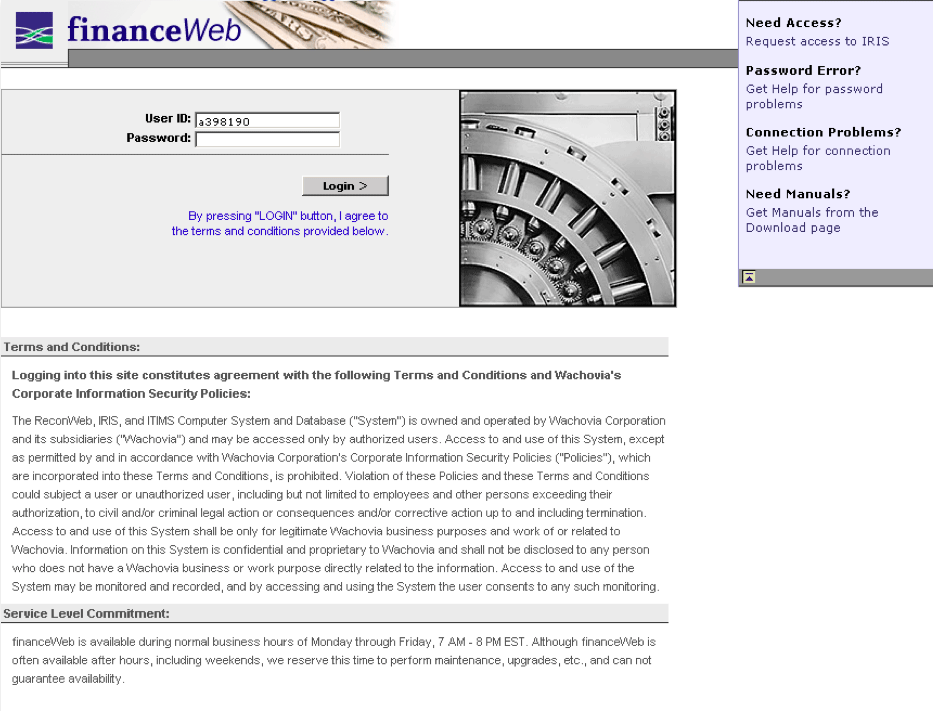 Wachovia FinanceWeb Login
From a series of projects with an internal IT team dedicated to the Finance Department
Projects included web-based reports builder with dynamic XLS output, and a replacement reconciliation engine with web-based rules creation and editing
(HTML/JS/CSS mockup)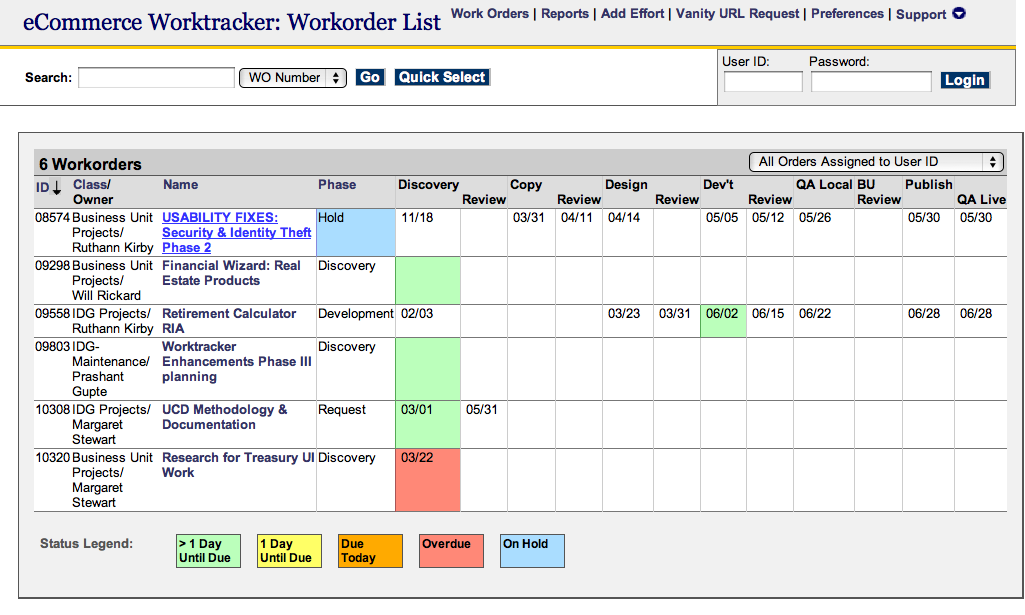 Worktracker eCommerce Project Tool
Internally-developed PHP-based tool for managing web design and production
Starting as a functional but unattractive mess with many specialized screens, interviewed users and developed a priority list of issues, then went straight at the forms through HTML mockups for testing and approvals
We merged functions to eliminate half the old views, actual changes took a week to implement
(HTML/JS/CSS mockup, plus PHP edits)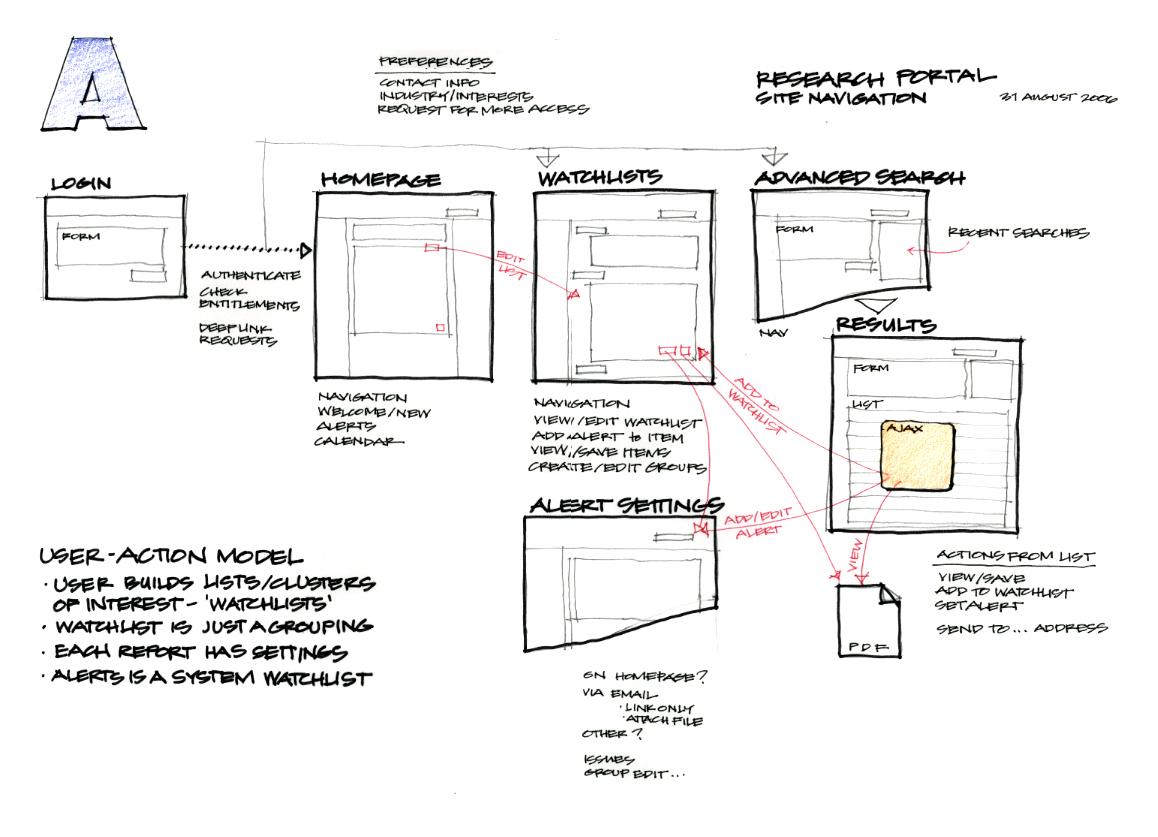 Investment Research Tool: Concept A
Workflow diagrams for new research portal showing alternative behaviors, part of a larger series of concepts
Users search to add sections to their watchlist/reports page
(Ink and colored pencils)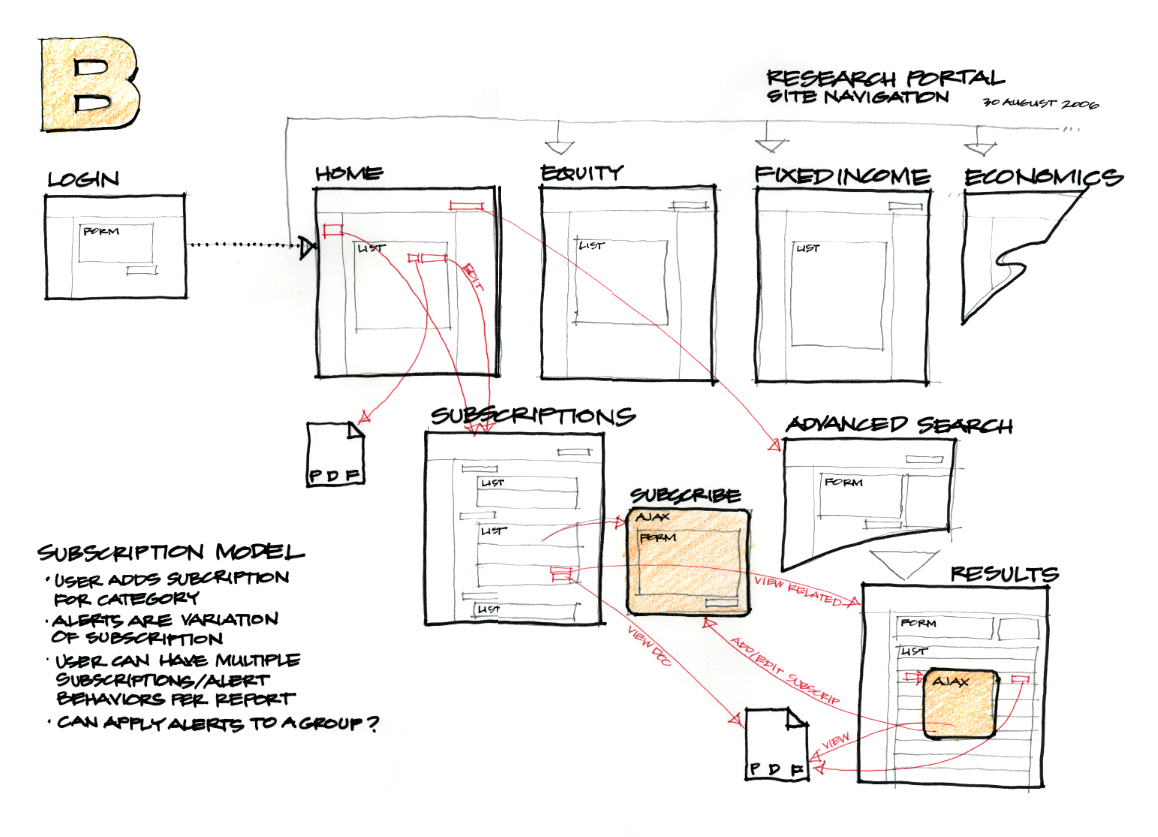 Investment Research Tool: Concept B
Subscription model where users could add alerts for automatic updates delivered via eMail
(Ink and colored pencils)
S1 Corporation: 1995 to 2003
Core interaction design, app and page architecture for the world's first internet bank - SFNB.com
After restructuring into software provider, by 2002 S1 powered over 3500 other internet enabled banks with seven product lines (and four complete technology re-writes). Interesting times.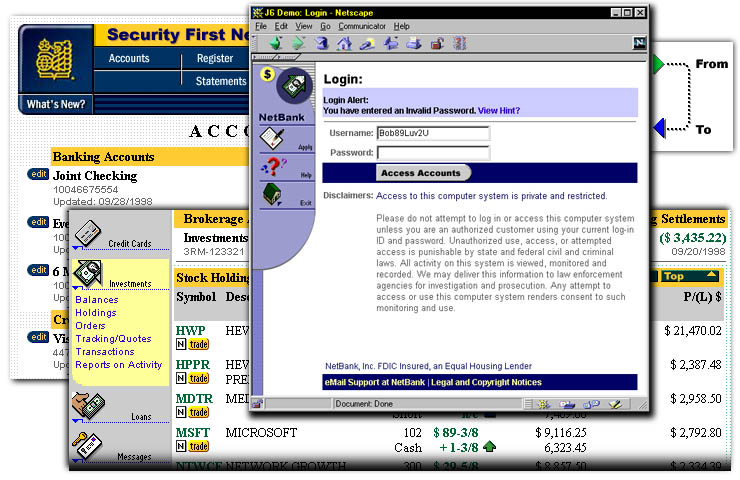 S1 Financial Software
Screenshots from early brand implementations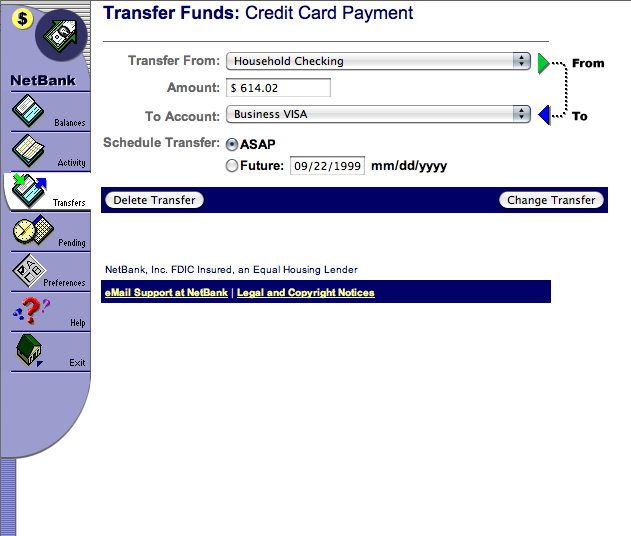 S1 lightweight personal banking design
Simplified 1998 banking product targeted for small banks and credit unions
(Screen capture from HTML specification)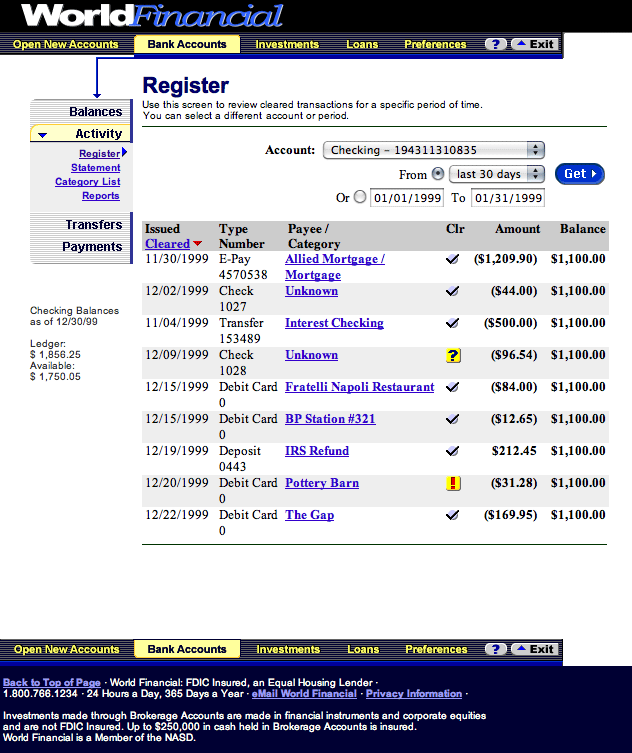 S1 Branding Demo:
Side Navigation and custom buttons
Concept used to show customer banks the power of the page architecture and CSS classes
(Screen capture from live demo)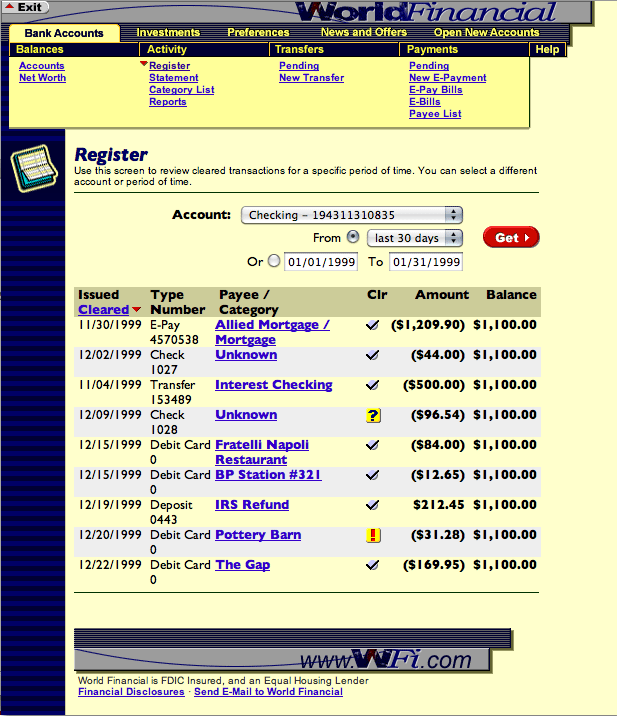 S1 Branding Demo:
Top Navigation and custom buttons
CSS font and color controls with backup HTML coding in shared objects
(Screen capture from live demo)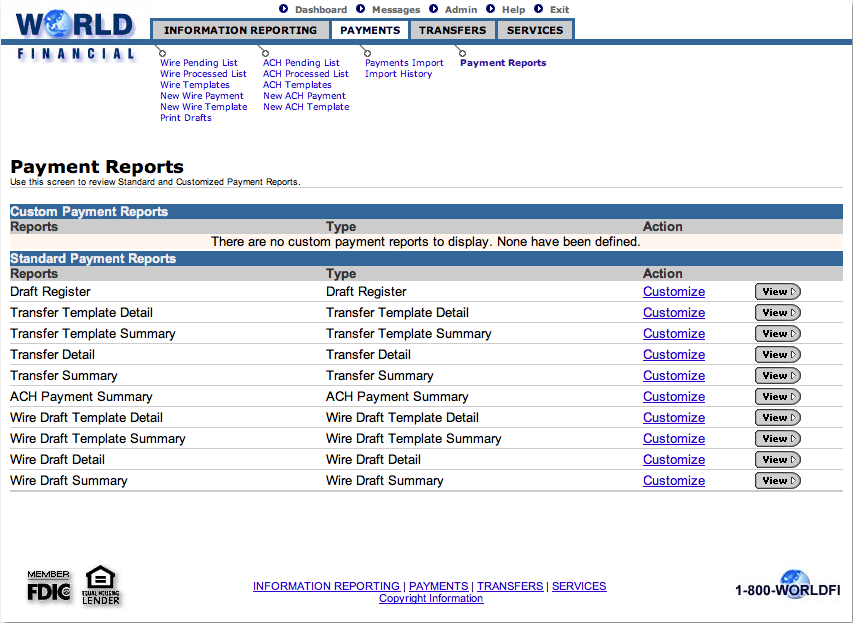 S1 Branding Demo: Corporate Banking
(Screen capture from live demo)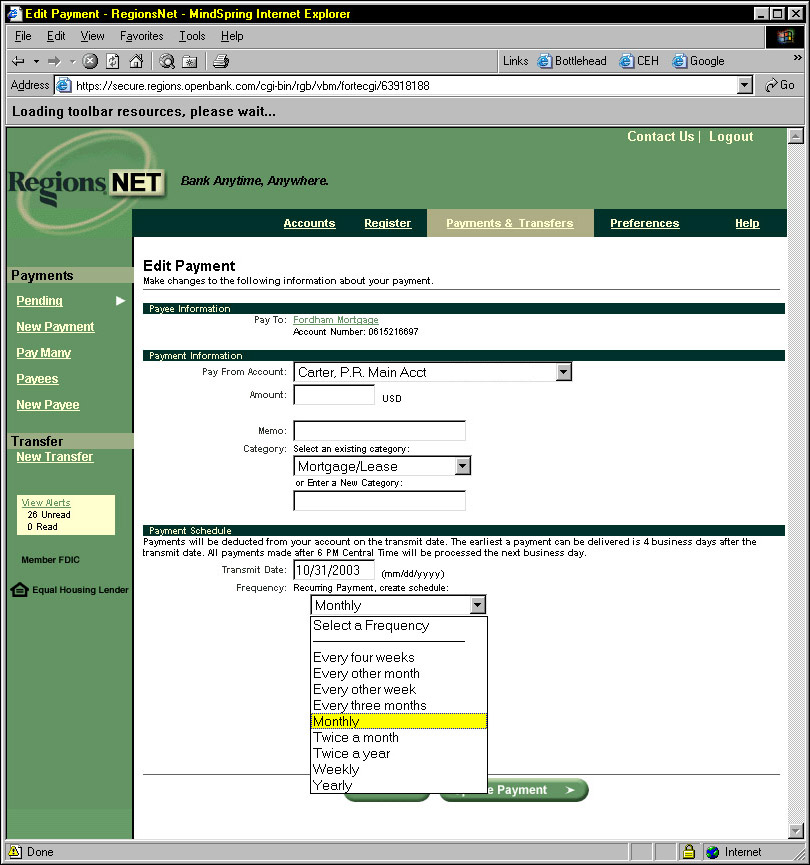 Regions Bank implementation on S1
Example of extensive branding applied with the S1 Template Object Model
(screen capture from production)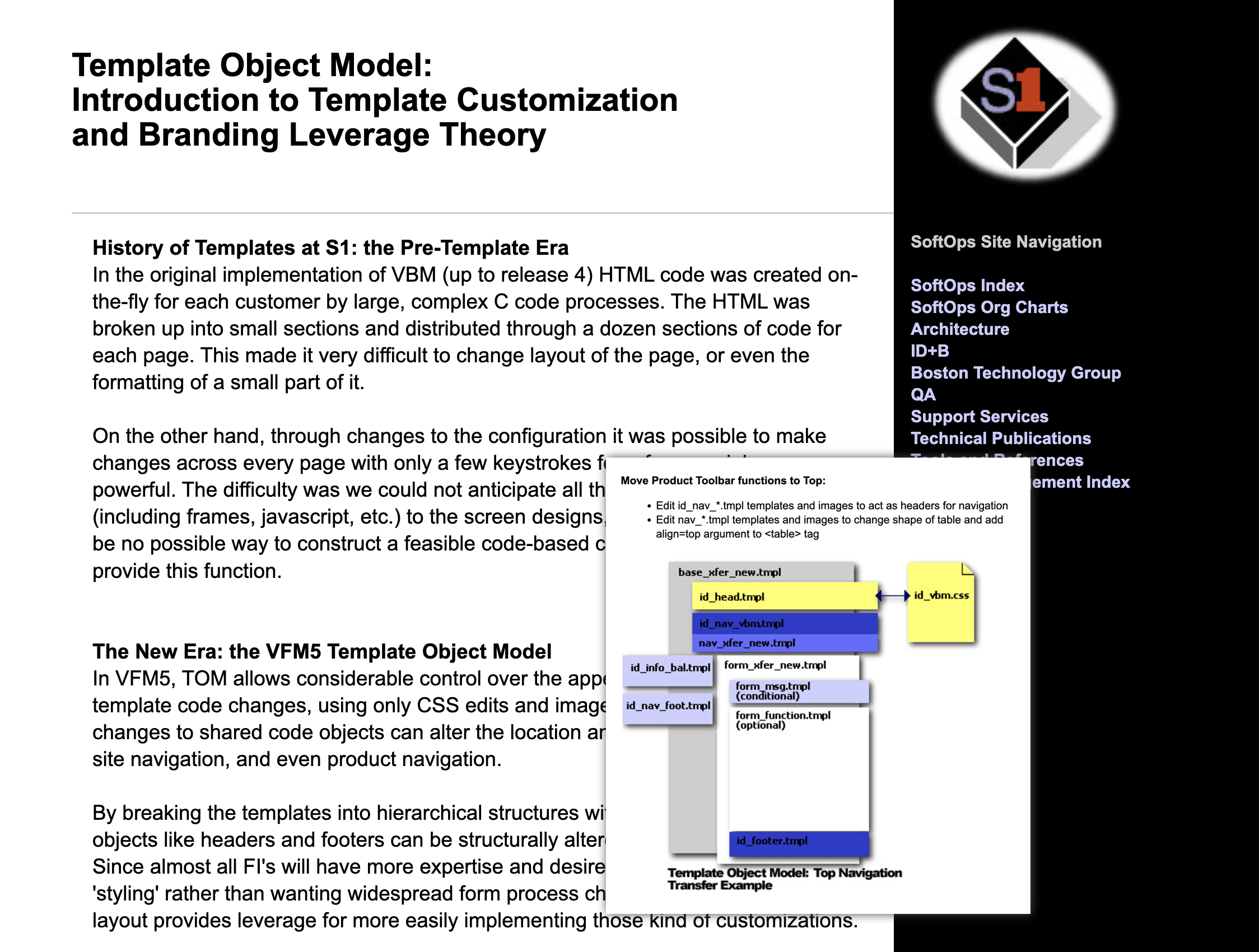 S1 Intranet: Template Object Model
Introduction page with high-level description and block diagrams showing common transformations, 1998 HTML
With CSS going through an unreliable transition while browser support unified, this page architecture used separate tables and HTML4 alignment arguments to change site presentation for individual banks.
Browser rendering resolution has changed - Smaller font sizes were used to work better on most computers and displays of that time
(Hand-coded HTML)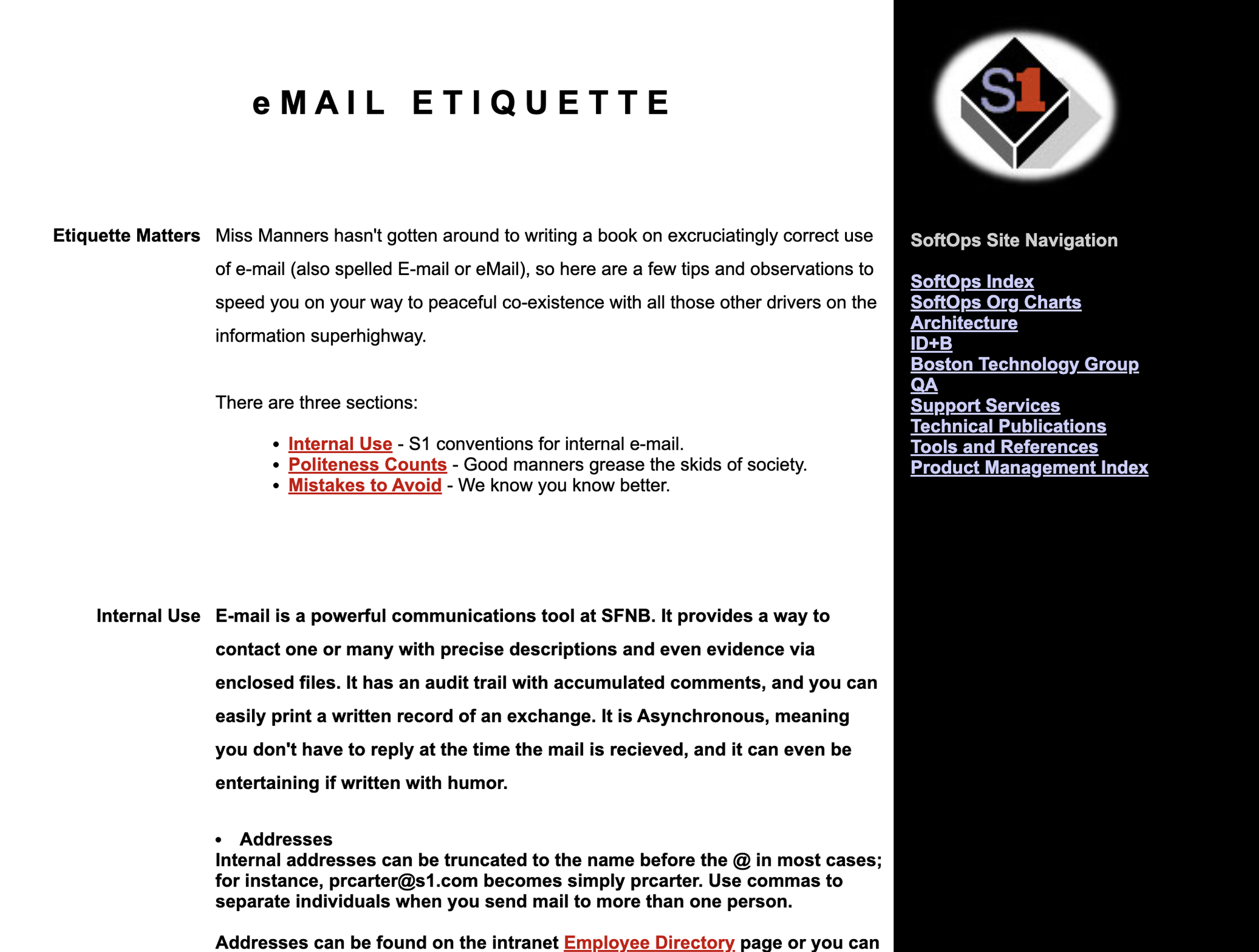 S1 Intranet: Page Design Example
Internal eMail etiquette... circa 1998 (HTML)
Browser rendering resolution has changed - Smaller font sizes were used to work better on most computers and displays of that time
(Hand-coded HTML)
Peachtree Software: 1993 to 1995
A long relationship with Peachtree began in 1992 with consulting on Peachtree Accounting for Windows release 2.0, a major redesign which resulted in big sales and critical acclaim.
Consulting continued on Peachtree Accounting for Windows 3.0 and Peachtree Accounting for Macintosh, and in 1994 I joined Peachtree fulltime as Interface Architect.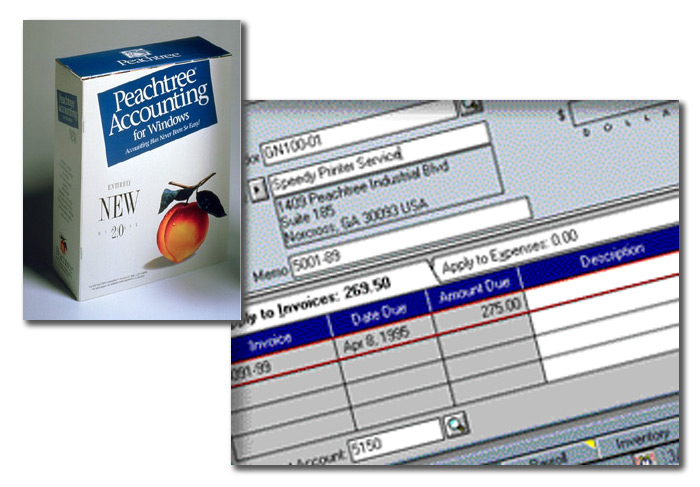 Peachtree Accounting for Windows
Defined functional requirements and look and feel, developed consistent process flow, led user research, including internal lab testing and contextual inquiry ethnography studies, also developed all icons and graphics.
(Product box and screenshot)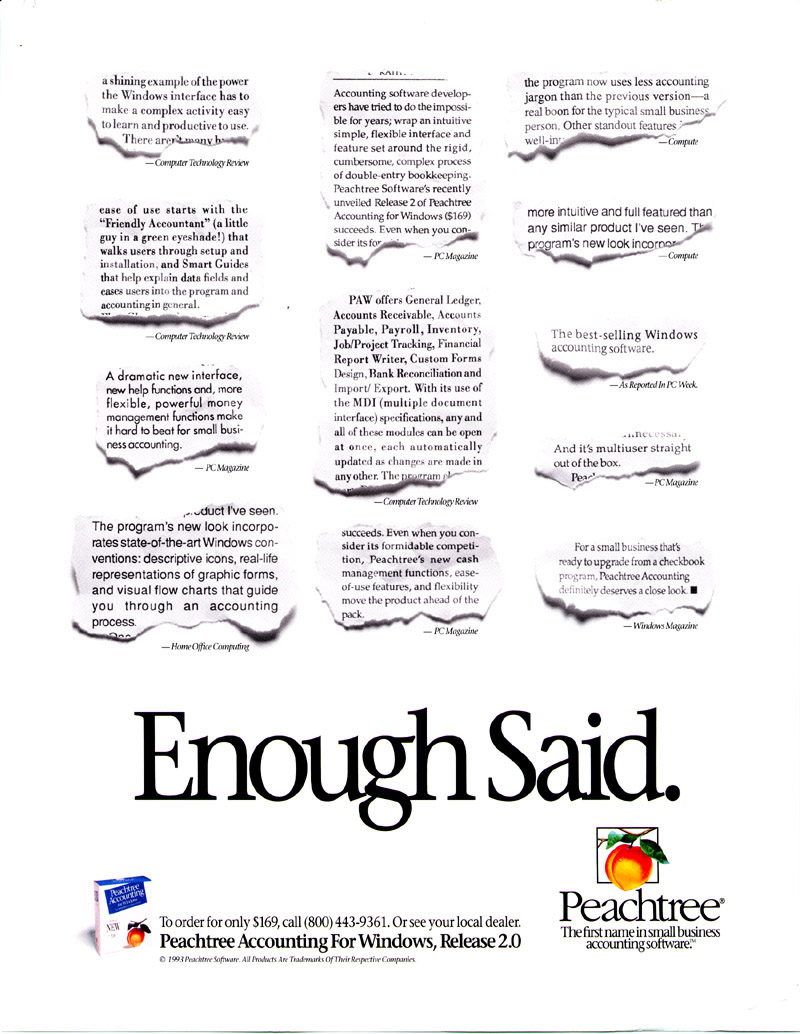 Peachtree Ad with Quotes
Features and ase-of-use were lauded in magazine reviews
PC Computing "A dramatic new interface, new help functions and more powerful management make it hard to beat for small business accounting"
Home Office Computing "The program's new look incorporates sate-of-the-art Windows conventions: descriptive icons, real-life representations of graphic forms, and visual flow charts that guide you through an accounting process."
(Scanned magazine ad)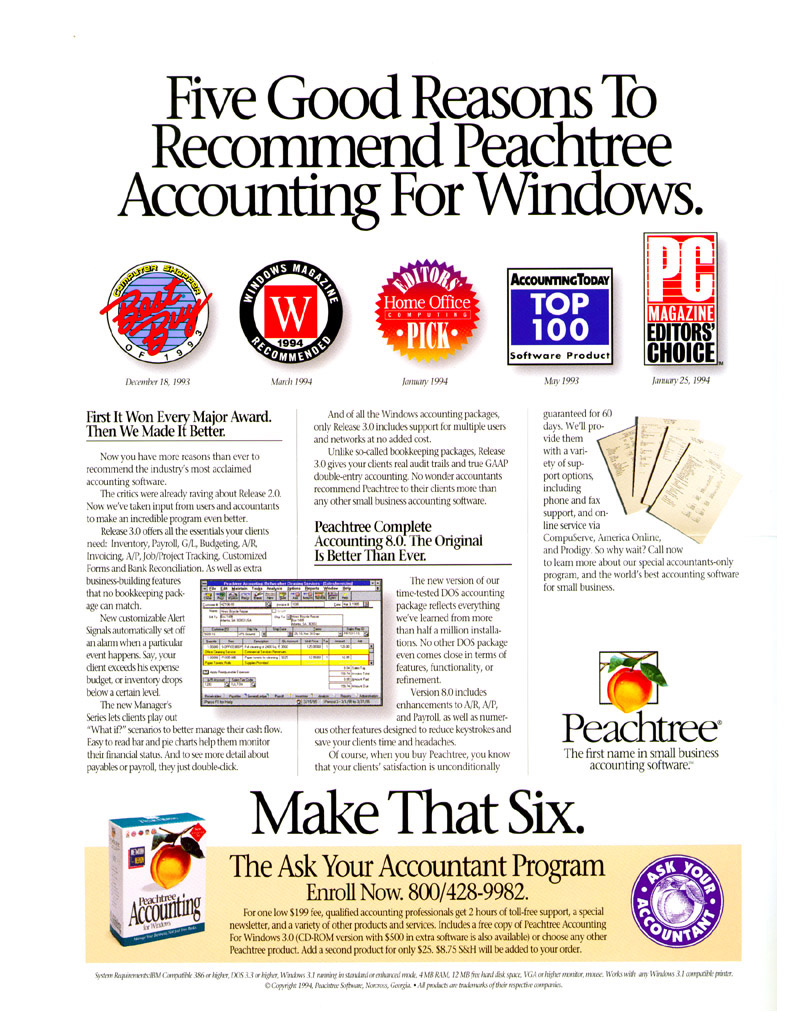 Another Peachtree Ad on Awards
Peachtree awards became central to their advertising message.
1995 PC Computing "A" List, PC Magazine Editor's Choice, Windows Magazine Top 100 Award, Home Office Computing Editor's Pick for Peachtree Accounting for Windows 3.0
1994 Codies Award, PC Magazine Editor's Choice, Home Office Computing Editor's Pick Award for Peachtree Accounting for Windows 2.0
1993 Computer Shopper Best Buy, Accounting Today Top 100 for Peachtree Accounting for Windows 2.0
IDEA Award: Medtronic 'Fit' 1992
This Mac-based software was awarded a Gold Industrial Design Excellence Award from
BusinessWeek and the IDSA
, 1 of 25 awarded among all US products that year.
Developed as a consulting project for Medtronic phone support, it compares families of pacemakers and leads by classifying the combinations using simple icons. It's an early example of a stateless GUI that responds to inputs in any order.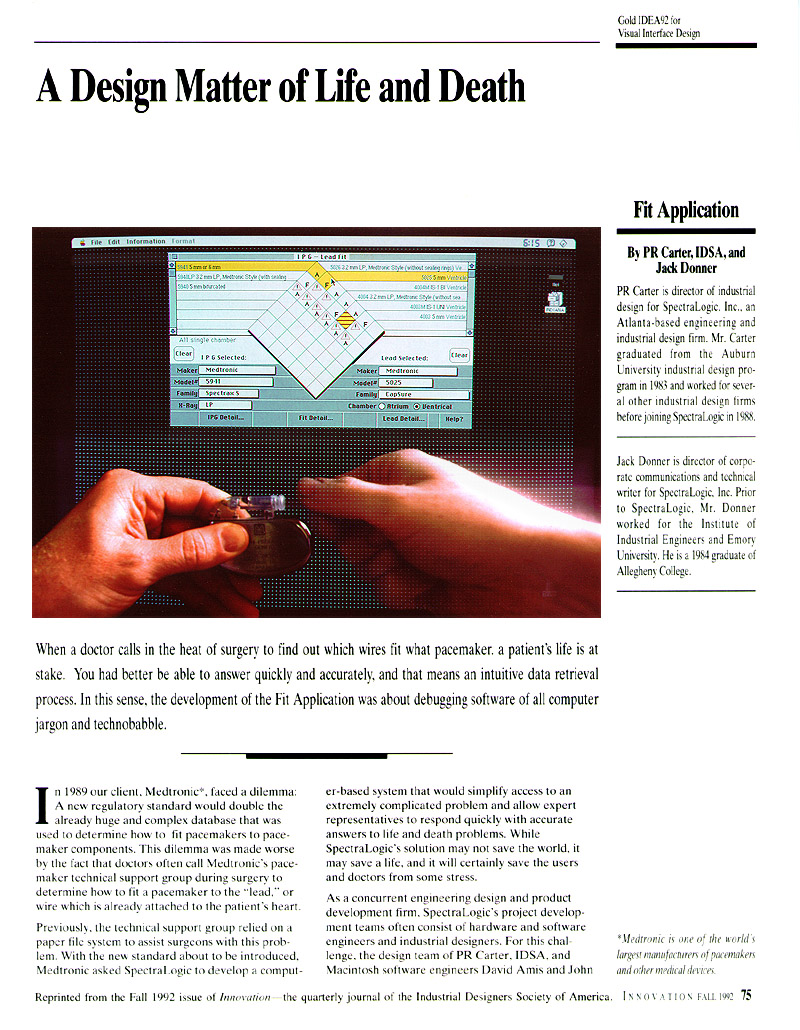 Medtronic 'Fit' Awards Coverage
Links to scans of articles from the IDSA magazine, Medtronic Pulse, and BusinessWeek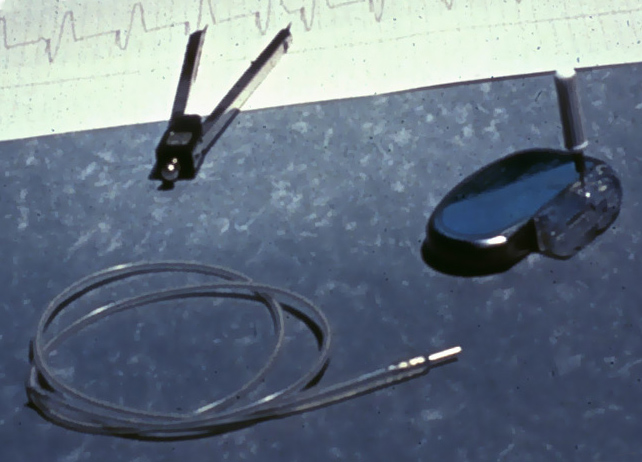 Pacemakers connect two components
A titanium-cased pulse generator plus the silicone coated platinum electrical lead inserted into the wall of the heart
When a pacemaker is replaced after four years of use, it is connected to the previously implanted lead
With different designs for the lead connectors and many manufacturers resulting in over 1 million combinations - understanding which pacemaker and/or adapters to order was very complicated.
(Product photography)
Medtronic 'Fit' Application
Allows modeless entry of identification data in whatever order a doctor calls out through dynamic menus and an X-Ray id search dialog
Ethnography with the Medtronic technical support team was key to design of the quick and simple interaction
(Macintosh software written in MacApp)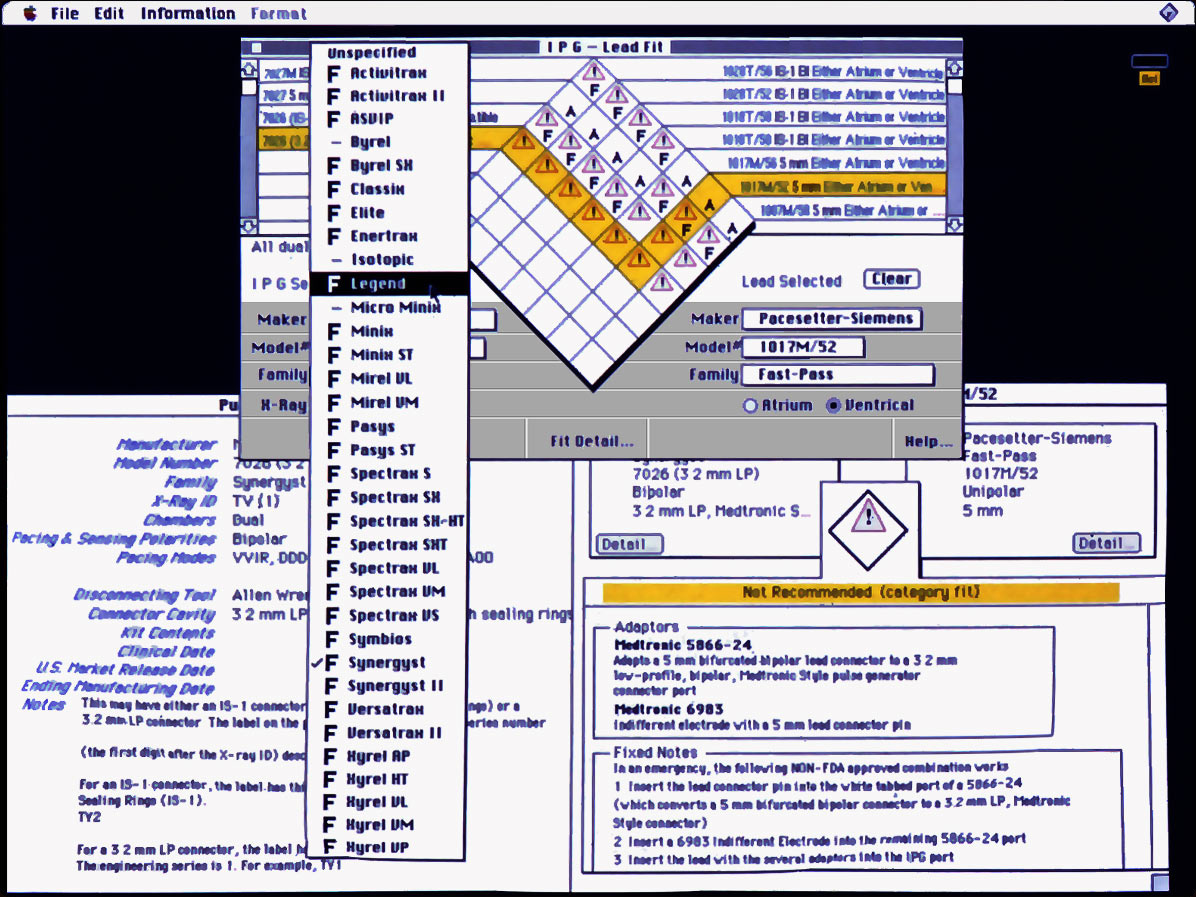 Dynamic Menus
Simple indicators beside choices to quickly identify combinations without hiding other alternatives
Once a selection is made, a click on the icon drills down to detailed information on the parts and their fit, including emergency procedures when there are no alternatives
(Macintosh software written in MacApp)
Industrial Design Consulting: 1983 to 1993
Industrial Design is a profession established in the 20th century with roots in the German Bauhaus school.
Design education focuses on user-centered methods, identifying needs, collecting and organizing information, building alternatives, evaluating and refining them, along with project management to hold it all together. It's a big set of tools and designers choose the a subset to best fit the needs of a project. Making things that are functional and beautiful takes a surprising amount of work!
Design methods can be applied to almost any complex problem; business schools have widely adopted the methodology as design thinking.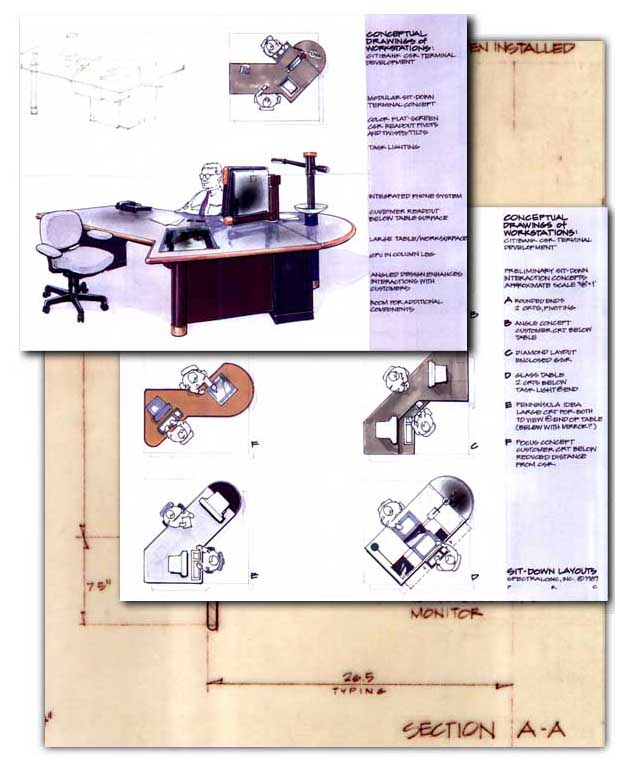 Citibank CSST Staff Terminal
Proposal sketch in RFP response helped win the project
1989-1990 project to explore how to introduce data mining and targeted cross-selling technology into bank branches
(Mixed-media renderings)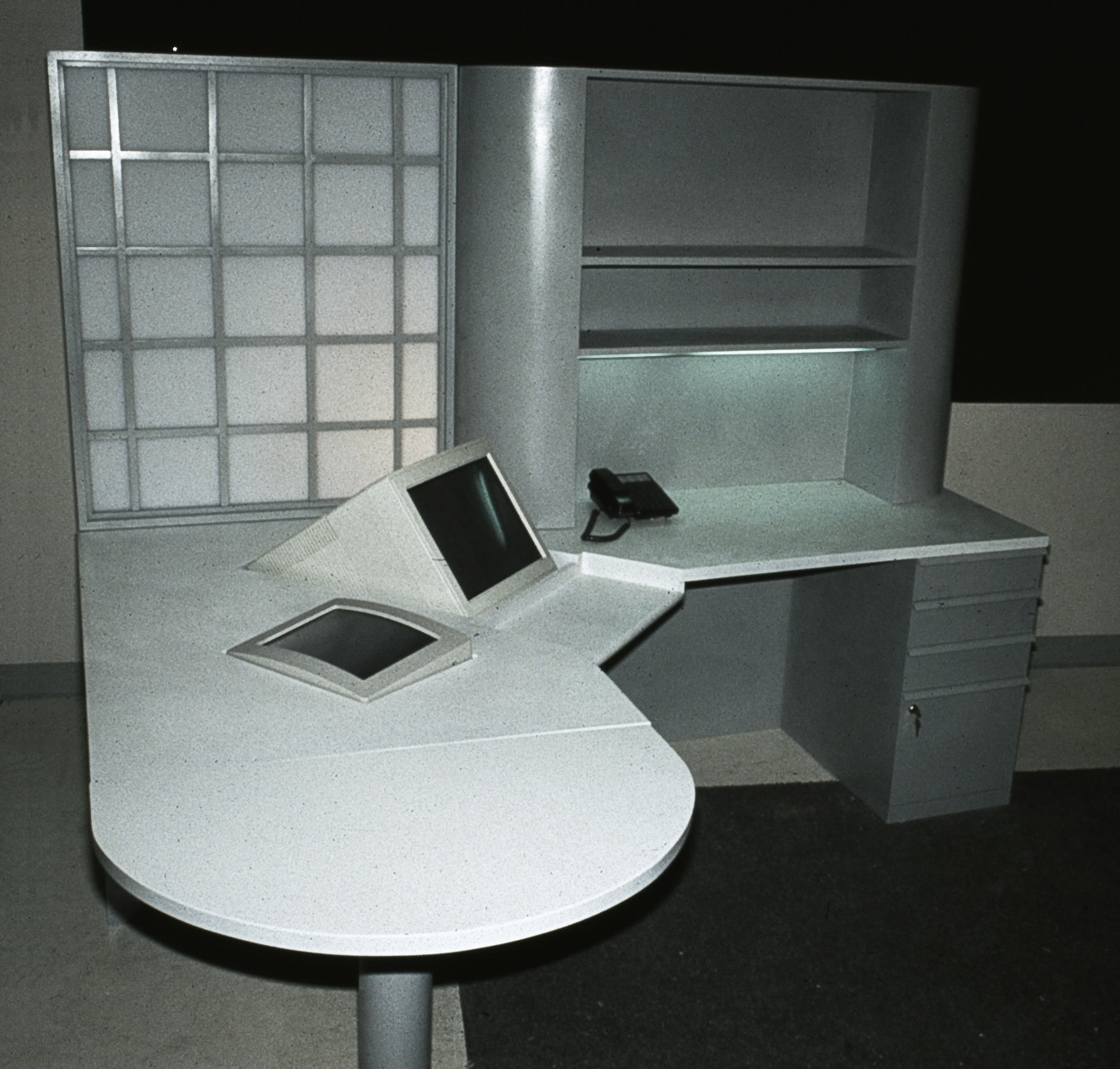 Citibank CSST Staff Terminal:
Furniture Design
Full-scale furniture with five different sizing and arrangements to test bank representative-to-customer scenarios
Quantitative user tests were run in three cities
(Wood and plastic furniture prototypes with embedded monitors and servers)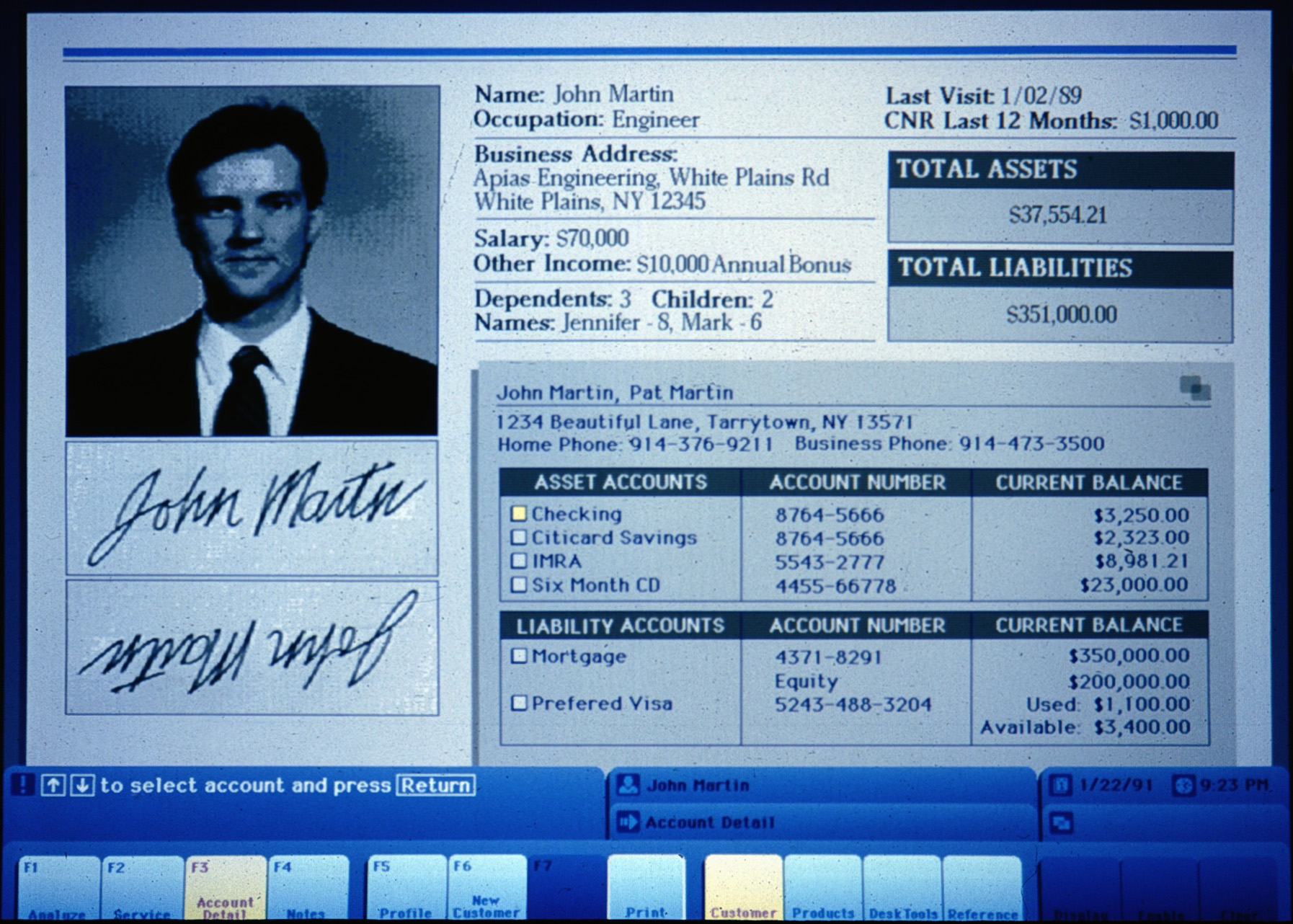 Citibank CSST Staff Screenshot
1989-1990 project to explore how to introduce data mining and targeted cross-selling technology into bank branches, we built full-scale furniture and custom software to test CSR to customer scenarios
Quantitative user tests used actors as customers to study staff experiences
(Macromedia Director interactive mockup)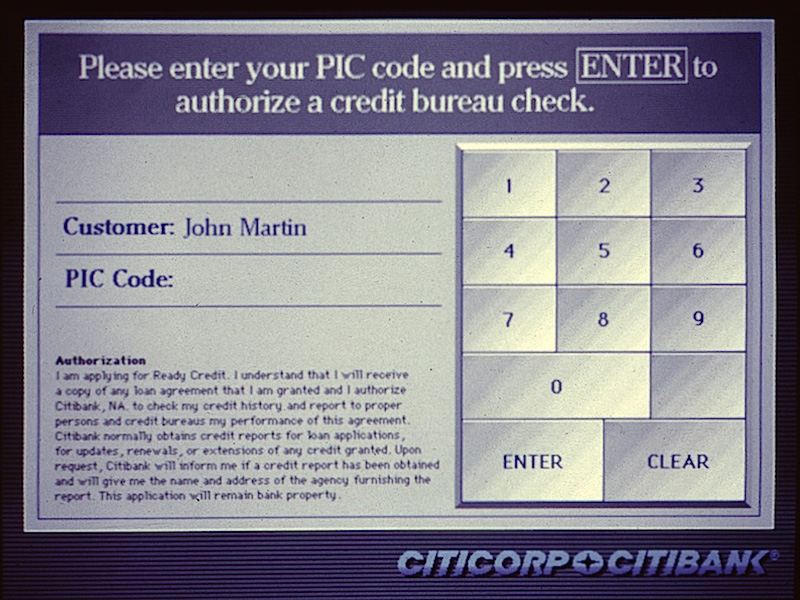 Citibank CSST Staff Terminal:
Customer Software
One of the key ideas to evaluate was customer reactive to having a touchscreen for information and approvals, this screenshot is from one of several iterations
We also tested various media for communicating information, from simple text, to visual graphing, to animations and video in user tests run in three cities
(Macromedia Director interactivemockup)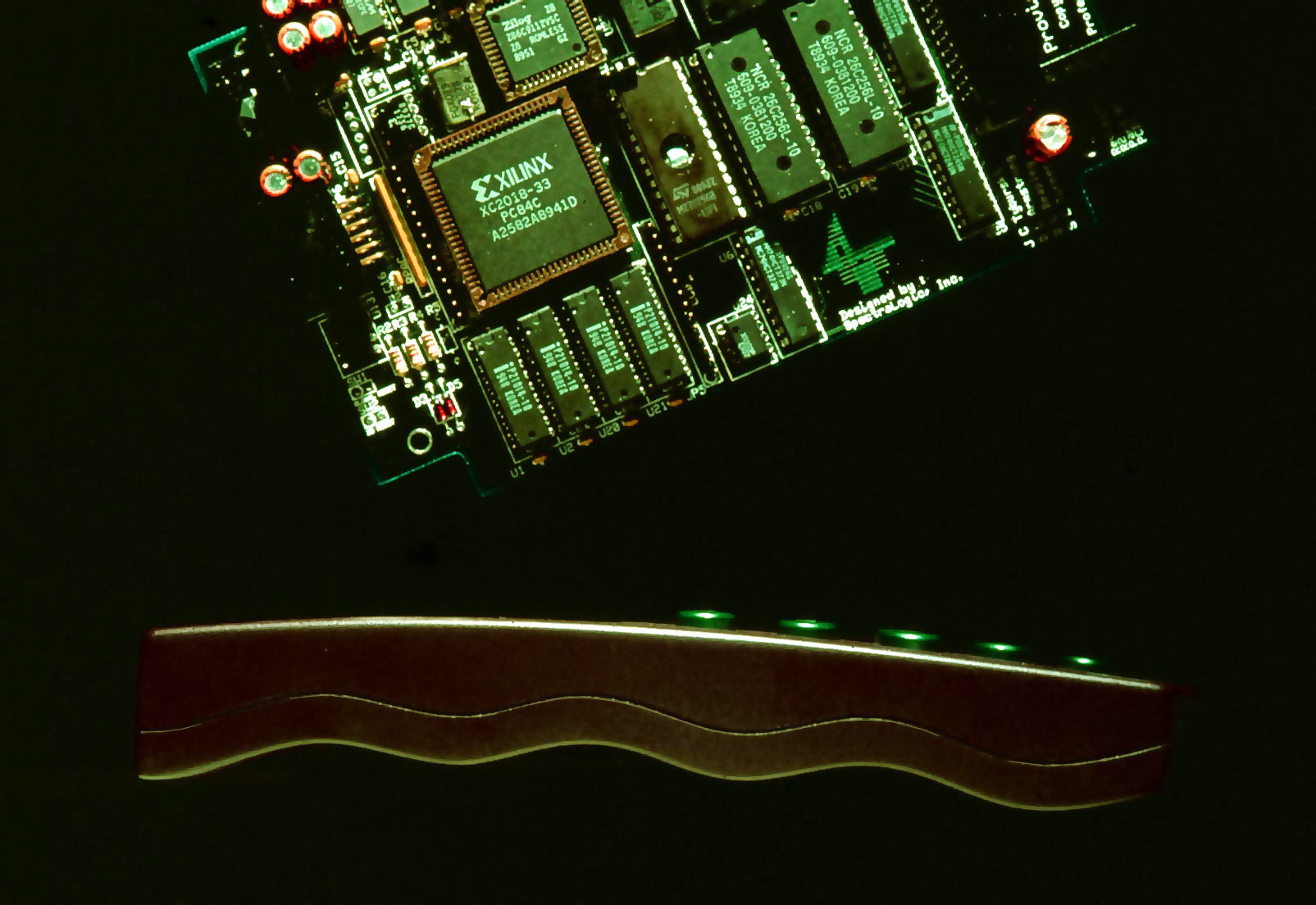 PTS Laserdisk Training Controller
Prototype PC board and solid enclosure mockup for a 1988 training system
(Wood and plastic model)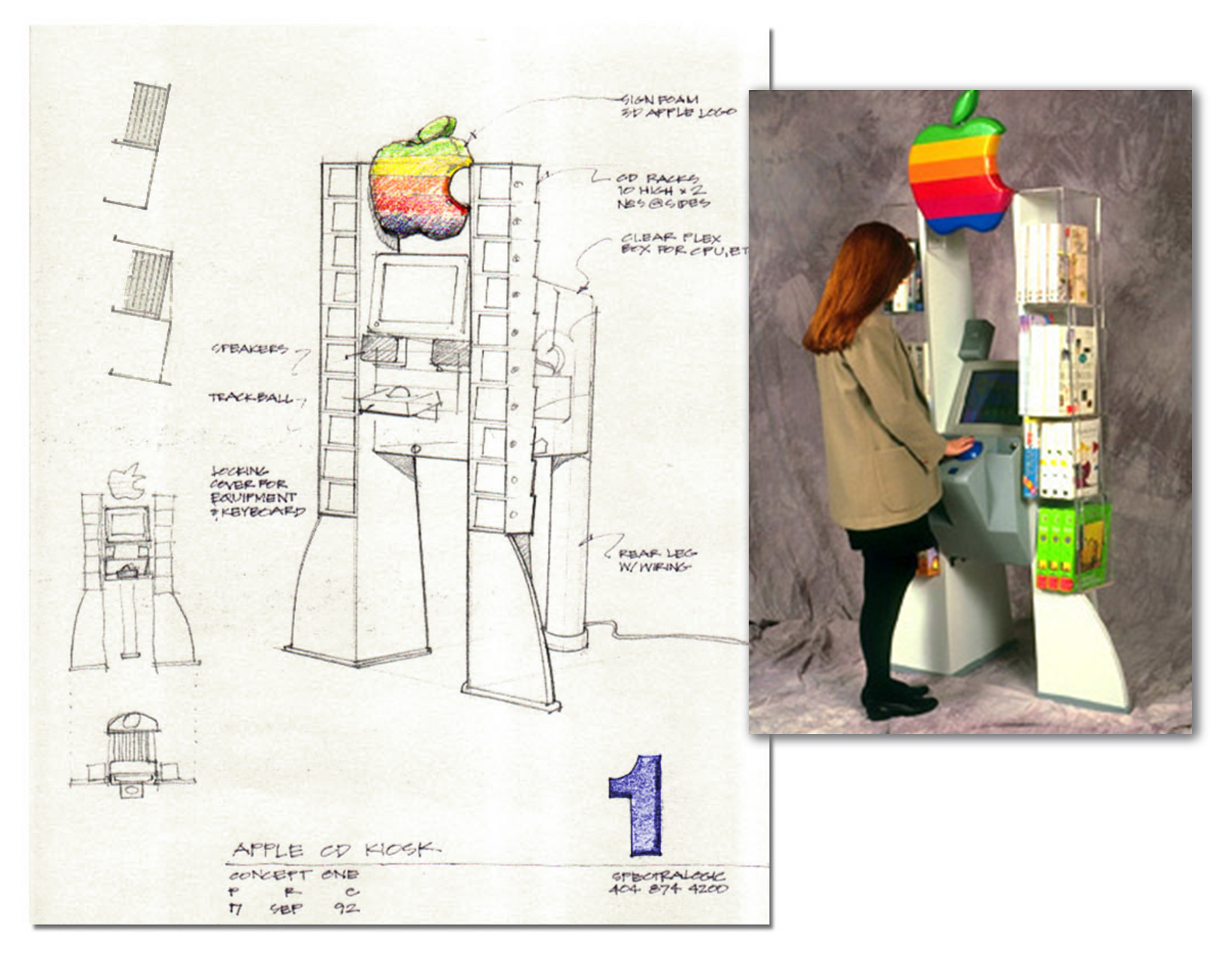 Apple CD-ROM Interactive Store Display
Apple wanted a distinctive interactive retail point-of-purchase display for marketing Mac-compatible CD-ROMs in computer and software retail stores where floor space was at a premium
This design featured a self-contained Mac demonstration system with a custom graphic interface and an oversized trackball, but no keyboard, housed in a locking clear acrylic housing
The display had clean shapes and adjustable shelves to fit a variety of CD packaging. The footprint was designed for placement at the end of an aisle, as a standalone unit, or in a corner
(Design concept, prototyping, Macintosh demo software for trackball)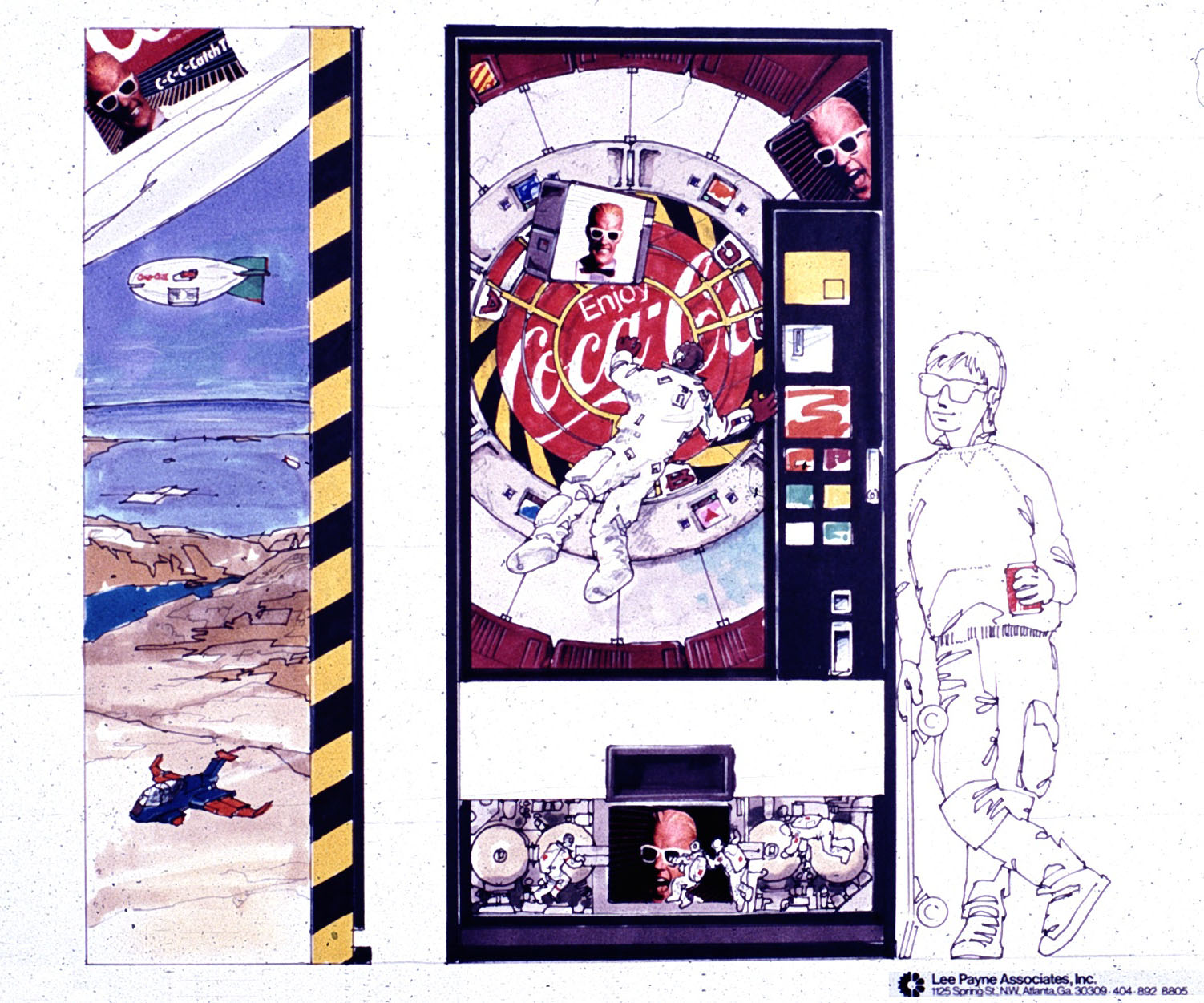 Coca-Cola Vending Machine Designs
Design brief was for graphics to be used in High Schools and Middle Schools to improve sales of Cherry Coke
(Mixed-media rendering)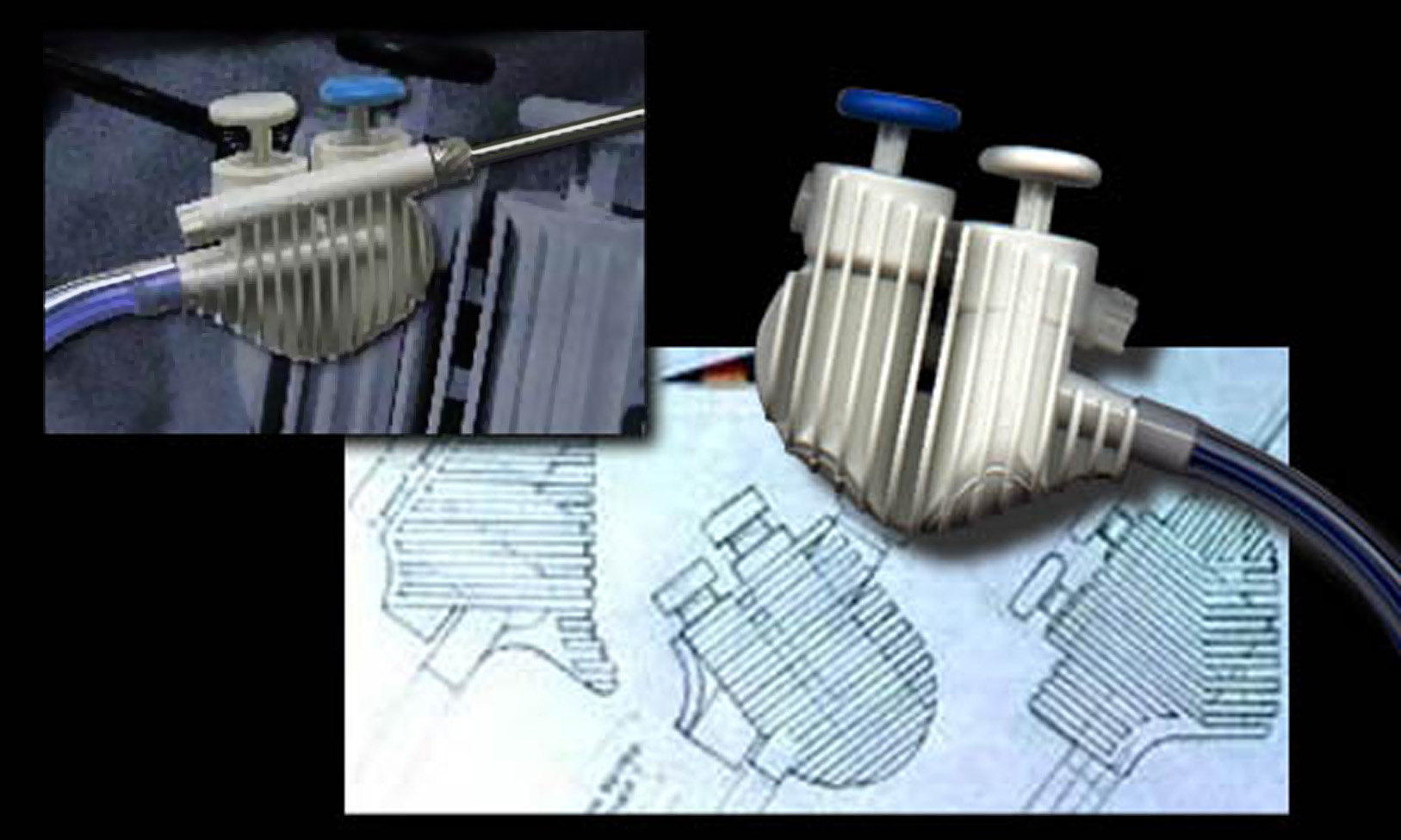 Endo-Tech Laparoscopy Handpiece
Development sketch and production unit for a disposable surgical instrument for minimally-invasive gall bladder (Endoscopic Laparoscopy) surgery
Handpiece controls suction (white button) and irrigation (blue button) with a cauterizing Bovi probe inserted through the stainless canula via a self-sealing valve at the back. Hoses exit through the back to reduce tangling.
Design goals were superior handling, easy control differentiation via color tactile cues and a reasonable production cost.
After initial sketches wood handling models were used to evaluate handling with doctors and surgical technicians, more models were used to work through manufacturing issues and develop the final design.
Steven Braun of SpectraLogic did the majority of engineering and followup design work
CSI Oxytrol Conservation Device
Unique oxygen conservation system based on a sensitive flow sensor circuit developed by SpectraLogic cuts the amount dispensed by up to 60 percent, and saves nasal tissue from irritation
Designed to be used by a primarily geriatric market, the controls were simplifed and state displays were both visual and audible
The shape makes the unit easier to grip and carry. A threaded boss and belt hook on the back made the unit simple to mount.
(Solid case mockup - wood, plastic, paint, dry transfers)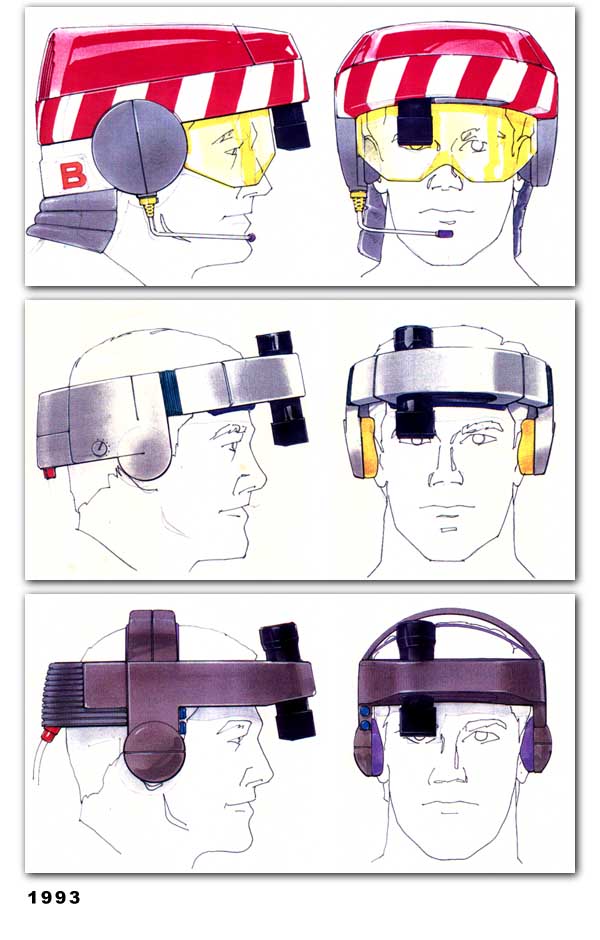 GEC Head-mounted Display Concepts
1993 project for a UK-US defense contractor developed a belt-mounted CD-ROM and carrying system for a personal HUD, to be used for access to aircraft data, schematics, and repair procedures used in maintenance.
Four prototypes were constructed from development of the bottom concept
(Mixed-media sketches)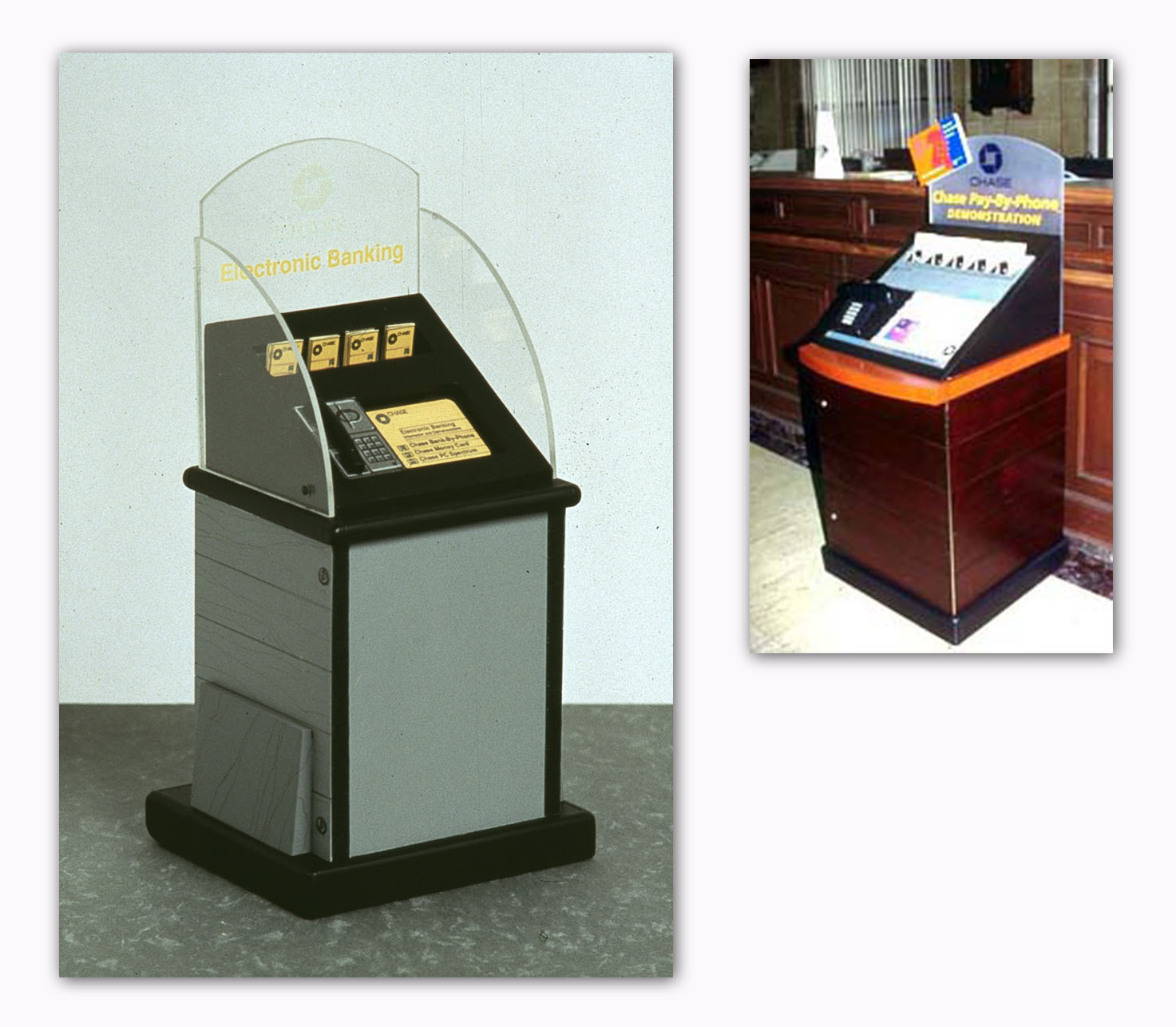 Chase-Manhattan Branch Demo Kiosk
1992 standalone system was designed to show bank customers ease-of-use of the Chase touchtone phone-based bill payment system, and improve usage
The kiosk held a 486 PC with a soundcard; a simple reference flip guide shows the commands. Guide furniture was designed so the print guide could be replaced with a touchscreen in later versions to cover all of the bank's product lines.
The furniture-inspired shape was designed to blend into the variety of interior styles in Chase branches. It was equipped with rollers on the back edge for easy repositioning, and had lockable storage for marketing collateral.
(Scale model - plastic, paint, paper and markers)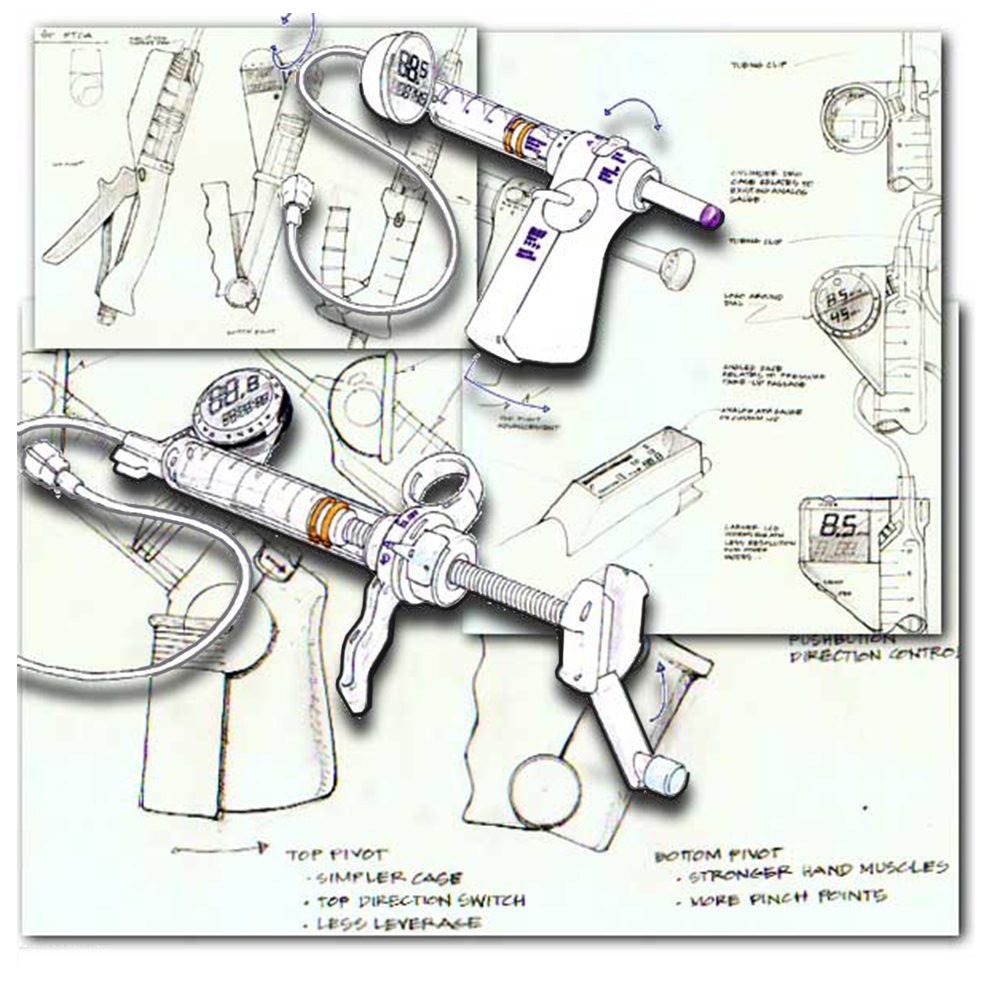 PTCA Cardio Angioplasty Inflation Device
For balloon angioplasty procedures, this design featured a digital pressure indicator
A variety of actuation methods for controlling the pressure were developed and tested
(Pencil and mixed-media sketches)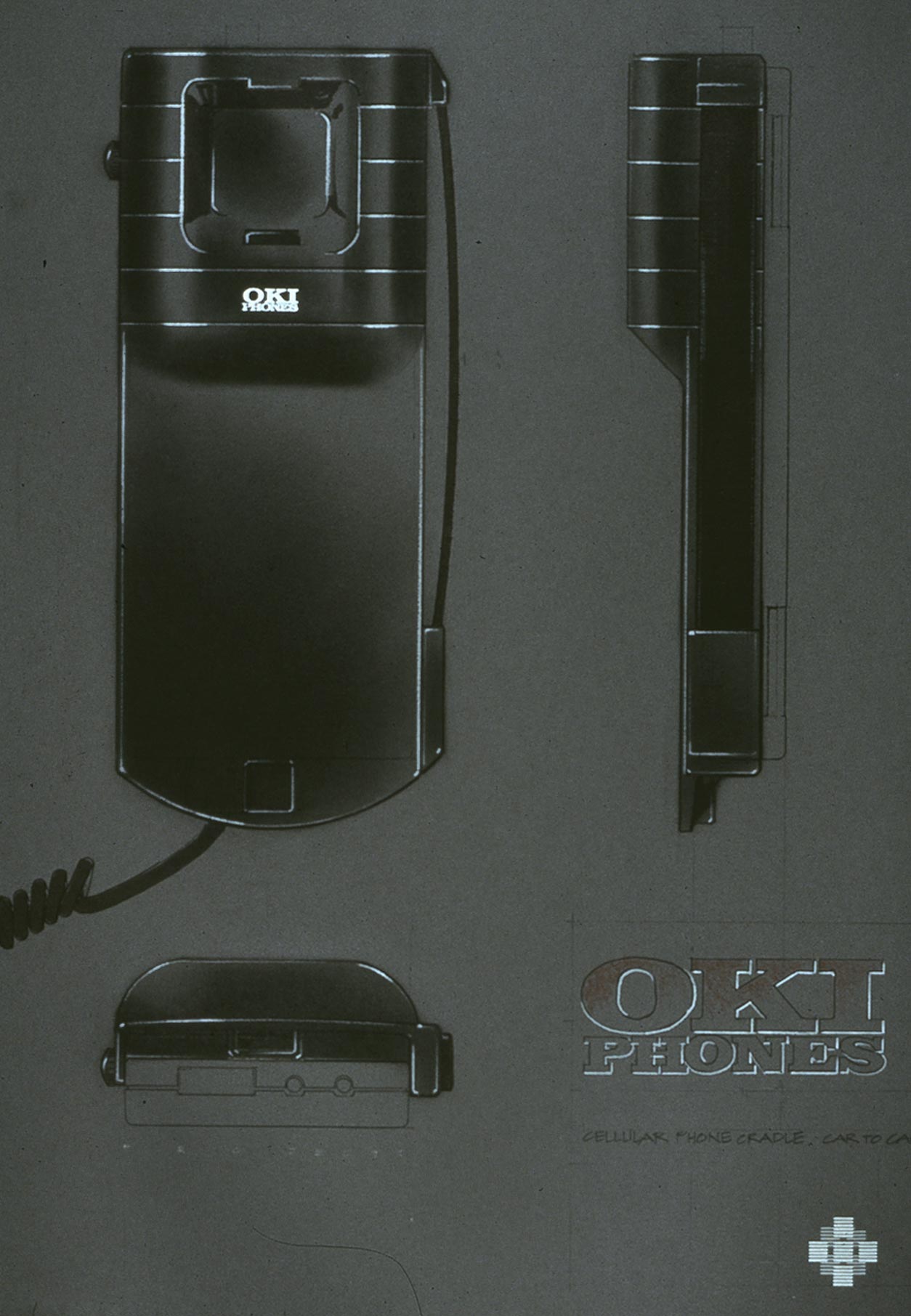 Oki Telecom: Plate Phone Concepts
Plate phones were heavy encased metal car phones adapted to carry around
The case in this design covered the metal box and held a receiver attached by a cord, it would have been used inside a bag with a large battery underneath that was also part of the project
Early 1990s cellphone development as they went through the evolution from heavy bag phones to multi-board digital spread spectrum designs
(Mixed-media sketches with dry transfer logos)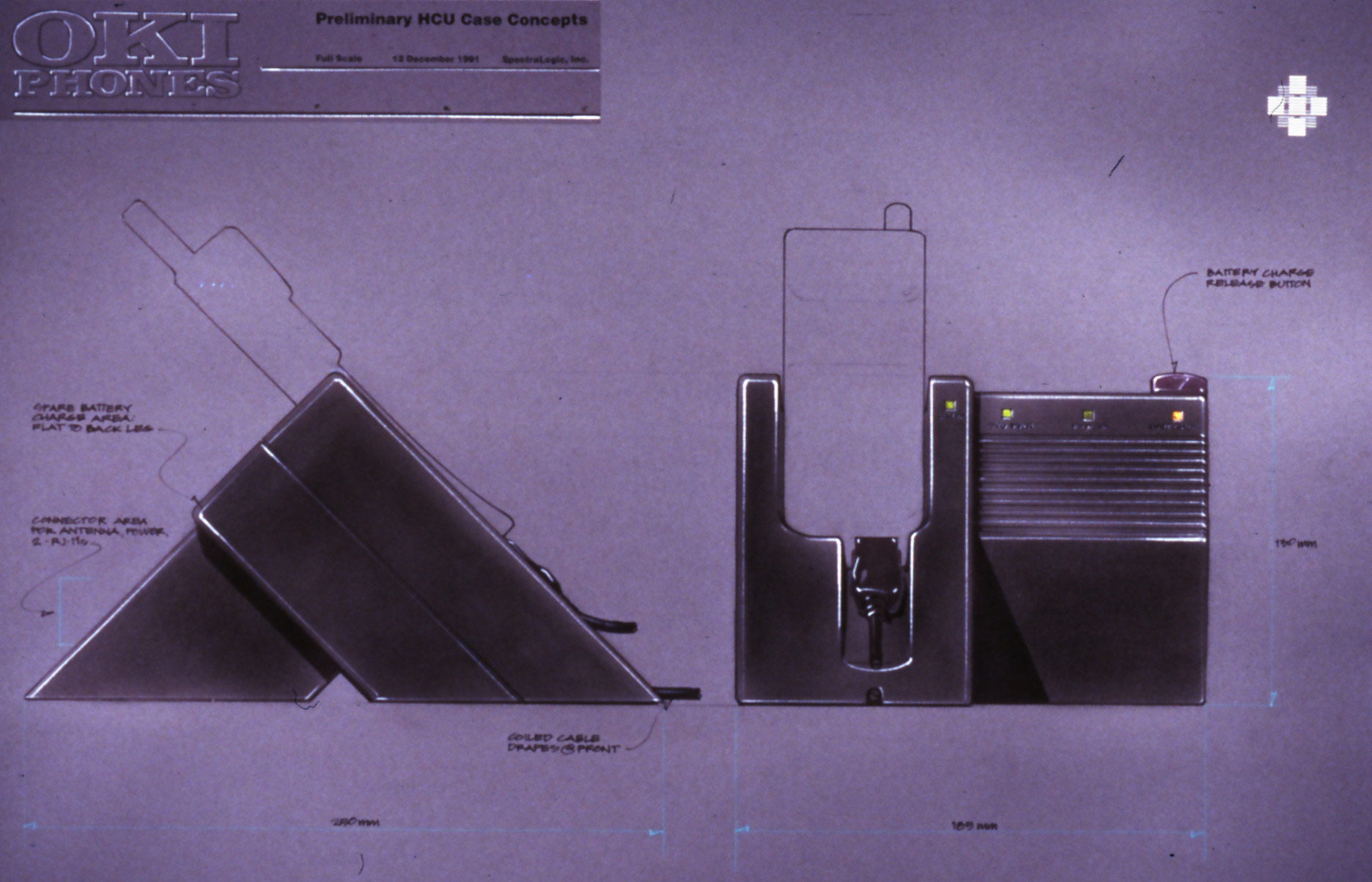 Oki Telecom: Cellphone Charging Stand
As cellphones became smaller battery life suffered, and it was important to have well-designed charging stands that allowed use as a speakerphone on a desk or table
(Mixed-media sketches with dry transfer logos)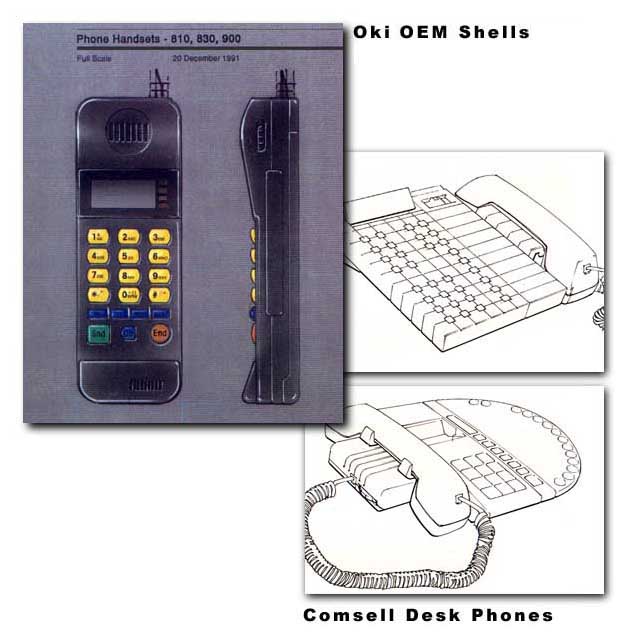 Oki Telecom: 800 Series Cases
After several years the rapid evolution slowed and we were able to develop multiple case designs for OKI to build custom phones for carriers
This image also shows some early SIP-based office phone concepts for Comsell
(Mixed-media and ink sketches)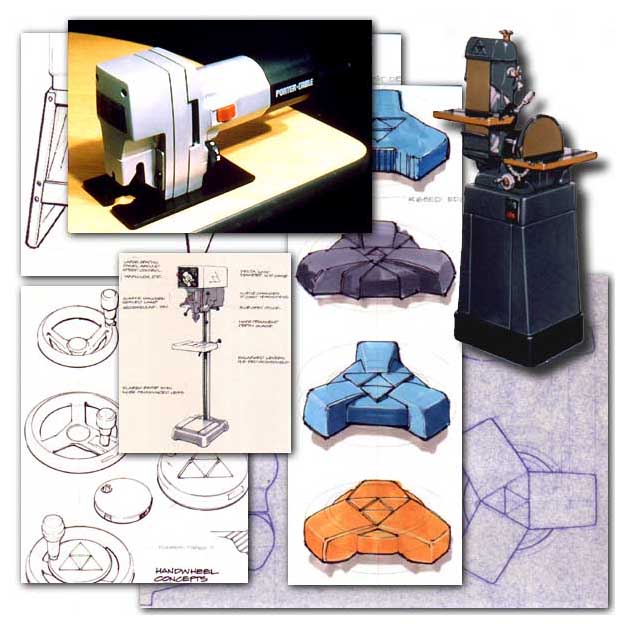 Tool Designs for Delta and Porter-Cable
Line redesign for Delta's woodworking shop tools, and Porter-Cable jigsaws and heavy routers, 1984-1988
(Mixed-media and ink sketches, product photography)
Communications: Diagrams, Docs, and Explanations
Communications is crucial to the success of any project. Ideas must be presented in a form that resonates with the audience, that is useful for their purpose, that carry enough meaning to be effective across disciplines and through layers of management...

Many more examples available on request.
Diagram translating product definition areas from industrial design into software and deliverables
(Photoshop)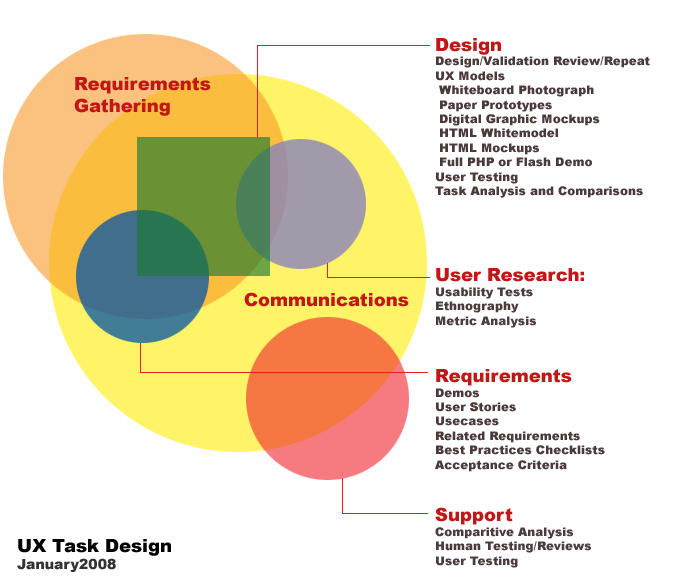 Venn diagram explaining UX acivities at Lulu
(Photoshop)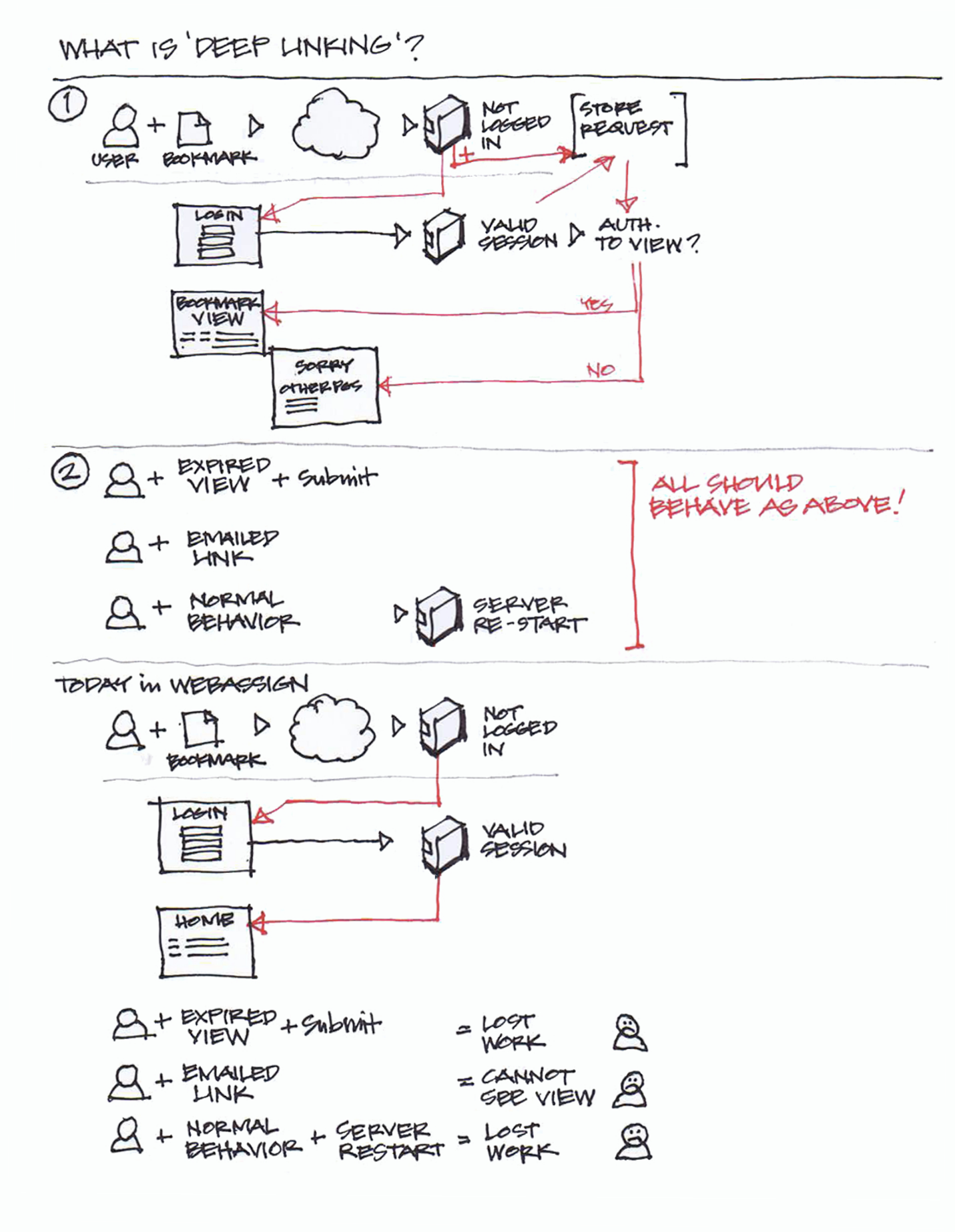 Quick diagram for execs at WebAssign to illustrate deep linking
(Ink and pencil sketch)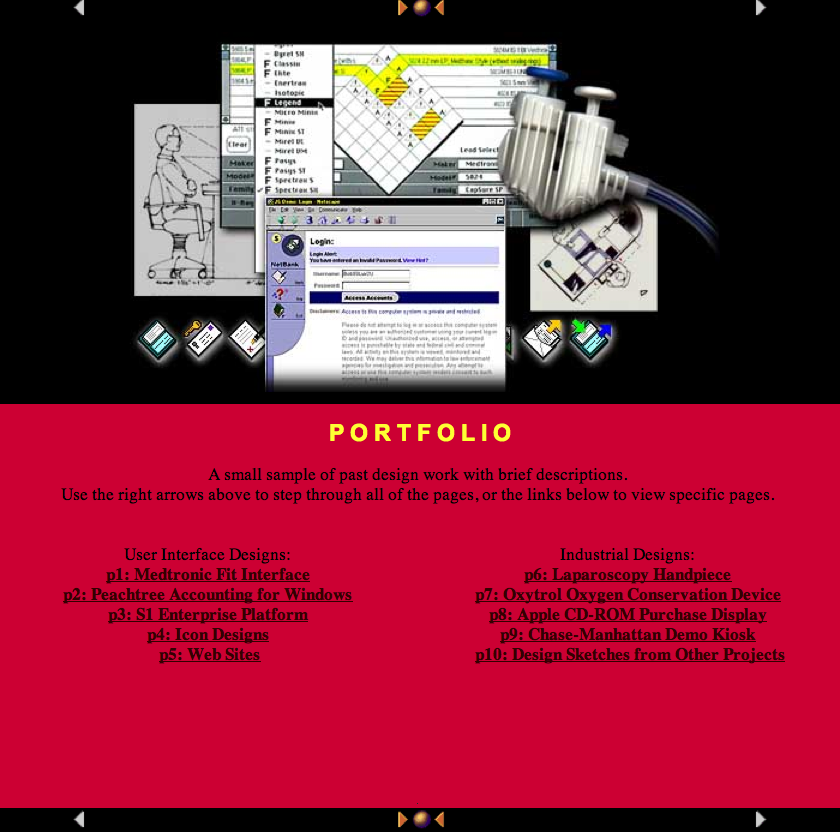 Old online portfolio
Originally version built in 1997 - Optimized for dial-up use with next page images pre-fetched as 1x1 pixel dots along bottom of layout. Page layout via tables with in-line arguments... Looking back at this makes me very happy for modern semantic HTML!
(Hand-coded HTML)
Thanks for making it to the end!
"You can't separate form from content!"
- Eva Pfiel
At some point we all wrestle with the limits of reality! If you have a great idea, you need to present it in a strong way so it has the best chance to succeed.
A corollary is don't iterate ideas in a different material or system. If it's a wood chair, design and prototype using wood. If it's a web page, get away from 'loren ipsum' and work with the actual words and images as early as possible!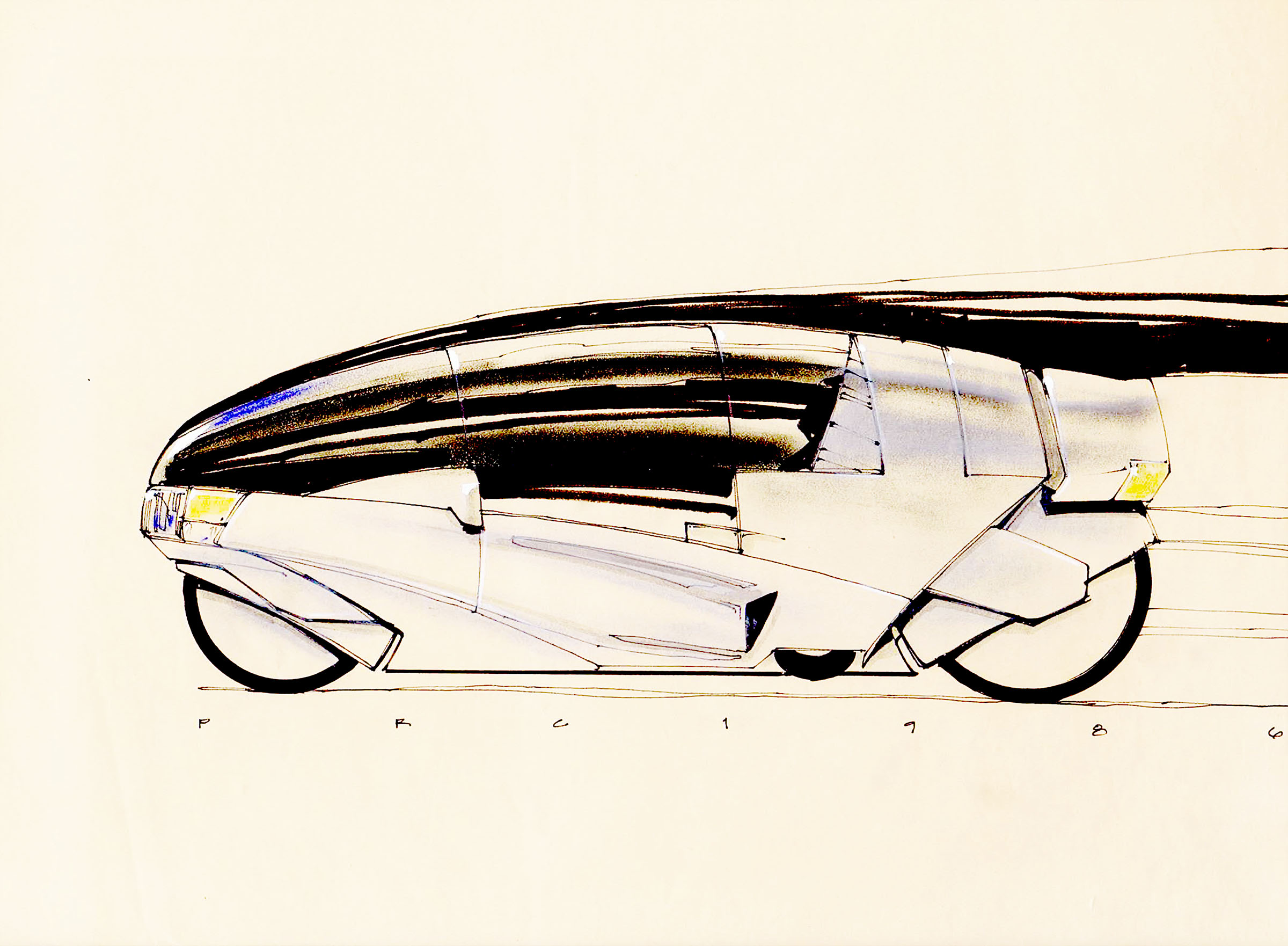 Example mixed-media sketch for an aerodynamic 2-wheeled vehicle
(Mixed-media: pencil, pen, marker, pastel, and white-out on cotton paper)