Vintage Empire 208 Turntable Restoration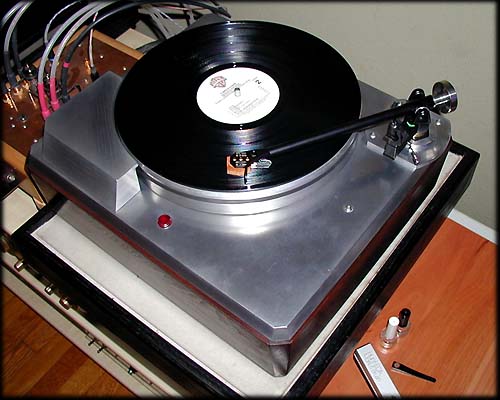 In August 2002 I finally realized that I was pushing the river on the Pro-Ject 6.1, and that I needed a better bearing and a more stable drive to get better sounding results. After a period of research into the gusher of opinions on the internet and talking to various bottleheads I shortened the list to:
Thorens 124
Vintage table, idler drive, very popular, many well-kept examples. Some parts still available from Thorens, others from various web suppliers. Strengths - drive, pace, construction quality, belt drive between idler and motor may reduce noise. Weaknesses - attached armboard, rubber isolation grommets harden over time.

Empire 208
Another vintage table, belt drive, strong German synchronous motor. Strengths - drive, pace, construction quality, belt drive, heavy platter, kinda cool looking. Weaknesses - arm mounted to top, rubber motor isolation grommets harden over time, finding belts. Atmasphere rebuilt units raised visibility and purchase cost for eBay examples.
Garrard 301 and 401
Vintage UK idler drive transcription tables with legendary sound. Very popular with Japanese market. Needs a heavy base to sound good according to many users (laminated plywood?). Strengths - yet again drive, pace, especially 'grease bearing' 301, construction quality. Weaknesses - not many units in US, conversion of 50Hz (UK) to 60 Hz (US and Japan) requires parts replacement or synthesized AC generator. Expensive. Some reports of bearing problems in poorly maintained units.
Lenco
Another vintage idler drive. Less-known and less expensive? Swiss manufacture. Strengths - drive, pace, cost. Weaknesses - parts availability, less online discussion of tweaks and fixes.
Used SOTA, VPI, Oracle, etc.
There are a *lot* of 1980s turntables out there in need of TLC, and many 'name' tables on the used market - but most of the opinions I collected agreed that the vintage turntables had something special... Strengths - cost, availability. Weaknesses - parts, quality of manufacture in some cases?
In this page:
Though I had the Pro-ject 6.1 tweaked beyond all reason, I was still unhappy with the sound.
Well, maybe not unhappy, but disappointed.
Well, maybe not disappointed, but feeling an unexpressible longing for more.
So, after much discussion with other Dixie Bottleheads and entirely too much reading online, I decided to buy a used turntable and do a restoration. Now the audiophile community disagrees on almost everything, and turntables are no exception. But three used turntables show up in discussions and as working models in desireable systems more than most - 1) the Thorens TD-124, 2) the Empire 208, and 3) the Garrard 301 transcription table. These three turntables work, age well, and are available. All good things. The problem is that you cannot march over to your local audioemporium and hear any of them yourself. Dang.
I started watching eBay for any of these and, after a few frustrating sessions, ended up with an Empire 208.
The Empire 208 is a great example of 'they don't make 'em like that anymore...'. Solid. Tanklike. Heavy. Simple.
The early Empire tables are solid mount and IMO work better than the later, suspended variety. Look for a 208 (sold without arm, usually have a Empire or SME arm), a 298 (came with the Empire arm), or the rare 308/398. There are plenty of 598 and 698 models out there but these have suspensions and are not as good (lighter platter, wonkier setup, etc.). Their appearance is streaky on eBay; none for a month and then several Empires will popup in one week. Just be patient, and prepare to snipe it at the last moment if possible.
Mine runs a tiny bit fast even after adjustment. Hrm. Sounds great though, rock solid pace and good detail.
---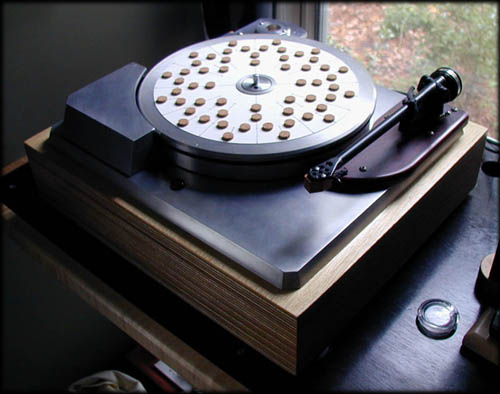 New laminated plywood base for turntable, moved aluminum tonarm adapter to left rear, new cocobola armboard for Rega tonearm. Platter mat shown is DIY spotmat made with heavy watercolor paper and stick-on cork dots.
Numbering for Empire Turntable Models
from Kal Rubinson on AudioAsylum:
[slightly edited per later clarification on VinylAsylum/pRC]

BTW, the 208 is the armless, baseless version.

It becomes the 298 with the base and earlier arm and it becomes the 398 with the base and 98 arm.

288 and 388 are the numbers for the TT+arm w/o base.

The first suspended Empires were the 498/488 which used the 980 arm.

The later 598 and 698 came with different arms which, afaik, were never available separately and, therefore, had no individual model numbers.

208 = Turntable, no arm, no base, satin chrome
208 + Empire arm (no base) = 288
208 + Empire arm + base = 298
208 + Empire 98 arm (no base) = 388
208 + Empire 98 arm + base = 398

BW/208 = walnut base
All units came with satin chrome (silver anodized aluminum) add a G to any model number for satin gold finish
The baseless versions of the Empire turntables were sold for use in audio consoles (remember those?).
Or, another take from GWare:

In Reply to: Empire Turntables posted by Justaskin on December 18, 2001 at 21:31:27:

I own, or have owned, them all, except the 498, which is the first "suspended" Empire, and quite rare. Basically two types:
Non-suspension: 298/398
(208 is "Armless"; a 298 is a 208 with 98 Arm)
Suspension: 498/598/698

Empires are possibly the most underrated vintage T/T IMHO. They are all good; (dependent on condition!) The early Non-suspended 298/398 have more massive platters and are more solid pieces of furniture; solid Walnut base, and can benefit from various DIY isolation and damping tweaks. The 98 Arm tracks and sounds better than it looks; but will restrict you to a Cartridge with reasonable mass. Use an Empire 2000 or 4000 if you can get one, a Grado if you can't. The Headshell inserts are very hard to come by for these Arms BTW!

The elusive 498 has both suspension and retains the heavy platter; potentially be the best of the lot, unmodified. The single best upgrade to an Empire is to replace the Arm IMHO. SME, Rega, whatever, tho' Empires are serviceable standard, though admittedly hard work to attach an upgrade Arm successfully to a suspended Empire. The 698 as a stock-standard Empire will take a moving coil Cartridge; and will perform very very well if setup right, you have the advantages of Auto-lift at the end of the Side, a built in strobe, and Glass cover too. Same caveat for buying used: Headshells are very difficult to source, the arm lift doesn't work on some of the 698's. The 698 has a Veneer finish to the base rather than solid wood.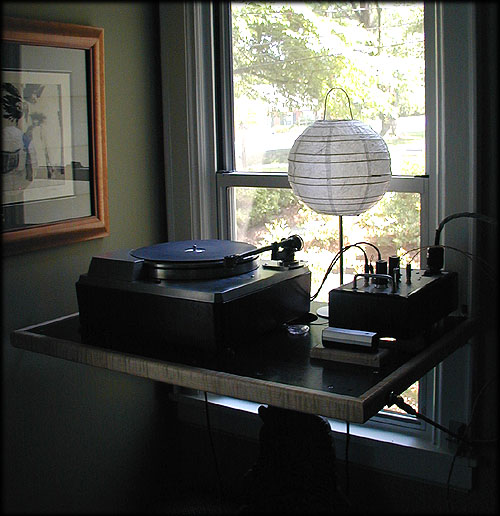 Empire 208 with original base and Bottlehead Seduction Phonostage on Wall Shelf:
Custom wall shelf is laminated hardwood plywood with dampening layer, edged with figured maple. Rear of shelf rests on brass points, front has adjustable threaded 3/8-16 stainless rods and eyebolts. Window mount provides good illumination for cleaning and aligning cartridge.
Mechanical Modifications
With a turntable this simple, and this well-built, there really isn't a lot to do. A complete teardown and cleaning was the first step, and a repair of the wood base was needed due to ferocious shipping misconduct (though well-wrapped, UPS managed to crack the back of the base).
Platter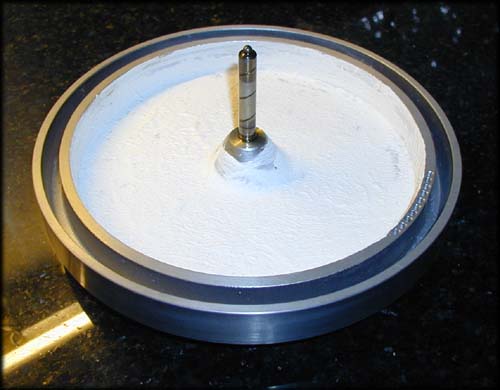 The platters and bearings for Empire turntables are nearly legendary for their balance and finish. This was a worldclass machining company. One story about the balance of these platters was told by GWare on Audio Asylum:
You can see the balancing holes in the picture of my 208 platter at right. The white coating is silicate loaded latex dampening, AKA non-slip stair paint from Lowe's, good stuff for speakers too.
The Platters were balanced at the factory; I once took a 598 platter to an aircraft engineer and said "balance this" (the company balanced jet engine assemblies amongst other things) and was handed the part back unmodified some days later with a "we can't improve on that" comment, the engineer had set this up on a balancing lathe with a strobe and it couldn't be made better (Read: you can certainly make it worse!) The earlier 598's were balanced by drilling holes into the inside edge, the later 598's, and all 698's, had lead tape affixed to the inside of the platter rim to balance them With the unsuspended T/T's like the earlier 208 you can get away with increasing the weight of the platter and not bother about balance, with the 598's and 698's, you can't, and indeed, shouldn't.
Top Plate
The top plate of the Empire is cast and machined aluminum with heavy sections and ribs, all around .250 inch thick (6mm).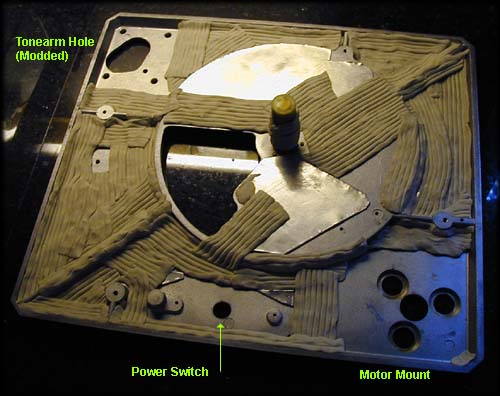 The base plate was machined to fit an adapter plate for the Rega arm used, as the Rega has a longer 222mm spindle-to-bearing distance. I also applied a variety of dampening materials, including 'Mortite' rope caulk, Sorbothane, and some adhesive constrained dampening (thick aluminum foil and green adhesive lossy material) ordered from Michael Percy.
Tonearm Upgrade - Which Tonearm to Buy?
The original Empire arm was clapped out. But there are plenty of alternatives, including the Rega/Origin Live arms, or even a Wilson Benesch carbon fiber arm. Here is a list of what I found:

Wilson-Benesch ACT 0.5         $1190


Kuzma Stogi                    $1200
Kuzma Stogi S                   $700


Origin Live Rega RB250          $270 (Origin Live stub/weight)
                                $455 (Origin Live no. 4)
                                $795 (Origin Live Silver)

Moth RB250                      $217 (OEM counterweight and stub)
                              +  $39 (Easyriser VTA adjuster)
                              +  $39 (RB300 stub and weight)
                              = $295
                                $437 (Assembled above w/Incognito wire)


Hadcock Export Unipivot
GH242 Integra Incognito wired   $799
GH242 VDH Silver wired          $949
GH242 Super Silver wired       $1099
GH228 Export pure copper wired  $549
GH228 Integra Incognito wired   $799
GH228 VDH Silver wired          $899


Nottingham Analogue Space Arm   $999

VPI Industries JMW 10          $1400
VPI Industries JMW 12          $1800  ($1620 at HiFiFarm)

I thought long and hard about the VPI arm - it would be great to have easier VTA adjustment. But the little junction box for cables means 2 more solder joints and an extra RCA connection in the middle of the cable and I'm a big believer in continuous cabling. Dang!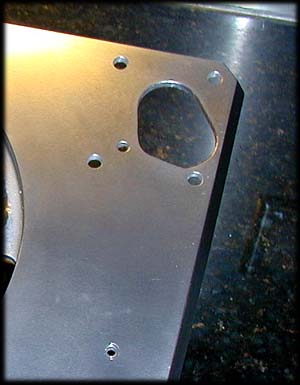 I bought a Rega RB250 with an RB300 rear arm stub and counterweight (Stainless steel) and Incognito one-piece wiring (single strands from cartridge clips to RCA connector at preamp) from Brit Audio for around $440. That included an Incognito VTA adjuster barrel. Cartridge used is a Grado Sonata (4.5mV version), which is quite a bit quieter in the groove than the previous Grado Platinum. Hrm.
Tonarm Adapter Plate
Over the past 40 years, tonearms have gotten a bit longer, so I had to machine a mounting plate and bushing for the Rega combo, but it works great on the Empire table. I also had to machine a larger hole into the top of the aluminum plinth on the table (see picture at right). This is also described above, but you can see the assembled turntable being tested in the shot below.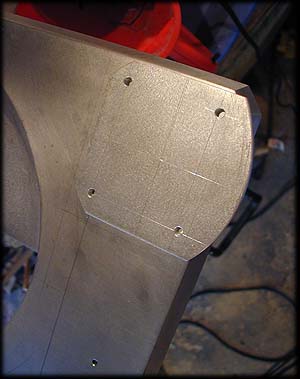 I made a beam compass to locate the new bearing hole arc and studied a variety of positions so that there would be clearance on the bottom of the plate to adjust the tonearm locknut without hitting the sidewall of the plate.
The height of the platter was going to cause the tonearm to sit very high, so a plate was needed to raise the tonearm anyway - this adapter plate also hides the old tonearm mounting holes. The VTA adjuster for the Rega needs about .700 inch thickness so an adapter ring was machined for the top and bottom of the new plate. This gets the Rega .500 inches above the base plate, allowing a range of adjustment without showing much of the threaded brass column for the tonearm mount.


RB250 Tonearm - mounted on adapter plate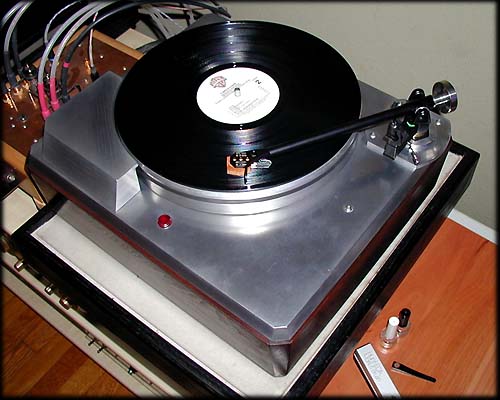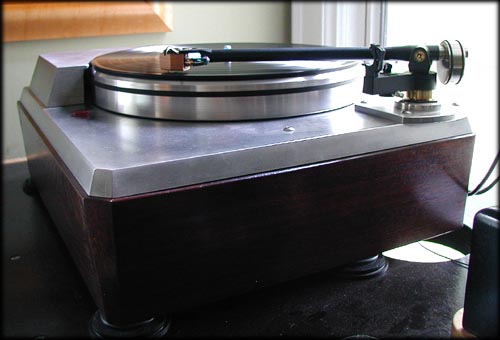 Musings about Upgrades
Will I be able to resist tweaking the Empire further? Nah. But I will try to do anything else in a clean, reversible way...
Platter Mats
The Empire platter has an interesting 'feature' compared to modern heavy platters - a pop-up 45RPM adapter at the center. This required a section of aluminum that sticks up in the center and an extra-large hole in the center of the original platter mat. Many Empire turntable owners have had this center section of their platters machined off so that standard platter mats can be used. Or, you can cut a larger hole in the center of your DIY mat attempts and leave the platter alone.
Record Weight/Record Clamps
The Empire has a nice tall spindle, but it is a touch oversized and a tight fit on almost all albums. If you order a record weight or clamp you may to check with the manufacturer for compatibility. The heavy duty bearing and suspensionless design will allow the use of all types of record weights, up to and including super-heavyweights like the Galibier 'Anvil'.
Wood Base replaced with Laminated Plywood
As a suspensionless design, perhaps a heavier base would absorb vibration as do some of the heavy Garrard 301 attempts:
Garrard 401 Plinth & Dustcover Design By Dr. M. S. Imbabi
Loricraft Garrard 301 Plinth FAQ
Heavy laminated Garrard 301 Plywood Plinth by Martin Bastin
External Motor Pod
An external motor pod would be easy to adapt since the platter sits above the main deck of the turntable. With a little shimming a Teres, Redpoint/Galibier, or Origin Live DC motor could be used.
Motor Supply Upgrades
Or, a Wein bridge 60 Hz sine wave generator and a dedicated tube amplifier to output clean and adjustable AC for the Papst synchronous motor?
Alternate Tonearms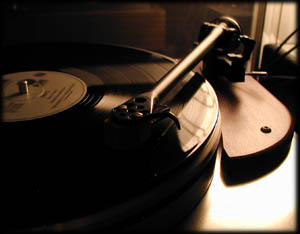 I would be very interested in trying a WellTempered tonearm on this turntable. I believe from what I have read that it would be an excellent match. Or, I may try to build a DIY tonearm such as the Ladegaard arm:
Roscoe Primrose's Page on Poul Ladegaard's tangential air bearing tonearm
...or maybe a DIY wood version of an RS Labs unipivot? Mmmmm, I have some aged wenge around here somewhere... other DIY tonearm links:

Altmann DIY wood tonearm - basic tech that works
JK Dahlman's fine wood unipivot experiments
Roger Waters at DIYaudio on his turntable and tonearm project
Boozhound Labs - DIY graphite unipivot
Audio & Music Bulletin Article on DIY tonearms with interesting discussions of materials
The Analog Department - list of projects, most are for Thorens TTs
September 2004 - New Base and Armboard
With some time on my hands I built a new base for the Empire 298 - laminated 1/2 inch Home Depot 'sandply' 8 layers thick, and also added a new cocobola armboard.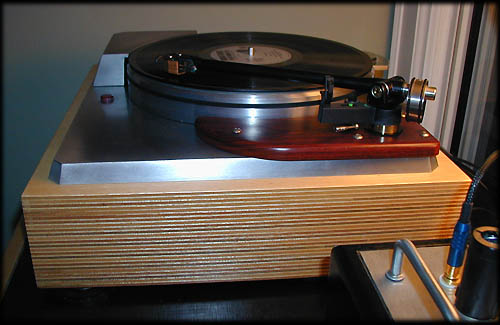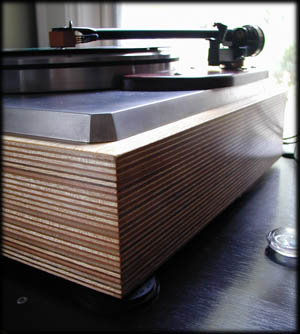 I moved the old aluminum armboard to the back corner in anticipation of actually building a new arm at some point (maybe a http://www.aiko.com/roscoe/airbearingarm.html ), that way I can move the Rega to the back position and run comparisons.
Aside from looking pretty cool I think I'm getting a lot more bass from the new base - I have to say 'think' since I could not A/B the mod and it was a few days to get the new parts machined and fitted before I could listen to the changes; memory is fickle. Still, I hear more low-frequency balance to familiar tunes than before, and comparing LPs to duplicate CDs or SACDs (well, I do have little overlap) seems to confirm this. This was a concern for me before this round - comparing vinyl to digital I was disappointed with missing 'thump' - so much so that prior to the latest mod I was thinking that I would have to jigger the output on the seduction phono stage to work better with the 25k input impedance of the mambo preamp, but now I'm a happy camper. Weird.
While I was in there I cleaned up the wiring for the motor and replaced the power cord with a construction of 4 parallel runs of 20AWG copper/teflon video coax. Coaxial sheilds are connected to ground prong at wall plug, but there is no chassis ground to the wall to avoid potential ground loops (and the original design had no chassis ground either). The result is VERY quiet.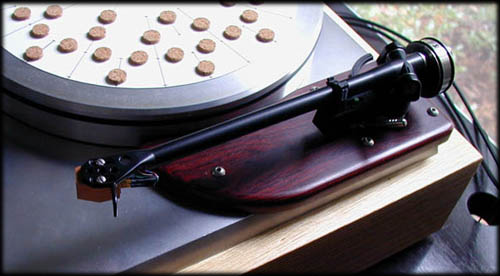 The cocobola armboard is coupled to the aluminum top plate with five (5) heavy bolts and provides additional dampening for the top plate. Cocabola is a heavy tight-grained exotic hardwood, similar to rosewood, and should be a rigid connection for the tonearm with enough mass and 'give' to also damp tonearm resonances transmitted down the support column. I did need to add a dedicated ground for the top plate running to the phono stage since the tonearm ground is no longer in direct electrical contact with the turntable.
Anyway, it seems to work well in this case, and I like the contrast with the plywood base. All wood is finished with multiple coats of natural Minwax oil finish.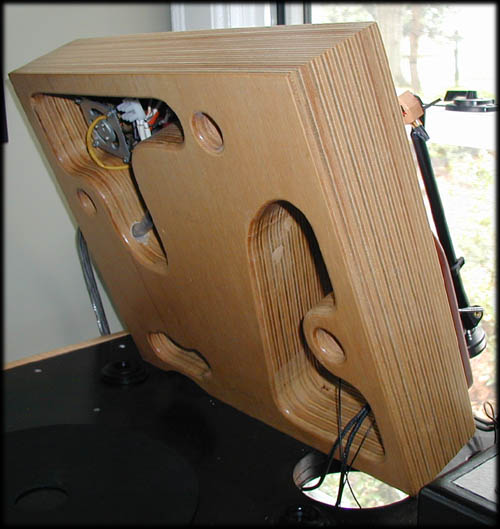 Laminating the plywood with urethane glue made a big mess in the shop but seems to have been worth it. I made a template from a spare piece of plywood and cut all the openings in each layer with a router before assembly. For those of you out there chomping at the bit to try this, here's a tip - make the layers/parts an inch or more too wide all the way around and then cut the whole stack to size on a table saw *after* you glue it up - even using generous amounts of glue (and I used an entire large bottle of glue on this) it's practically impossible to get a good tight glue joint all the way to the edges anyway, and trimming the glued stack lets you off the hook obsessing about alignment - just keep the inside openings away from the edge of the top plate to avoid inside gaps.
November 2004 - Rant on Rants on Grado Cartridges
As an inmate of the Vinyl Asylum I could not avoid frequent slapfights about Grado cartridge compatibility.
Many otherwise reasonable folks endlessly complain of the 'Grado Dance' - resonance between certain tonearms and the cartriges that cause the whole arm to wiggle when certain warps are present - and the 'Dread Grado Hum' - Grado cartridges are unsheilded and may pick up slight hum as the arm approaches an unsheilded turntable motor.
Get over it.
Disclaimer - I've enjoyed using Grado cartridges since I bought my first one in college, some 22 years ago. They have a wonderful sound with vocals and are very reasonbly priced, but they are not perfect. In recent years I have had many happy listening hours with a Grado Platinum (4.5mV output) and, after the cantilever suffered a housekeeping accident, a Grado Sonata (also 4.5mV output, and yes, the Sonata is an improvement over the Platinum - quieter in the groove, less noise, and seems to track better with loud and complex passages where the P sometimes got a little screechy).
Yes, I have seen the 'Dance' with a warped record and my RB250 tonearm. It's reproduceable with that record. Add a little blue-tak to the headshell to increase the mass and the dancing stops.
As for the hum, I guess I am confused. We go to extreme measures to reduce interferance with signals in our systems: arms and TT chassis are grounded to the phono stage, tonearm leads are well shielded, phono stages commonly have layers of shielding measures. But then we go out and buy turntables with unshielded AC motors? What sense does that make? And how on earth can the manufacturers get the message that unshielded AC turntable motors are an all-around bad idea if magazine reviews never mention it and people keep buying them? This problem is entirely preventable, though it will cost the manufacturers another three Euros for a shielded motor.
So, stop the madness - don't buy a turntable with an unshielded motor. If your local hifi store wonk has no idea what you are asking about when you present this question to them, please scold them mildly and send an eMail or call the manufacturer for an answer before you buy.
It's not just Grado cartridges that will perform better - hum is caused by electromagnetic interferance. Phono cartridges generate a signal electromagnetically. Just how much sheilding can you reasonably build into a tiny object full of magnets and coils of wire that has to weigh less than 15 grams? Not much. Look, these signals are really, really small (smaller from some carts than others!). A quieter motor will help all cartridges. Look for this feature when you buy. Heck, ask about the shielding for any DC motor supplied turntable you buy as well!
/pRC
Links to Empire Turntable Information
GWare from Japan's Empire Collection
Joe Mac, Jr.'s Empire Restoration
The Atma-Sphere Empire 208 Rebuilds
Audiotools Old Turntable Essay
Stefano Pasini's Turntable Gallery
Even the Guy who make Triplanar Tonearms has an Empire
Elex Atelier The only good Empire replacement belts found so far...
German Empire Turntable site
Vinyl Engine - Download PDF scans of Empire manuals
My Empire makes a trip to Oswald's Mill in 2003
Brit Audio Great deals on Rega tonarms and other British imports
the Vinyl Asylum Great discussion area - use search!
Sumiko
Needle Doctor
the Elusive Disc
Music Direct
Galen Carol Audio Friendly advice and good prices
---